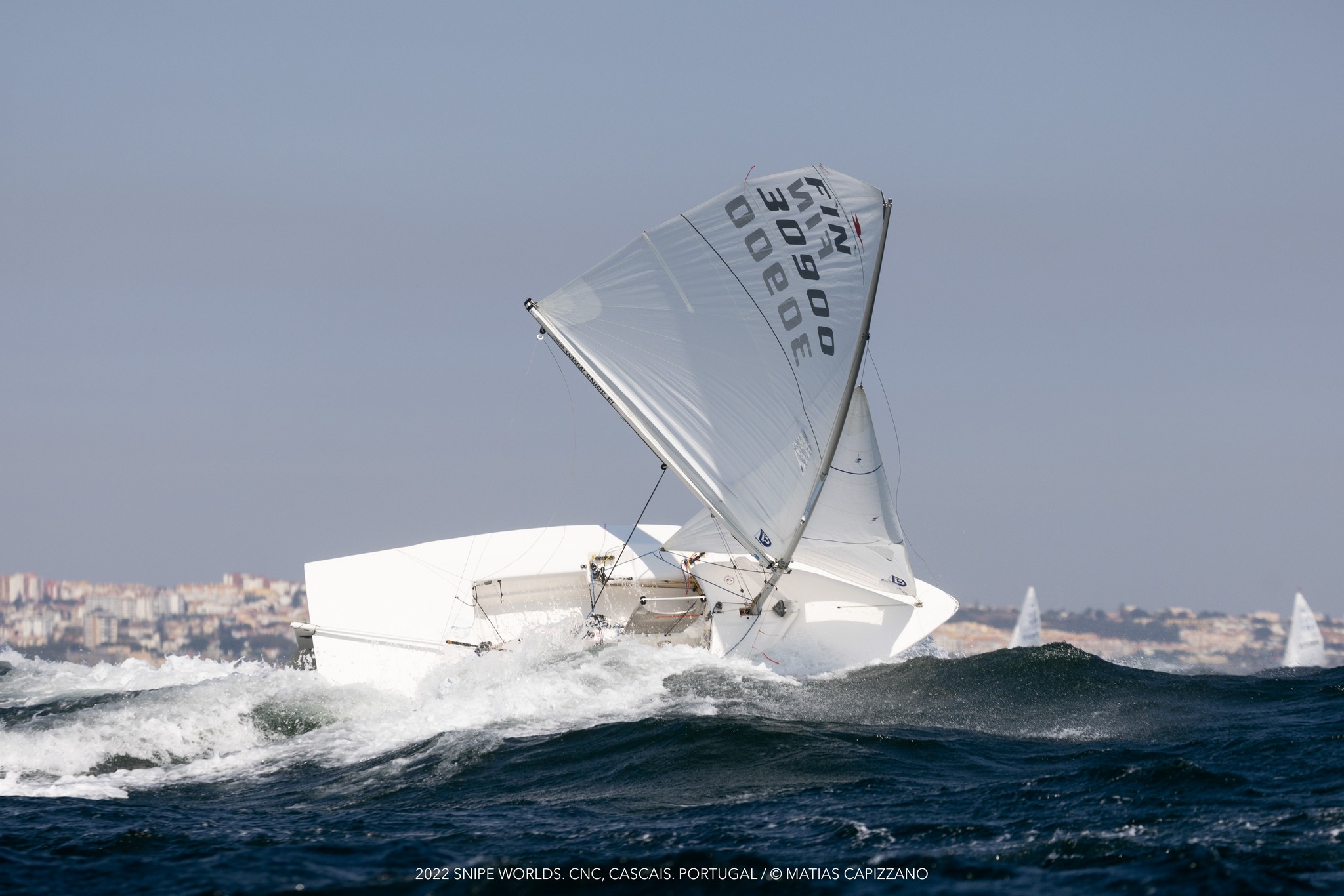 Cascais, Portugal, August 22, 2022. On the second day of the Snipe World Championship, the wind was light leaving the harbor, but began to build steadily with big shifts, causing the Race Committee to move the course 3 times to find suitable conditions for racing.
After almost 2 hours, the wind was finally steady, with intensity between 15 and 20+ knots, allowing to finally start racing.In the only race of the day there was a Brazilian "dobradinha", with the team of Alexandre Paradeda – Olympic sailor and World Champion of the class – and Gabriel dos Santos, getting the better of fellow countrymen Bruno Bethlem and Dante Bianchi, double World Champions.
Leading the championship, with 16 points, are now the Spaniards Alfredo Gonzalez/Cristian Sanchez, who, with the 3rd place obtained in today's regatta, are now the only team with all the results in the top10. About the harsh conditions that were felt today in Cascais, Alfredo says "I love this race course, in Lanzarote [where he lives] there is also a lot of wind, so I am happy and comfortable with this type of conditions".
In 2nd place, with 28 points, is now the Brazilian team Henrique Haddad/Gustavo Nascimento, current world title holders. Finally, closing the podium is the mixed team of the United States, Enrique Quinter/Charlie Bess.
In the Portuguese teams, Henrique Brites and Francisco Maia, who yesterday had finished in 10th place, broke the mast and were unable to finish today's regatta, so now the first Portuguese boat is the Portuguese/Spanish duo formed by Mafalda Pires de Lima and Jaime Urdangaray, who now occupies the 12th position, just 14 points from the top 10.
For tomorrow, the Race Committee's intention is to hold 3 races, in order to make up for the missing race today.
Day 2 Highlights
Results after 3 races:
ESP Alfredo Gonzalez & Cristian Sanchez, 16
BRA Henrique Haddad & Gustavo Nascimento, 28
USA Enrique Quintero & Charlie Bess, 31
ESP Victor Perez Campos & Enric Noguera, 33
BRA Mario Sergio De Jesus Junior & Henrique Wisniewski, 36
ESP Miguel Angel Lasso & Tomas Fuentes, 37
BRA Juliana Duque & Rafael Martins, 40
USA Ernesto Rodriguez & Kathleen Tocke, 41
ESP Alfonso Fernandez & Pedro Escuder, 42
BRA Bruno Bethlem & Dante Bianchi, 43