North American Championship – Day 1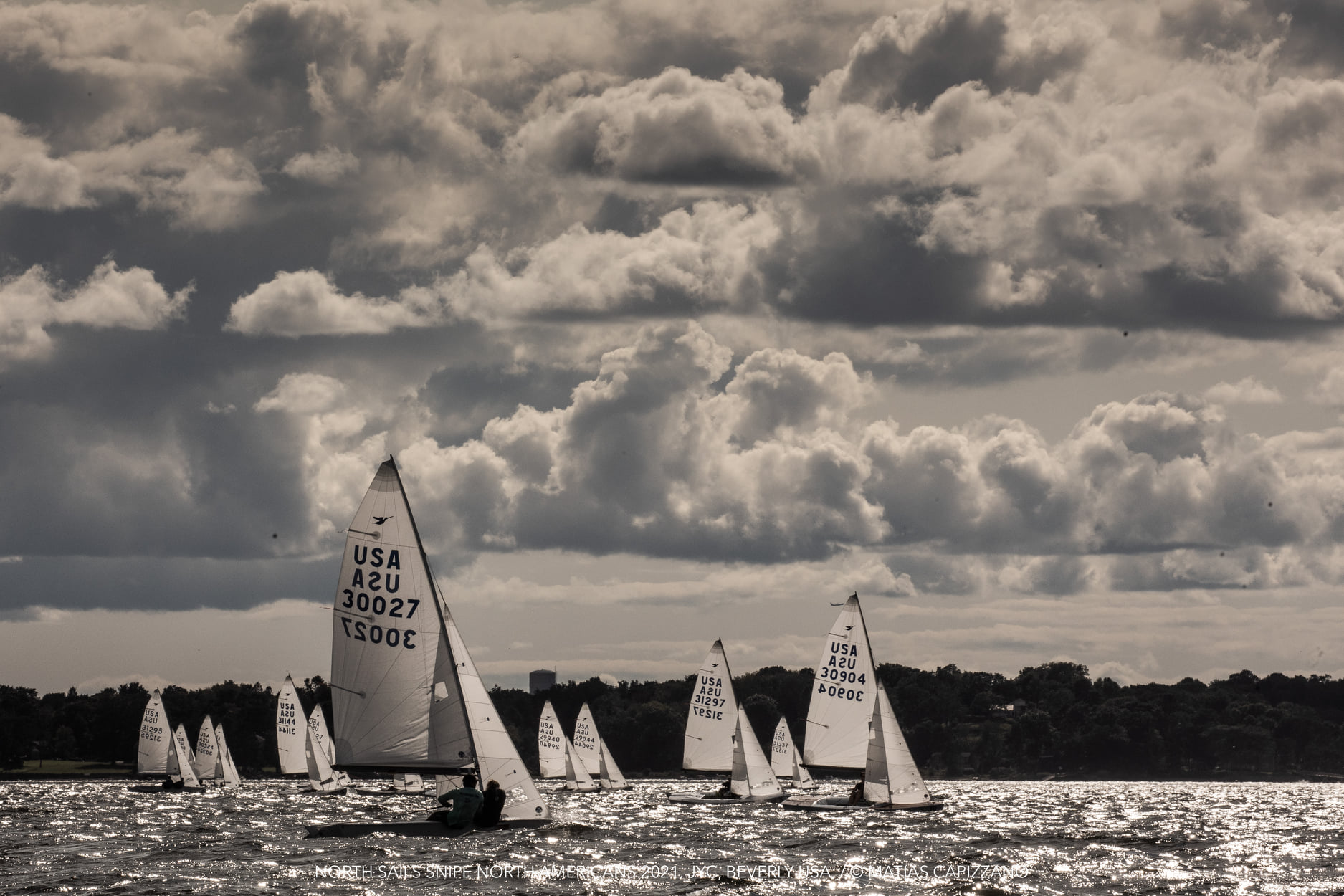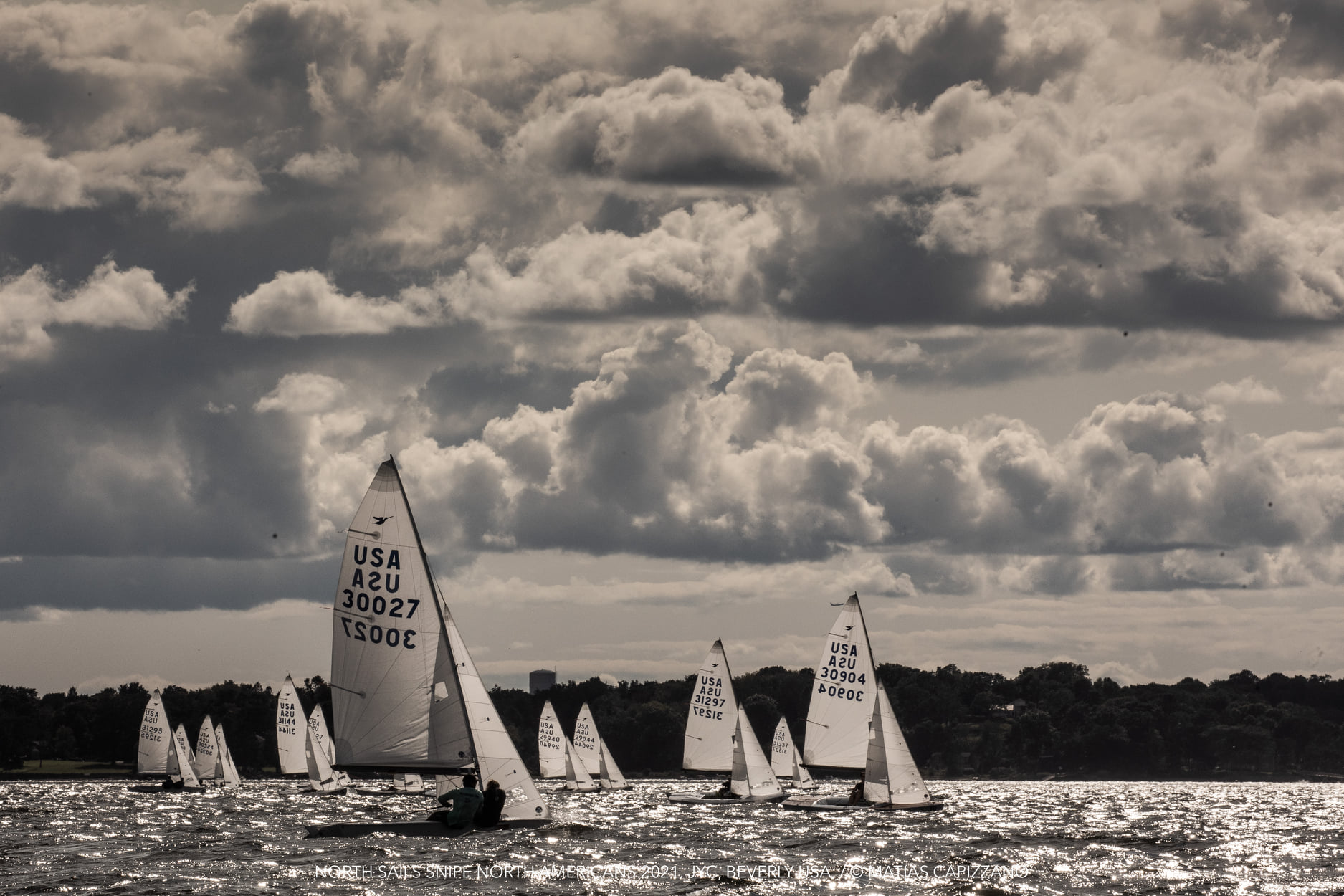 (Photo courtesy of Matias Capizzano)
Beverly, MA, USA, September 10, 2021. Results after 2 races:
Ernesto Rodriguez & Kathleen Tocke, 2
Enrique Quintero & Charlie Bess, 8
Arthur Blodgett & Grace Howe, 8
Andrew Pimental & Megan Place, 11
Carol Cronin & Kim Couranz, 13
It was an interesting day 1 of the North Sails North Americans on Salem Sound. Northwest winds up and down – gusting to 20, and very shifty. A brief rain shower visited during the second race added to the weather conditions. Carol Cronin's comment sums it up best – "Very hard, very fun".
We got 2 races in as planned with Ernesto Rodriquez winning both. Florida boats captured the top 3 spots and three Juniors finished in the top ten.
SAILORS
SAIL NUMBER
BOAT NAME
CLUB/ORG
NET
TOTAL
R1
R2

1

Ernesto Rodriguez
Kathleen Tocke

USA 31337

49

None

Miami Snipe Flett

2

2

1

1

2

Enrique Quintero
Charlie Bass

USA 31144

40

MAQ

Chase Performance / Coral Reef Yacht Club

8

8

5

3

3

Arthur Blodgett
Grace Howie

USA 30473

13

None

LYC Junior Sailing

8

8

3

5

4

Andrew Pimental
Megan Place

USA 31727

36

None

Sail Newport

11

11

9

2

5

Carol Cronin
Kim Couranz

USA 31295

25

None

Severn Sailing Association

13

13

4

9

6

Justin Callahan
Enzo Menditto

USA 30281

48

None

Biscayne Bay Yacht Club

17

17

2

15

7

Trevor Davis
Rees Tindall

USA 31391

26

Bad Panda Racing

Tufts/SSA

18

18

14

4

8

Asher Zittrer
Noah Zittrer

USA 31300

28

None

Lakewood Yacht Club

18

18

10

8

9

Robert Ramirez
Martin Hermida

USA 31638

17

None

New York Yacht Club

18

18

8

10

10

Jim Bowers
Julia Marsh Rabin

USA 31555

11

None

Winchester Boat Club

20

20

13

7

11

Doug Hart
Christina Persson

USA 31297

30

None

Mission Bay Yacht Club

23

23

17

6

12

John MacRae
Kerry O'Brien (Friday only)
Linda Epstein (Saturday & Sunday)

USA 31685

42

None

Fleet 244 – Cottage Park

23

23

7

16

13

Trevor Long
Scarlett Koller

USA 30324

14

Out of Phase

244

29

29

18

11

14

Evan Hoffmann
Constanza Alvarez Fernández

USA 30687

44

Mr. Meeseeks

San Diego Yacht Club

29

29

16

13

15

Augie Diaz
Barbie Brotons
Barbara Brotons

USA 30288

23

Danilu

Coconut Grove Sailing Club

33

33

19

14

16

Alex Pline
Lisa Pline

USA 31313

12

Old Folks Boogie

Severn

34

34

22

12

17

Eric Reinke
Alexandra Damley-Strnad

USA 31357

31

None

Severn Sailing Association

38

38

11

27

18

John Tagliamonte
Bridget Creney-Wiatrowski

USA 31013

21

None

Fleet 077 – Winchester

41

41

23

18

19

Andre Guaragna
Logan Brickhouse

USA 30027

27

None

Fleet 007 – Miami

45

45

21

24

20

Carter Cameron
Chris Schon

USA 29940

22

CheeseBirger in Paradise/Birger A La Mode

Severn Sailing Association/Carolina Yacht Club

48

48

6

OCS – 42

21

Lee Griffith
Nikki Bruno

USA 31304

24

None

Surf City Yacht Club

48

48

31

17

22

Kyle Easton
Ethan Anderson
Ethan Anderson

USA 29499

19

MSL

Jubilee/ Eastern Yacht Club

49

49

29

20

23

Robert Coyle
Gus Wirth

USA 28542

38

None

Fleet 244 – Cottage Park

49

49

27

22

24

SIMON STRAUSS
Laura Muma

USA 31001

39

Purple Bear

Hudson Valley

51

51

32

19

25

Bob Adam
Stephanie Adam

USA 29044

34

WHOA

Sail Newport, Inc

52

52

24

28

26

Eric Heim
Amy Benner

USA 28686

33

Drunken Filly

SDYC

52

52

26

26

27

Charles Miller
Lindsey Kloc

USA 30904

18

Kevin

N/a

54

54

12

OCS – 42

28

Sarah Alexander
Hollis Barth

USA 30928

35

None

Severn Sailing Association

54

54

33

21

29

Roberto Guaragna
Isabel Guaragna

USA 31338

46

None

Fleet 007 – Miami

54

54

25

29

30

Cameron Fraser
Liz Fraser

USA 30903

20

None

Fleet 777 – Medford

57

57

15

DNF – 42

31

Julia Fuller
Claire Huebner

USA 29727

15

Shakedown Street

Fleet 244 – Cottage Park/Fleet 532 – SSA

57

57

34

23

32

Adam Rousmaniere
Jennifer Rousmaniere

USA 31280

37

Fozzie

Fleet 077 – Winchester

60

60

35

25

33

Martin Fraser
Nathan Manzione

USA 30999

32

Swan Song

Medford Fleet 777

61

61

30

31

34

Christian Filter
Emily Gonzalez

USA 30552

16

None

CPYC/SSA

62

62

20

OCS – 42

35

Ryan Schubert
Amanda Kremer

USA 30618

41

None

Fleet 210 – Rocky Mountain

69

69

39

30

36

Charles Green
Rafael Melendez

USA 30743

50

AARP Xpress

US Sailing Center – Miami

69

69

37

32

37

David Perez
Chris Kiener

USA 31442

45

Cristal

Coconut Grove Sailing Club

70

70

28

DNF – 42

38

Alec Stewart
Paige Omura

USA 27733

29

None

Fleet 244 – Cottage Park

75

75

DNS – 42

33

39

Venkat Chalasani
Tonje Gulbrandsen

USA 29008

10

None

WBC/CPYC

78

78

36

DNF – 42

40

Richard Boardman
Kip Boardman

USA 28050

47

None

Jubilee Yacht Club

80

80

38

DNF – 42

41

Peter Bronk
John Laiosa

USA 29972

43

None

Fleet 777 – Medford

82

82

40

DNF – 42