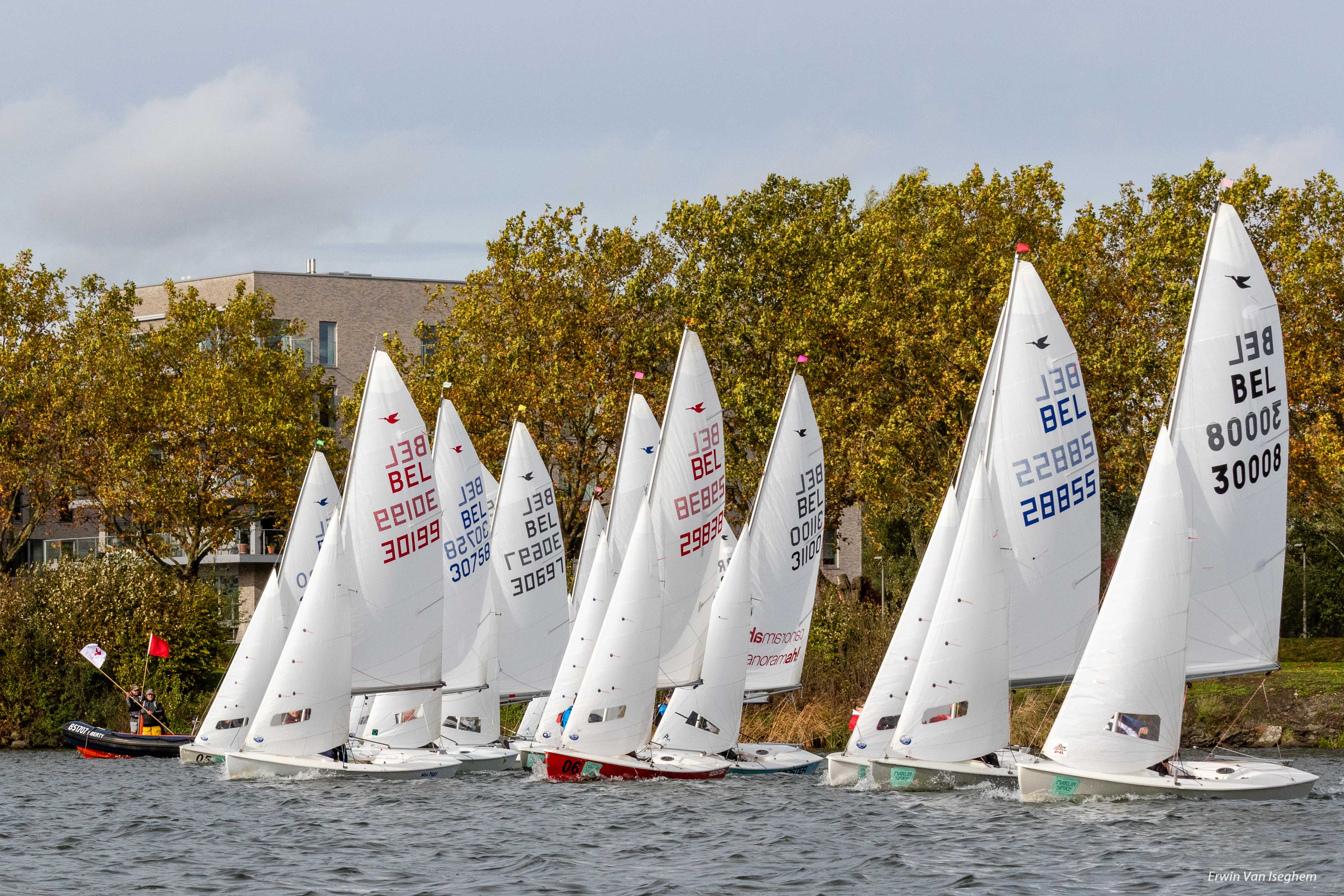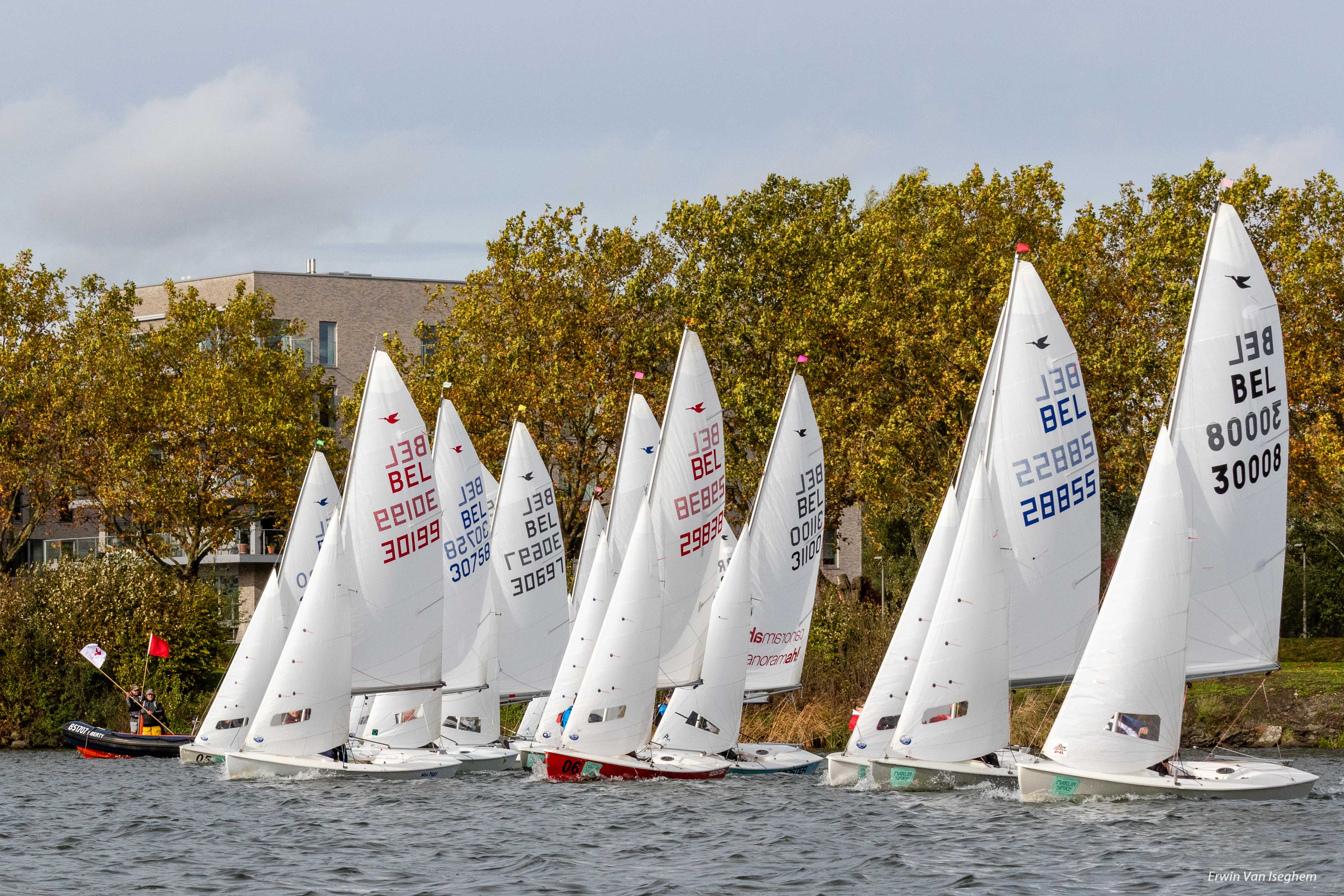 Antwerp, Belgium, October 19, 2019
Today first race of the MarlinSipke rum cup. 27 boat subscribed for the race. 24 boats were on the starting line for day one of the second MarlinSpike Rum Cup on Saturday. The rain stopped on cue before the first warning signal and the result was a perfect day for Sailing in very variable and not expect sunny conditions. As expected puffy and shifty, like we are used to on lake Galgenweel (Antwerp Belgium).
After three races sailors could enjoy a Tasty chicken Wings lunch organized by  "The Sailing cooks". In the afternoon four more races were sailed with a bit more wind.
At 6 pm all expected for cocktail party and diner at the Royal Liberty Yacht Club Antwerp aka windkracht12. Organized by our sponsor MarlinSpike. In corporation with the following partners. Optiteam.be, windkracht12 and perssonmarinebelgium.com.
On Sunday 6 more races are planned and a Medal Race. And 1 Lucky Sailor Will leave with a set of velaspl.com sails.
Images by Erwin Van Iseghem.
Senne Deboeure
| Nr | Sail Number | Team | Club | T | N | R1 | R2 | R3 | R4 | R5 | R6 | R7 | |
| --- | --- | --- | --- | --- | --- | --- | --- | --- | --- | --- | --- | --- | --- |
| 1 |  BEL 31274 | Maj Kristin HANSEN BORGEN | RYCB | 11.0 | 8.0 | | | | | | | | |
| 2 |  BEL 30897 | | SRNA | 25.0 | 18.0 | | | | | | | | |
| 3 |  BEL 30008 | | VVW GA | 33.0 | 23.0 | | | | | | | | |
| 4 |  BEL 30265 | | SRNA | 37.0 | 24.0 | | | | | | | | |
| 5 |  BEL 28855 | | KLYC | 35.0 | 25.0 | | | | | | | | |
| 6 |  BEL 29838 | | RYCB | 50.0 | 37.0 | | | | | | | | |
| 7 |  GBR 28541 | | Bough Beech SC | 61.0 | 49.0 | | | | | | | | |
| 8 |  BEL 30697 | | CVPuerto Andratx/ Federación Balear de Vela | 64.0 | 51.0 | | | | | | | | |
| 9 |  BEL 29988 | | KLYC | 78.0 | 59.0 | | | | | | | | |
| 10 |  BEL 28990 | | VVW Galgenweel | 90.0 | 62.0 | | | | | DNC | | | |
| 11 |  FRA 30114 | | 77015 | 87.0 | 66.0 | | | | | | | | |
| 12 |  BEL 30848 | | | 81.0 | 66.0 | | | | | | | | |
| 13 |  GBR 30757 | | Bough Beech SC | 87.0 | 70.0 | | | | | | | | |
| 14 |  BEL 30793 | | Sodipa | 97.0 | 78.0 | | | | | | | | |
| 15 |  BEL 30714 | | Sodipa | 100.0 | 82.0 | | | | | | | | |
| 16 |  GBR 29611 | | Bough Beech SC | 106.0 | 85.0 | | | | | | | | |
| 17 |  BEL 31100 | | KLYC | 107.0 | 88.0 | | | | | | | | |
| 18 |  BEL 30199 | | RYCB | 126.0 | 98.0 | DNC | | UFD | | | | OCS | |
| 19 |  BEL 30809 | | VVW GA | 121.0 | 101.0 | | | | | | | | |
| 20 |  BEL 30758 | | KLYC | 124.0 | 104.0 | | | | | | | | |
| 21 |  BEL 30479 | | KLYC | 143.0 | 121.0 | | | | | | | | |
| 22 |  BEL 38714 | | SRNA | 152.0 | 124.0 | DNC | DNC | DNC | | | | | |
| 23 |  BEL 20634 | | KLYC | 162.0 | 134.0 | | | DNF | | | | | |
| 24 |  BEL 28156 | | SRNA | 178.0 | 150.0 | | DNF | | | DNC | DNC | DNC | |
| 25 |  BEL 31226 | | RYCB | 196.0 | 168.0 | DNC | DNC | DNC | DNC | DNC | DNC | DNC | |
| 25 |  BEL ??? | | VVW GA | 196.0 | 168.0 | DNC | DNC | DNC | DNC | DNC | DNC | DNC | |
| 25 |  ITA 29935 | | KLYC | 196.0 | 168.0 | DNC | DNC | DNC | DNC | DNC | DNC | DNC | |
| | |
| --- | --- |
| DNC | Did not start; did not come to the starting area |
| DNF | Did not finish |
| OCS | Did not start; on the course side of the starting line at her starting signal and failed to start, or broke rule 30.1 |
| UFD | Disqualification under rule 30.3 |