European Championship – Day 4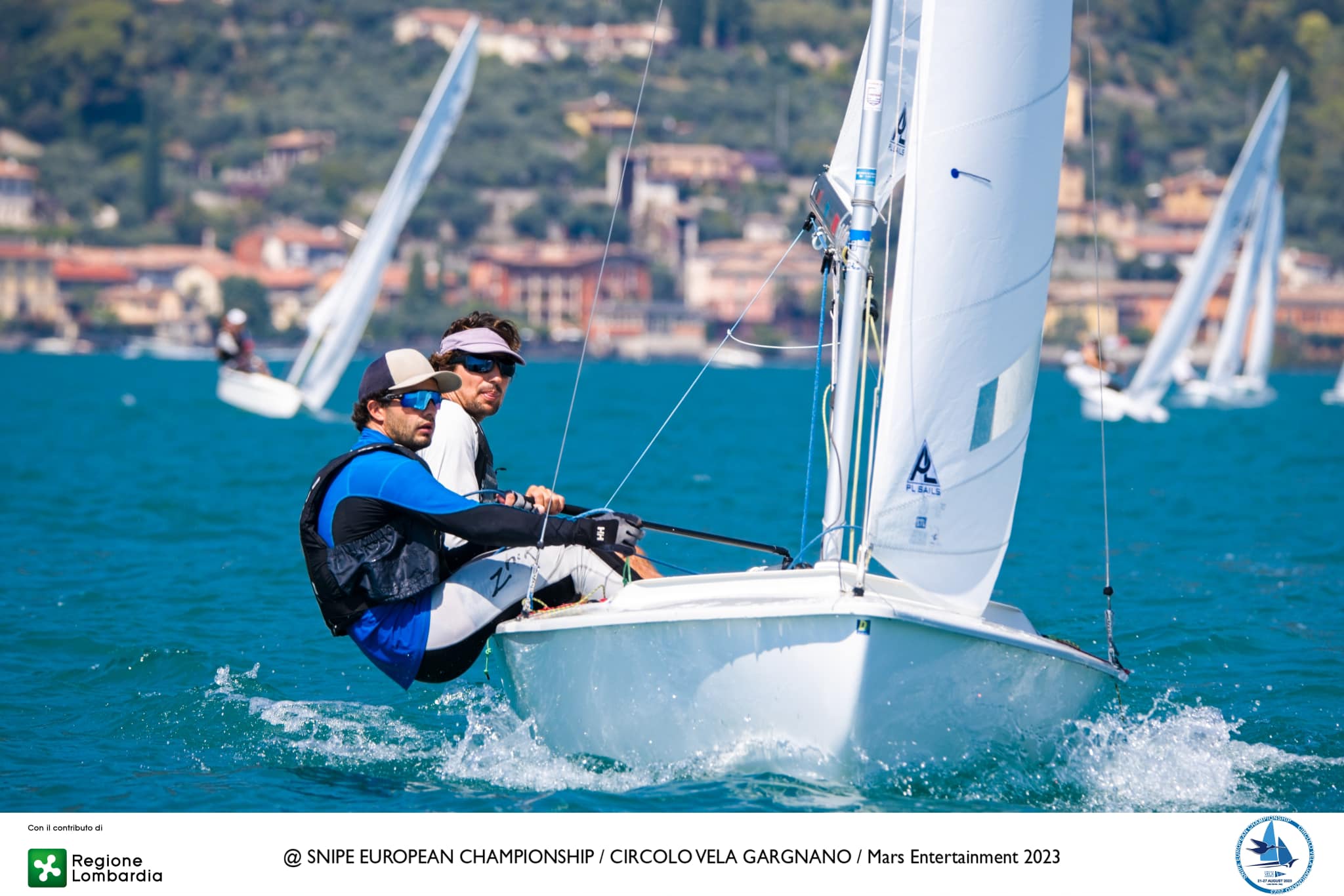 Gargnano, Italy, August 26, 2023. Results after 7 races (1 discard):
ESP Jordi Triay Pons & Enric Noguera, 24
ARG Julio Alsogaray & Malena Sciarra, 31
USA Ernesto Rodriguez & Kathleen Tocke, 38
ESP Pablo Fresneda Arqueros & Javier Lopez Fernandez, 40
ESP Damian Borras & Sara Franceschi, 48
USA Augie Diaz & Taylor Scheuermann, 50
BEL Manu Hens & Alexandre Tinoco, 51
BEL Sam Vandormael & Daan Vandormael, 63
USA Enrique Quintero & Charlie Bess, 69
BEL Yannick Laumans & Dirk De Bock, 83
The fourth day of the Snipe European Championship on Lake Garda began with a futile attempt to race in the early morning northerly. After 5 recalls, some under black flag, the fleet was sent ashore as any wind they had started with completely died. After a few hours on shore, the southerly filled and the sailors were off.
The first race was held in a nice 10-11 knots and the double windward-leeward course; only 1 was caught under the black flag. The wind began to drop to 7-9 knots and those on the left rounded the weather mark first, with Jordi Triay/Enric Noguera (ESP) finishing 1st, Giolle Toffolo/Stefano Longhi (ITA) 2nd and fellow Italians Luca Cernuschi/Maria Ridolfi as the top 3. The RC started the 2nd race of the day as soon as possible to get the second race as the wind slowly began to fade. At the start, a 12-14 knots of wind was on the course. At the finish Manu Hens/Alexandre Tinoco (BEL) crossed first followed by Ernesto Rodriguez/Kathleen Tocke (USA) and Jordi Triay/Enric Noguera (ESP) crossing 3rd.
Protests to reopen the cancelled race of Friday were disallowed and the results stand as posted including a discard. Atop the leaderboard is Jordi Triay/Enric Noguera (ESP) 24pts., Julio Alsogaray/Malena Sciarra (ARG) 31pts., Ernesto Rodriguez/Kathleen Tocke (USA) 38 pts., Pablo Fresneda/Javier Lopez (ESP) 40pts., Damian Borras/Sara Franceschi (ESP) 48 pts. to round out the top 5.