European Championship – Day 3
Gargnano, Italy, August 25, 2023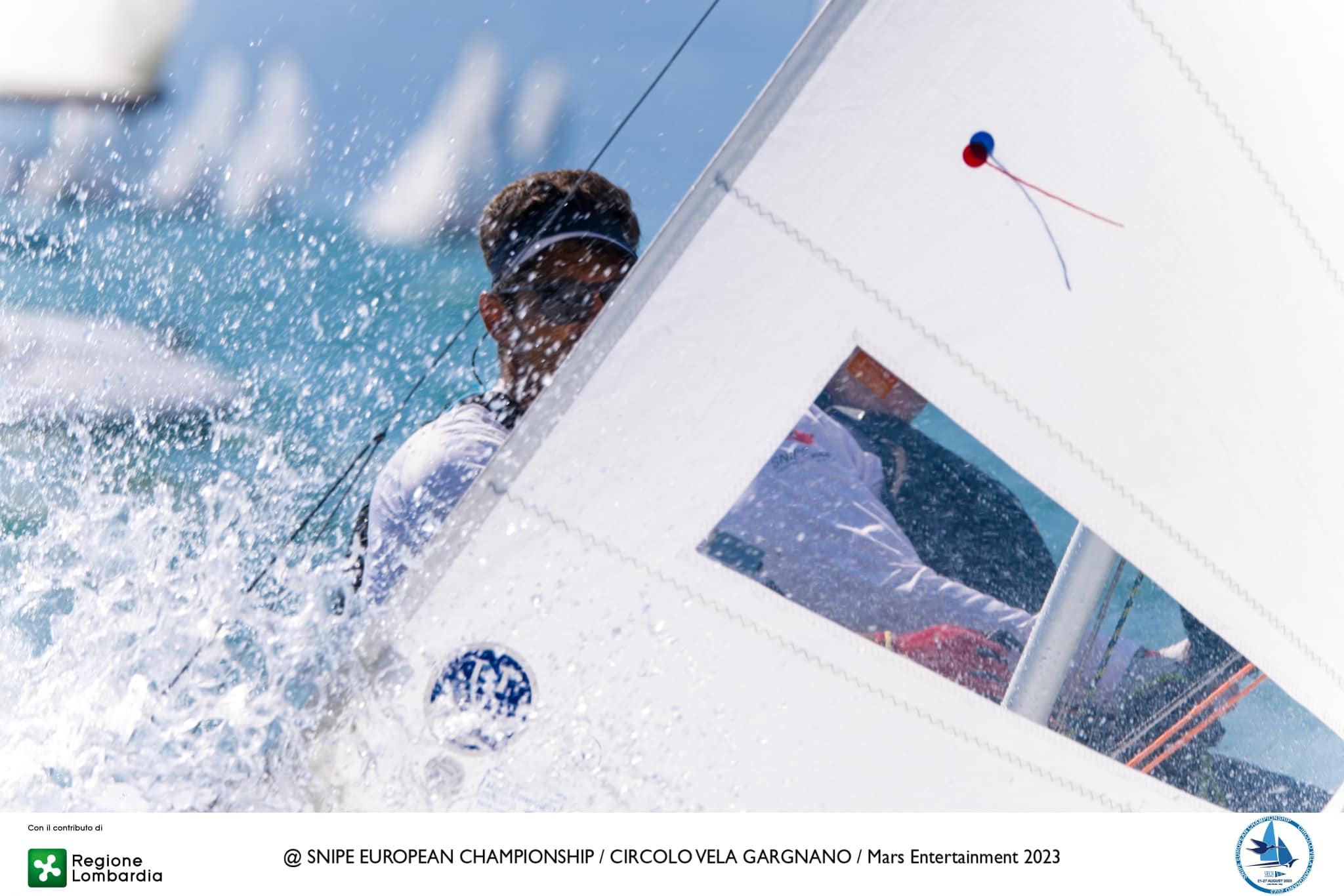 Gargnano, Italy, August 25, 2023. Results after 5 races:
ARG Julio Alsogaray & Malena Sciarra, 31
ESP Pablo Fresneda Arqueros & Javier Lopez Fernandez, 32
ESP Jordi Triay Pons & Enric Noguera, 36
USA Ernesto Rodriguez & Kathleen Tocke, 38
ESP Damian Borras & Sara Franceschi, 47
BEL Sam Vandormael & Daan Vandormael, 54
USA Enrique Quintero & Charlie Bess, 59
USA Augie Diaz & Taylor Scheuermann, 61
BEL Manu Hens & Alexandre Tinoco, 65
BEL Yannick Laumans & Dirk De Bock, 72
SNIPE EUROPEANS – DAY 3 – CONFLICT ON THE WATER
August 25, 2023
The third day of the Snipe European Championship on Lake Garda started early again to take advantage of the northerly Peler to accomplish 2 races for the day.
The first race was held in a nice 10-15 knots and the double windward-leeward course. The race was approximately 50 minutes long and found Julio Alsogaray/Malena Sciarra (ARG) with the win followed by Jordi Triay/Enric Noguera (ESP) and Enrique Quintero/Charlie Bess (USA) rounding out the top 3. The RC started the 2nd race of the day as soon as possible to get the second race as the wind slowly began to fade. At the start, 5-7 knots of wind was on the course with the weather mark posting 7-9 knots. Shortly after the start, several sailors reported a major wind shift, enough for them to sail with no tacking to the first mark in 16 minutes. The fleet continued to sail and once the race was finished and the fleet returned to shore, many protests were filed. The long afternoon would be filled with the waiting for hearings and results. Meanwhile the race winners, Triay/Noguera (ESP), Yannick Laumans/Dirk de Bock (BEL) and Ernesto Rodriguez/Kathleen Tocke (USA) waited to see if the race would stand. After the jury deliberated the race was thrown out and the schedule amended for tomorrow to try to run 3 races with another early morning start. The weather forecast for Sunday may not be conducive to racing, to the Race Committee will attempt to catch up.
After a long day for the Jury, the final results for the day were posted with Julio Alsogaray/Malena Sciarra (ARG) with 31 points, Pablo Fresneda/Javier Lopez (ESP) with 32 points, Jordi Triay/and Enric Nogura (ESP) with 36 points rounding out the top 3 spots. 4 more races are scheduled for the Championship over the next 2 days and the title is still up for grabs.