European Championship – Day 2
Gargnano, Italy, August 243, 2023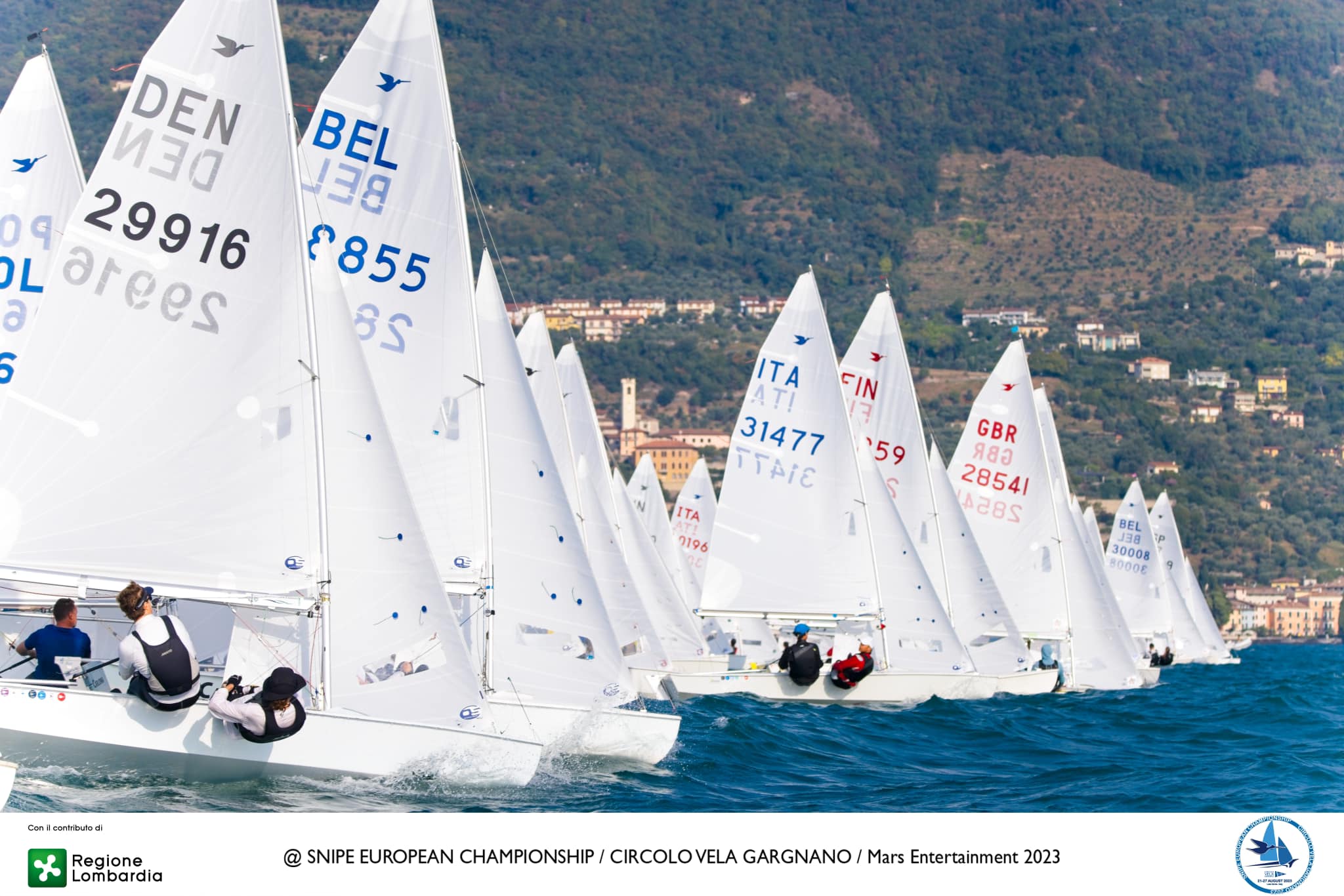 Gargnano, Italy, August 243, 2023. Results after 4 races.
BEL Manu Hens & Alexandre Tinoco, 27
ESP Pablo Fresneda Arqueros & Javier Lopez Fernandez, 30
ARG Julio Alsogaray & Malena Sciarra, 30
USA Ernesto Rodriguez & Kathleen Tocke, 32
ESP Jordi Triay Pons & Enric Noguera, 34
ESP Damian Borras & Sara Franceschi, 43
BEL Sam Vandormael & Daan Vandormael, 46
USA Augie Diaz & Taylor Scheuermann, 56
USA Enrique Quintero & Charlie Bess, 56
DEN Christian Skjoldvang Andersen & Annette Sartvin Lendal, 56
Renewed Breeze – Consistency Pays
The second day of the Snipe European on Lake Garda started very early with teams hitting the water at 8:00am. The northerly Peler had filled in nicely for the 8:30 am start in an average of 12 knots.
Three races were held with the wind slowly dropping to 6 knots by the start of the 3rd race around 11am with the last of the fleet drifting across the finish line. Spaniards Damian Borras/Sara Franceschi took a commanding lead the first race and followed with a 5th, but their third race was a 30th, putting them 6th overall. Manu Hens (BEL) and Alexandre Tinoco (NED) were the most consistent team of the day posting a 2-2-7 and moving them to 2nd overall. Pablo Fresneda/Javier Lopez (ESP) also sailed well with a 3-9-1 and moving them into the leaders spot with 22 points. Third overall stands Julio Alsogaray/Malena Sciarra (ARG) posting a 4-4-11 today and 30 points overall.
With the morning breeze, the left was favored but as the wind dropped it shifted to the right, giving a fairly good tactical course for all competitors. Double Windward-leeward courses were used but as the wind almost completely died there were a few teams who could not meet the time limit.