Eight Bells: Adrian Dupuy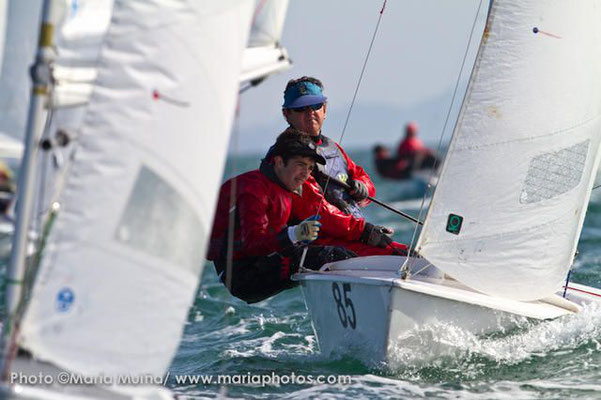 Adrian Dupuy died today at age of 55, from complications resulting from Covid. He was SCIRA Spain National Secretary (2006-08), Spanish Masters National Champion (2010 and 2017) and Real Club Nautico de Madrid commodore. He was still an active Snipe sailor.
Our condolences to his family and to the Madrid Snipe Fleet.
(source: snipespain.es)
Querida flota Snipe,
Lamento informaros de que hoy ha fallecido Adrián Dupuy tras varios meses luchando contra el COVID. Una terrible noticia que nos ha conmovido a todos.
Como Presidente del Real Club Náutico de Madrid y Secretario Nacional de la Clase Snipe desempeñó un papel relevante en su gestión y crecimiento, dándonos ejemplo de dedicación y trabajo por los demás. Era un apasionado de la vela y un gran regatista, con un brillante palmarés de victorias y reconocimientos.
Me viene al recuerdo, antes del último Campeonato Ibérico celebrado en Madrid en el año 2019, ver a Adrián en el Real Club Náutico de Madrid preparando su Snipe, durante varios días, con una enorme ilusión y que todo estuviera a punto para la competición. Vivía las regatas intensamente.
Gracias Adrián por habernos marcado, con tu ejemplo, el camino a los que sentimos la vela como algo esencial de nuestra vida. Te recordaremos siempre, buen amigo.
Un fuerte abrazo para Maite, su esposa, y todo el apoyo de la Clase Snipe.
Descanse en Paz
José Pérez le ha querido dedicar unas líneas también:
Lamentablemente hoy me toca daros una mala noticia, se trata de nuestro querido amigo Adrián Dupuy López, que tras largo tiempo hospitalizado no ha podido superar el maldito virus que nos azota, descanse en paz.
Adrián dirigió nuestra Asociación entre los años 2006 y 2008 y hasta hace poco presidio el Real Club Náutico de Madrid, magnífico regatista y mejor persona, siempre navegó con Mayte su mujer en sus aguas preferidas,  Cartagena y Mar Menor.
Seguro que habrá encontrado el buen bordo y desde allí donde este contemplará los atardeceres del Mar Menor y la paz del Embalse de San Juan.
No te olvidaremos
Pepe Pérez