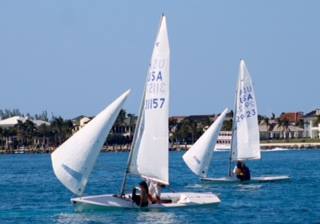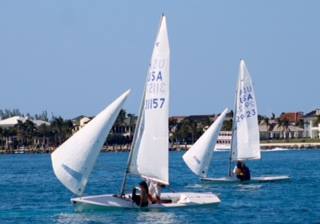 Nassau, March 11, 2017
No racing today in the Bahamas – beach day. Enjoy photos from yesterday.
by Nikki Bruno
We had another 2pm start on Day 2 due to the spring tide. A relaxed morning was had by all.
The wind was light, it took about a half hour from scheduled start time to hit 5kts. Two races were sailed in conditions of 4-7kts, mostly on the light side, with the water mostly flat. All the lake sailors felt at home! The breeze shifted back and forth from N to NNE, so it was all about picking the right side of the course at the right time.
The first race ended the Bacardi series. Raul came in first, as well as claimed first overall. Robert came in second, and second overall. Jimmie came in third, and third overall.
The second race started the Gamblin series. Still duking it out, Robert came in first, Raul in second, and Jimmie in third.
Thanks to Jimmie who hosted us all at his house for a delicious BBQ after racing, with juicy rare steak and Bahamian mac and cheese!