SCIRA Training Clinic in the UK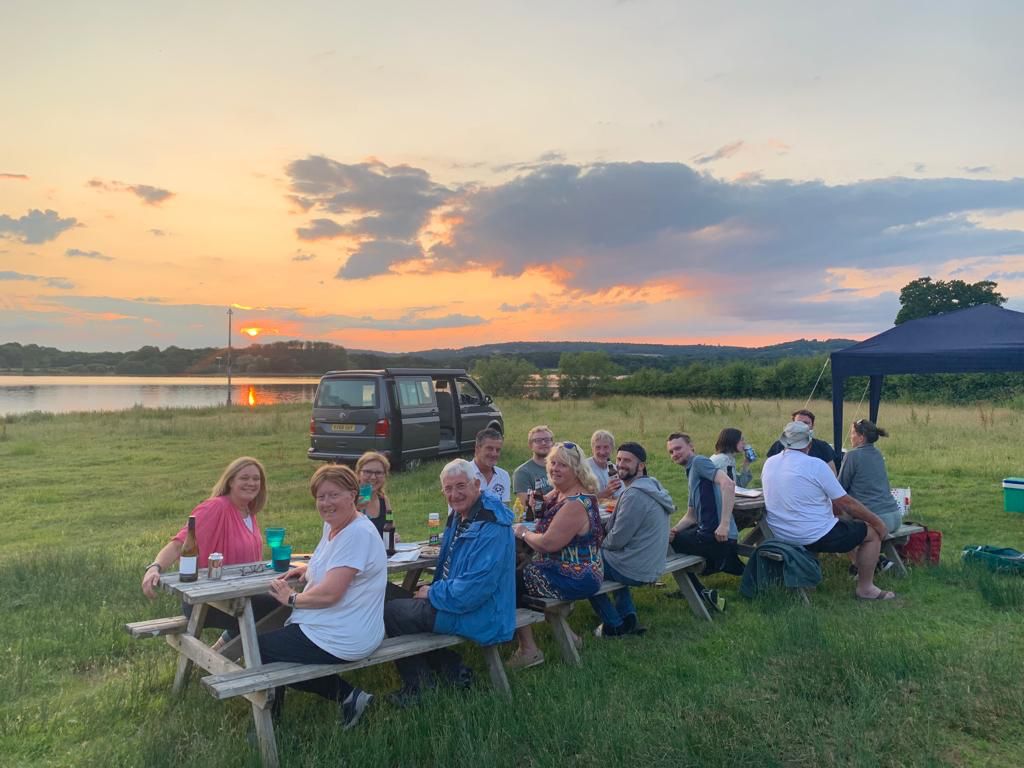 Bough Beech, UK, July 23-25, 2023
Bough Beech Sailing Club
Having had to cancel our SCIRA training clinic scheduled to take place back in 2021 due to Covid, SCIRA UK was really pleased to be able to finally host a clinic with the accomplished Snipe sailor and fantastic coach Damian Boras Camps who travelled from Minorca Spain to be with us. The event took place over 3 days with 11 boats and 21 sailors fully committed to training each day.
For those unaware of how the clinic works, this is an initiative that SCIRA has been funding for a few years.  It is a way of giving something back to the regular members, some of whom may never have even competed in the Nationals or International events but pay their annual membership and want to improve on their racing techniques. The SCIRA office has a list of coaches, who offer their services at a reduced fee, and are willing to give something back to the class. There are coaches on the list from around the World and so having a coach who is located close, helps to keep the costs down.  SCIRA pays for the day rate of the coach and their flight.  The local SCIRA, in this case SCIRA UK, pays for the coach's travel from the airport to the club, accommodation plus food and beers!
In the UK our Snipe fleet is split between the north (Budworth SC) and the south (Bough Beech SC) being the two main clubs. We chose to have the clinic at Bough Beech since it is only 30 minutes from Gatwick airport and has slightly less fluky winds than Budworth (also some might dispute that!). We agreed on a date with Damian (his calendar is always pretty full) and made our Bough Beech Snipe open meeting the following weekend so that those travelling the 6 hours south could leave their boats and return the following weekend to practice what was learnt! We had a fantastic three days of Damian's excellent coaching. We arranged for a BBQ at the club on the Friday night and fish & chips plus a trip to a local pub on the Saturday evening. Many people camped at the club, although Damian did have a proper bed to sleep in!!
SCIRA UK asked for feedback from those who attended the clinic and below are some of the comments received:

I attended the training clinic with some degree of nervousness. I need not have worried. Damian was brilliant and provided me with a few things to focus and build upon daily. Additionally, the generous support and encouragement that I gained from the other more experienced Snipe sailors was invaluable.  I gained so much knowledge and a better understanding of just everything from this fantastic opportunity.
Damien worked us continually on the water and we seemed to love him more for it!
With an odd number of participants, there was swapping of some between instructor boat and sailing. Having the opportunity to see the immediate effect of instruction enacted from outside on the whole fleet was priceless.
Really appreciate the effort everyone made organising the clinic.

A great structured training course with a really good approach to getting everyone working on improving all aspects of racing, and helpful tips individually to help sailors.
It was obvious that Damien wanted us all to refine our techniques, his enthusiasm didn't tire even if our bodies did.
A big, heartfelt thank you to i) SCIRA International for setting up and funding the international coaching scheme and ii) to Damian Borras Camps, the expert Snipe coach and highly experienced and renowned champion Snipe sailor. It was a wonderful opportunity and an honour to be coached by him.
The weather was perfect for training, starting with light airs that progressively strengthened to full hiking conditions. Damian worked tirelessly, with good humour and an encouraging, pleasant manner. Our powers of decision and our muscles were continuously and unrelentingly exercised whilst we absorbed the new information.

Damian, an excellent coach and SCIRA ambassador, and the Training Clinic will be remembered with pleasure. Thank you SCIRA for providing the opportunity.
The BB clinic was an excellent training exercise, especially because we were not racing competitively.
Thank you, Damian, for a fantastic weekends training, we certainly learnt a lot in boat handling and set up. Thank you to SCIRA International and UK for making it happen.
So, my brain is still buzzing what a great 3 days. Damian is a temple of knowledge and such a great coach.
What an excellent opportunity to learn from such a great sailor. It gave me a chance to step back and think about what I was doing and be able to reflect on what I could be doing better. I found the whole experience to be very positive and really enjoyed the weekend with all the great company!
I really enjoyed the clinic. Feel far more confident downwind thanks to some new ideas to me on the boat, looking forward to practising and perfecting the new techniques.
A huge thank you to Sue Roberts for organising, Damian Borras for the coaching and tuning tips and SCIRA for enabling us to be able to have such a fantastic top-level coach who really fitted in with the Snipe mantra SERIOUS SAILING, SERIOUS FUN. Great three days.
By the end of the clinic there was far more talk about UK sailors travelling more to international events in the not-too-distant future with their newfound skills and confidence.
If this is something that your country would like to consider, please contact Jerelyn at the SCIRA office: [email protected] to be added to the waiting list as there is a limit to how many clinics are funded each year.