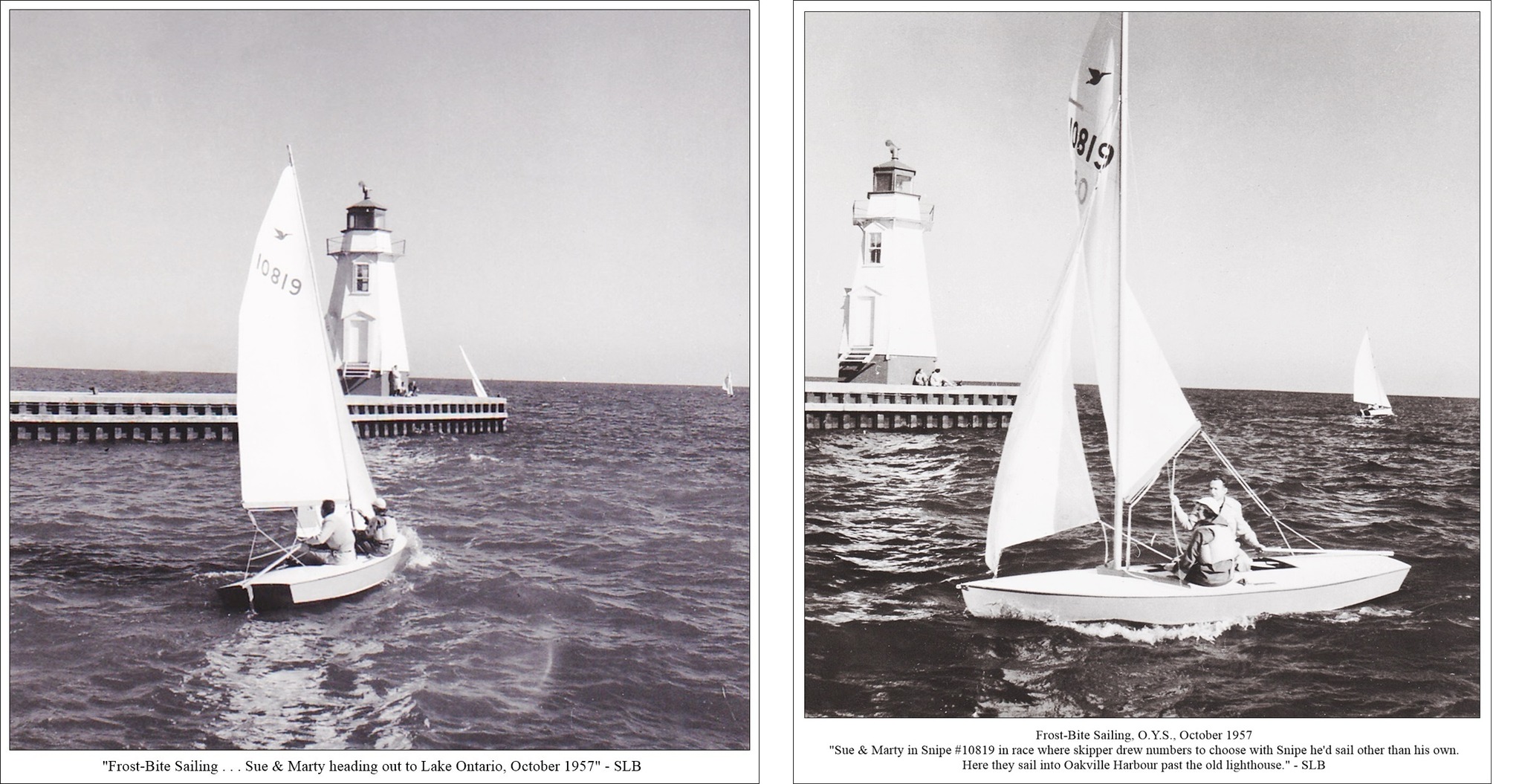 by Gweneth Crook
Oakville Yacht Squadron, on Lake Ontario, was founded in 1946 and started with a fleet of Snipes. In 1959 they acquired land on the other side of the 16 Mile Creek and built a new club house that is where the current club sits. The old club house went to an organization called Trafalgar Oakville Water-Air Rescue Force or TOWARF, a Canadian Coast Guard Auxiliary Unit providing marine search and rescue and is still in operation today.
My parents immigrated to Canada in spring of 1954 and the first thing they did that summer was buy a Snipe and join the club. They bought a Snipe before they even bought a car.
Oakville had a history of hosting big events with a small but dedicated Snipe Fleet that knew how to throw a party. They held the Western Hemisphere and Asia Championships in 1964, which saw Reinaldo and Ralph Conrad, Brazil win; Axel Schmidt and Mario Borges, Brazil 2nd; and Luis and Angel Orelia, Argentina 3rd there were 8 nations, 14 starters. They hosted a Canadian International Race Week in 1988 which included the Ontario Open/Canadian Nationals with 20 boats, the North Americans with 32 boats and the Id Crook Memorial World Masters Championship which Ivan Pimentel from Brazil won, with 6 nations and 31 boats. Check out the November 1988 Snipe Bulletin on the snipe.org for all the details.
This, I think, was a highlight for the Snipe Fleet in Oakville. I remember there was a parade though the main street in town with a Snipe on a trailer and all the teams with their flags.  OYS also hosted the first team race event between Spanish Point Boat Club, Bermuda, and Oakville Yacht Squadron in September 1965. This became an annual event one year at OYS and the next in Bermuda at SPBC that went on for many years.
Oakville was known for the "serious fun" side of the Snipe motto which kept people coming back for many years. There was always a green garbage can cocktail party at the regattas and most visitors were hosted by club members. I can remember our house being full of visiting Snipe sailors, some even sleeping on the floor under the dining room table. Although the Snipes are no longer at OYS they have the history of founding a club that is still there today and we have great memories and friendships from our time together.