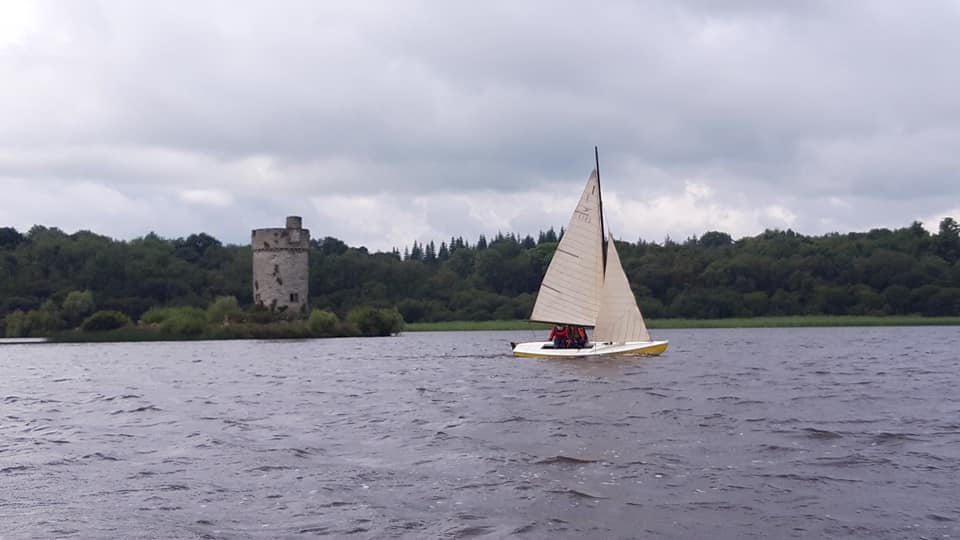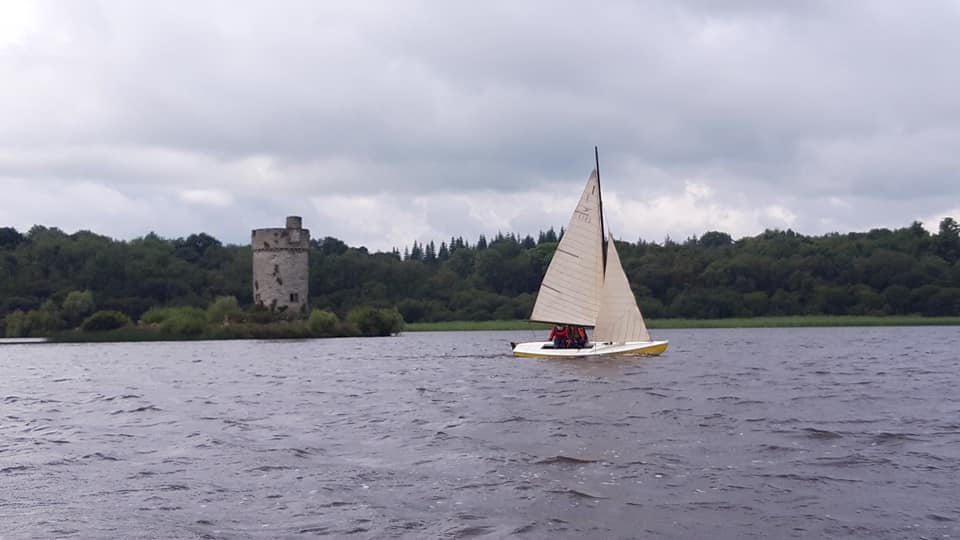 Source: Lough Erne Heritage FB page
Saturday saw the launch of "RANGER", the Snipe Class sailing dinghy recently restored by Fred and George Ternan.
In 1956, RANGER joined the growing fleet of Snipe dinghies that were regularly raced at Crom.
Mr. Johnny Madden, Hilton Park, Clones was co-owner of RANGER with Robin Hanbury-Tenison, who went on to become a famous explorer and author.
Johhny's father, Major Madden, already raced two Snipe dinghies at Crom, TEAL and MALLARD. Several sailing families raced Snipes at Crom in the 1950s and 1960s. Lord Erne, Belmores, Rossmores, Corbetts, Lucas-Clements and others.
That was then…
This is now…
65 years after her first appearance on Upper Lough Erne, RANGER is back sailing at Crom!
Not only RANGER, but Johnny Madden himself was there, along with representatives of the aforementioned sailing families!
A miserable morning weatherwise, soon blew over and the star of the day, RANGER, shone bright on Upper Lough Erne in her yellow and white colours, as she graced the waters at Crom, the original HQ of LEYC since the early 1800s.
Crewed by Fred and Edwina Ternan, RANGER was put through her paces from the slip, past the old castle and played on the lively waters of Crom bay, skirting the entrance of Trial Bay, tacking in fine fashion, her 1950s Ratsey & Lapthorn sails billowing, as if to salute the many races and regattas that were held on this historic stretch of water, before gracefully gliding over to the boat house below Crom Castle.
Following speeches by Lord Erne, Johnny Madden and Afloat Magazine correspondent, Betty Armstrong, the invited guests retired to Crom visitor centre where refreshments were served, and thankfully received!
I am proud to have played a small part in this truly historic event. As an owner and sailor of classic dinghies, I look forward to seeing more of RANGER at Crom…
Thank you to the caterers, photographers and everyone who braved the weather to show up.
A big thank you to Gabriel Fitzpatrick for supplying an additional safety boat.
Brian Osborne
Trustee, LEH