Bill of Sale for Snipe #1 "Adelaide"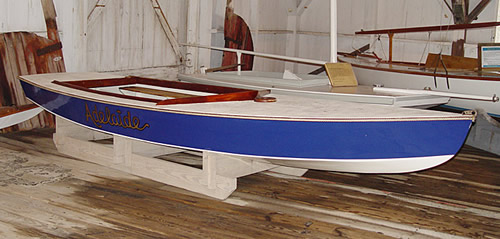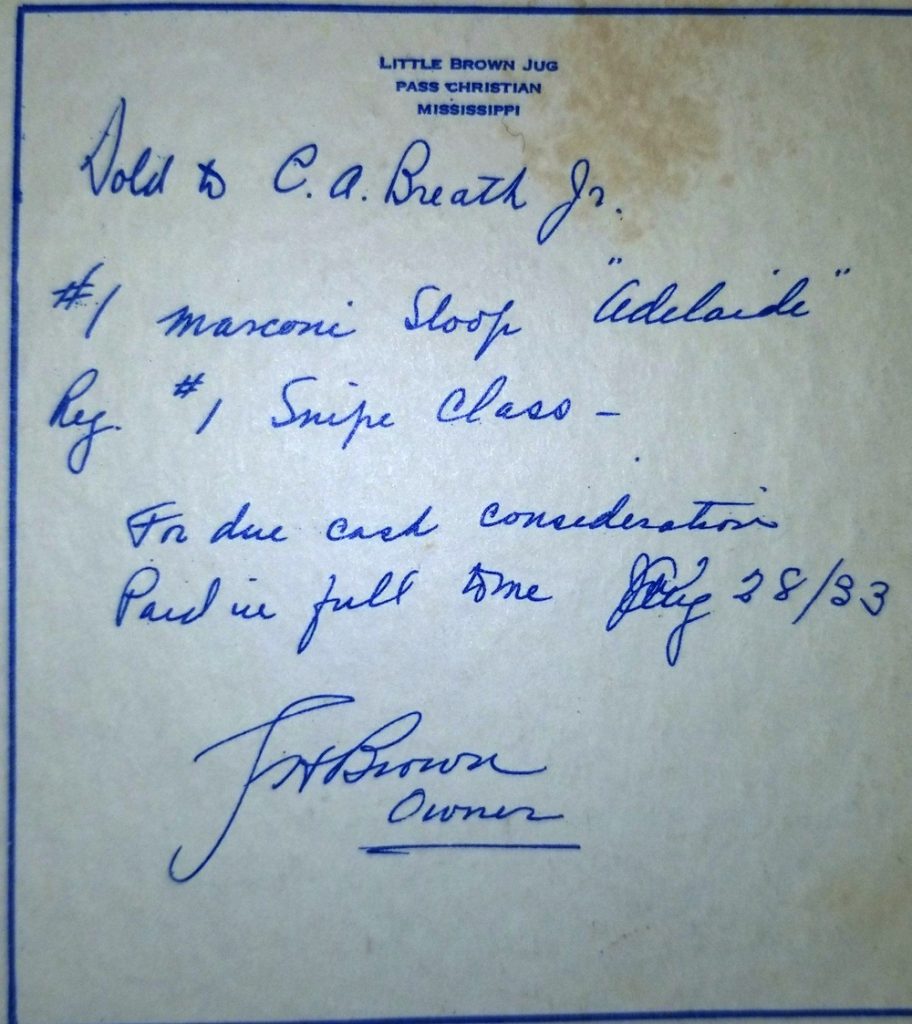 By Chuck Breath from Pass Christian, Mississippi.
My son, Charlie is sailing (crewing) in his first Snipe regatta this weekend at the Boomerang Regatta at LYC.
Knowing that we had a little bit of Snipe history in the family, I found a copy of the 'Bill of Sale' where J. Brown (original builder of Snipe 1) sold it to my grandfather and Charlie's great grandfather, Charles A. Breath Jr. (of Bay St. Louis, Mississippi) in 1933.
I sent it to Charlie to let him know that he had a family connection to Snipe racing, but also wanted to send you a copy as an interesting piece of Snipe history.
My grandfather was an avid racer on the Mississippi Gulf Coast in the 20's and 30's building and sailing various types of Sloops. He was also a boat broker. I am going to go through some family pictures that we have of his sailing back then to see if I can find any pics of the Adelaide. If I do, I'll be sure to pass along.
Snipe #1 "Adelaide," built in 1931, was restored 60 years later in 1991, and is now in the collection of the Antique Boat Museum, located at Clayton, New York at the east end of Lake Ontario. The pictures above were taken by the staff of the Chesapeake Bay Maritime Museum (St. Michaels, Maryland) and reflect the boat as it appeared on display there in October 2005.
Note the wide cockpit which features seats on each side, the daggerboard trunk and the skeg at the transom which were part of the original design. Later, design provisions for the skeg were eliminated, and a pivoting centerboard was allowed for about 20 years but later discontinued for modern Snipes.
Originally owned by Jimmy Brown and father, Pass Christian, Mississippi
Built by Jimmy Brown and father, Pass Christian, Mississippi (1931)
Located at Antique Boat Museum, Clayton, New York