Interview: Manu Hens
[caption id="attachment_4713" align="alignnone" width=""]Manu Hens & Enrico Michel in San Diego (2009)[/caption](snipe.it, December 2009) When did you start sailing? Many years ago my parents had a motorboat in Holland and wanted to buy a sailboat. The problem was they couldn't sail. So my father decided to buy an optimist and he learned to sail by himself. Must have been a funny sight :-) After a while he felt confident enough to have the sailing yacht and I got the optimist. I was 8 at the time. Soon I became the local harbor hero and my first girlfriend was a fact. When I was 11 I started to attend (national) races. I was less a hero then :-(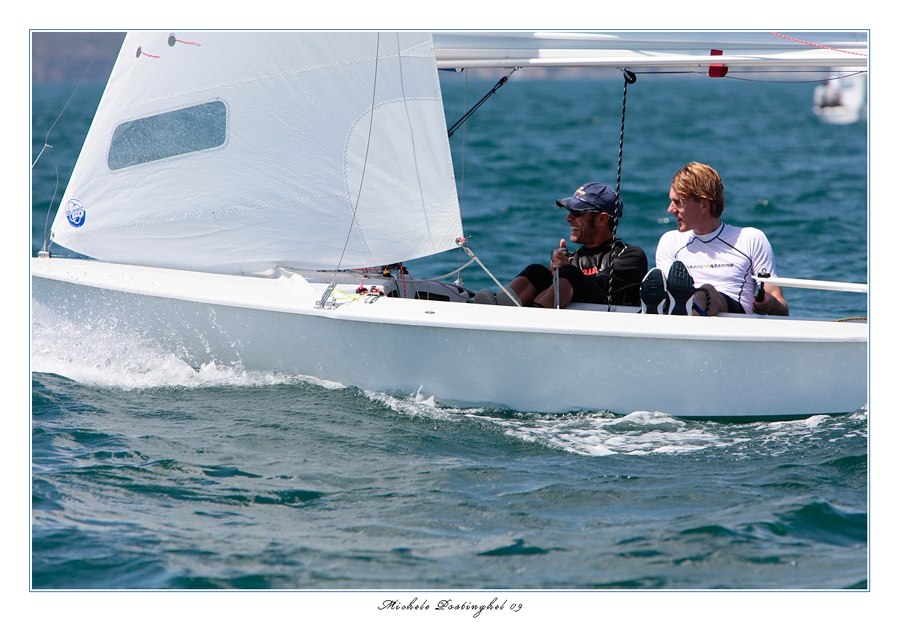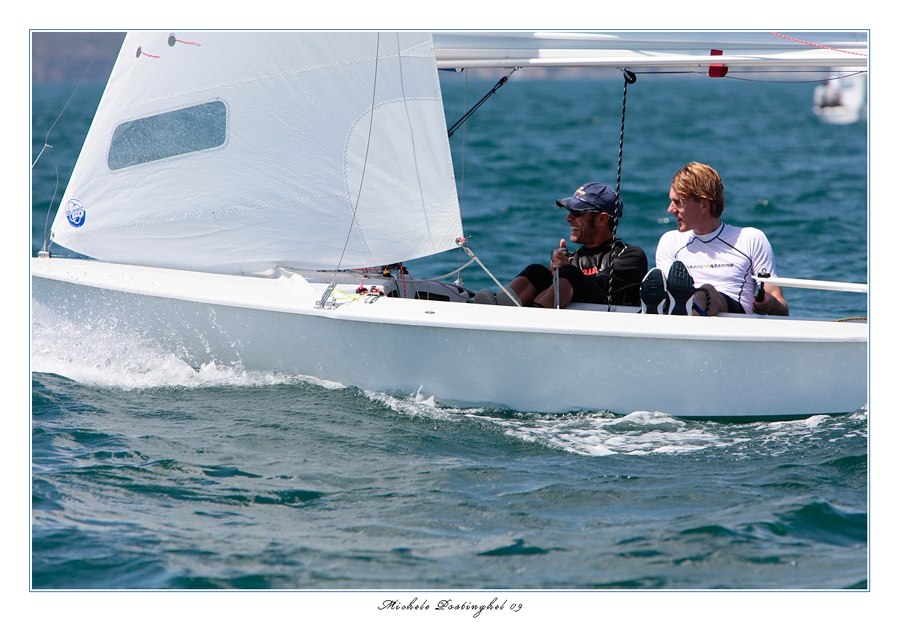 (snipe.it, December 2009)

When did you start sailing?
Many years ago my parents had a motorboat in Holland and wanted to buy a sailboat. The problem was they couldn't sail. So my father decided to buy an optimist and he learned to sail by himself. Must have been a funny sight 🙂
After a while he felt confident enough to have the sailing yacht and I got the optimist. I was 8 at the time. Soon I became the local harbor hero and my first girlfriend was a fact. When I was 11 I started to attend (national) races. I was less a hero then 🙁
How many years have you sail the Snipe?
After the optimist I sailed Europe (+/- 9 years) then 470 (2-3 years). After a break of 5-6 years without sailing I started sailing again in Dragon as a crew, but I missed the helm. So I was looking for a dinghy and knowing that Bart Bomans was a top level sailor in OK I wanted to join him. He decided to start Snipe sailing, so I followed. This was in 2004.

You sailed the 470 in the past, what is interesting and different in the Snipe? What would you want to change in the class?
 Do you have suggestions to improve the class?
The main difference with the 470 is that the Snipe is much heavier, making him (much) slower. The lighter the boat, the more important crew weight becomes. If you don't have the right weight in 470, forget about good results ! So let's not change what makes a Snipe unique : small speed differences and thus tactical demanding and this for many different crew combinations.


Could you describe your sailing activity in Belgium? Where do you sail? Where do you train? Why the Belgian team is so small, but so competitive?
We only have one fleet left in Belgium, in Antwerp. Apart from the North Sea which is 120 km from Antwerp and nice open water in Holland (+/- 80 km) where we sail the Nationals, we only have a small lake in Antwerp, the size being a little bit bigger than a handkerchief (put 50 snipes on the lake and you don't have any room left to put the marks).


How long have you sail with Enrico Michel? When did you start sailing with Enrico? What do you think about Enrico?
In 2006 when I wanted to sail in Caldonazzo I couldn't find a crew. The only person in the world who wanted to sail with me was Enrico. It was love at first sight :-), and we won the event. Sailing with him makes it so much simpler. On top of this, in the morning my boat is all ready before I even wake up ! Can you believe this ?
 

Do you sail only Snipe or also others boats? Do you think that sailing with other type of boats helps you or is not helpful?
I never stopped sailing Dragon. The Dragon is a heavy, relatively slow boat. In that way it is very similar to the Snipe where tactics also prevails. Being on the water, no matter on what boat, always helps.
 
At the Worlds in San Diego you finished 7th and 2nd European team.
What do you think about your Worlds? (2009 Worlds in San Diego)
I'm very happy about the result. The championship was a great success. With 11 races ran we can say the best sailor won.
I was a little worried before the first race, but we soon discovered that our boat speed was terrific. I just bought a new set of Olimpic sails (AR2F jib and CRC plus mainsail). Our boat speed allowed us more freedom of choice for tactical decisions, especially after the start.
Everybody knows by now that when I'm sailing with Enrico I seem to be a better sailor. Never underestimate the importance of your crew. It's the crew who makes you win (even if it's your wife ).
 

You used in San Diego a Persson/Db Marine built by Enrico Michel, can you tell us something about this snipe?
Enrico knows what he is doing. The Persson DB Marine boats, with their slightly changed hull shape, are well finished and very fast. Just look at the results of the Worlds. In San Diego I sailed with a nearly new DB Marine rental boat. Having the same model at home I didn't feel a difference, another advantage compared to some other sailors.
"Secret numbers"?
I'd be glad to tell you all my secrets for a beer at the bar !
You are often in Italy and sometimes you sail with an Italian sailor. What do you think about Snipe sailors and Snipe Class in Italy? How is it similar and how is it different from the Snipe Class in Belgium?
When I'm in Italy I enjoy every minute of my stay. The people are nice, weather and food is excellent, sailing is great. Always fun.
Italy has excellent Snipe sailors, and they keep on improving. The 2009 Piada Trophy confirmed this. Where was Belgium ?
The weakness of Italian Snipe sailors is definitely the mediocre beer drinking, except for Andrej Mocilnik maybe. A lot of practice will definitely pay off (there goes my first secret, oops ). I know Enrico is training with "Duvel" now, a very strong but tasty Belgian beer named after the Devil. He will be in great shape for next season

Your program for the future (Snipe, sailing in general … your life …)?

Carpe diem…
For those who can't find me at the bar :
Numbers I used in San Diego : 17-18 tension, spreader length = 42,5 cm, tip to tip = 78 cm, rake = 6,56 m. Cheers !