14 Questions to … Evan Hoffmann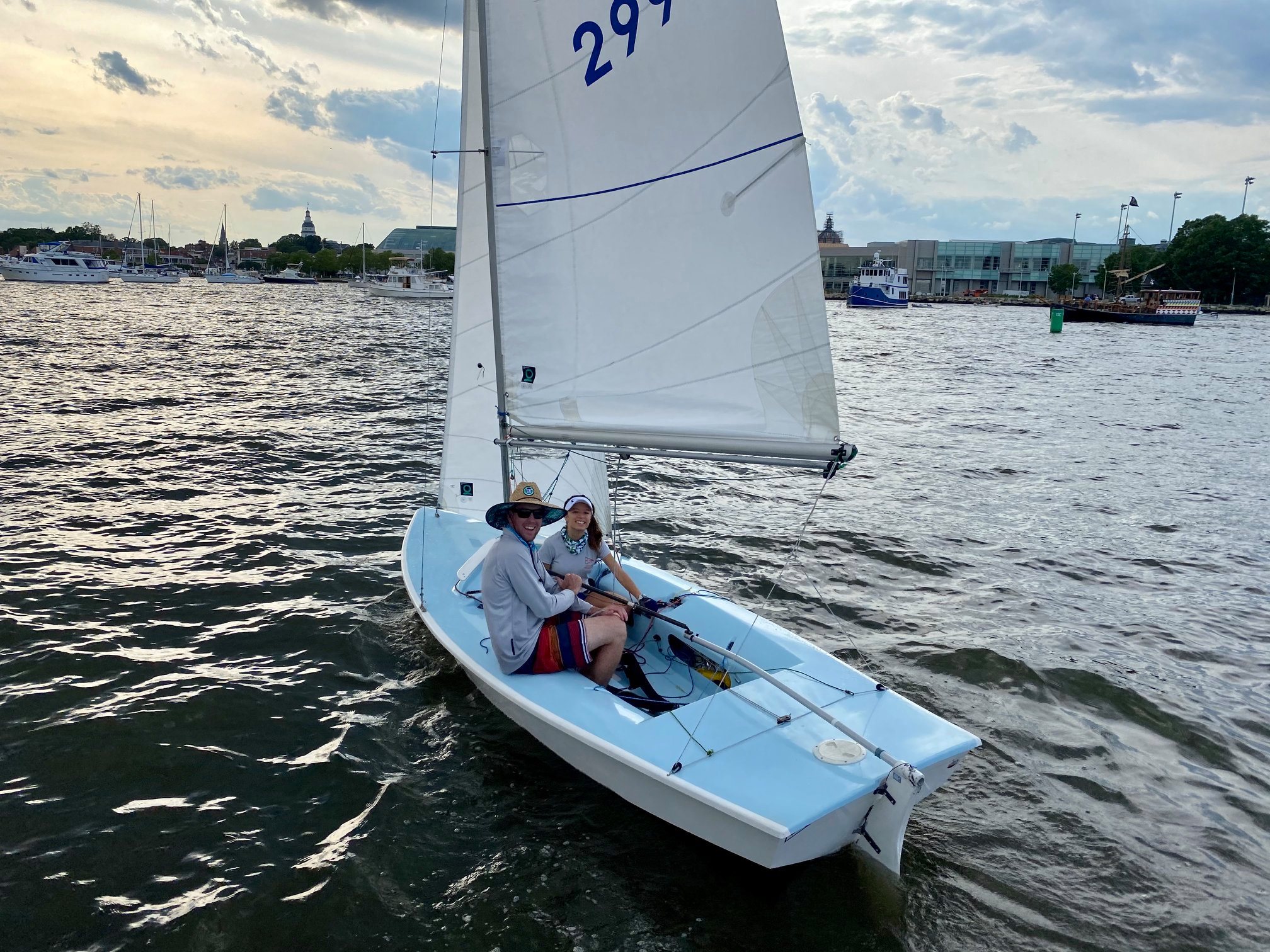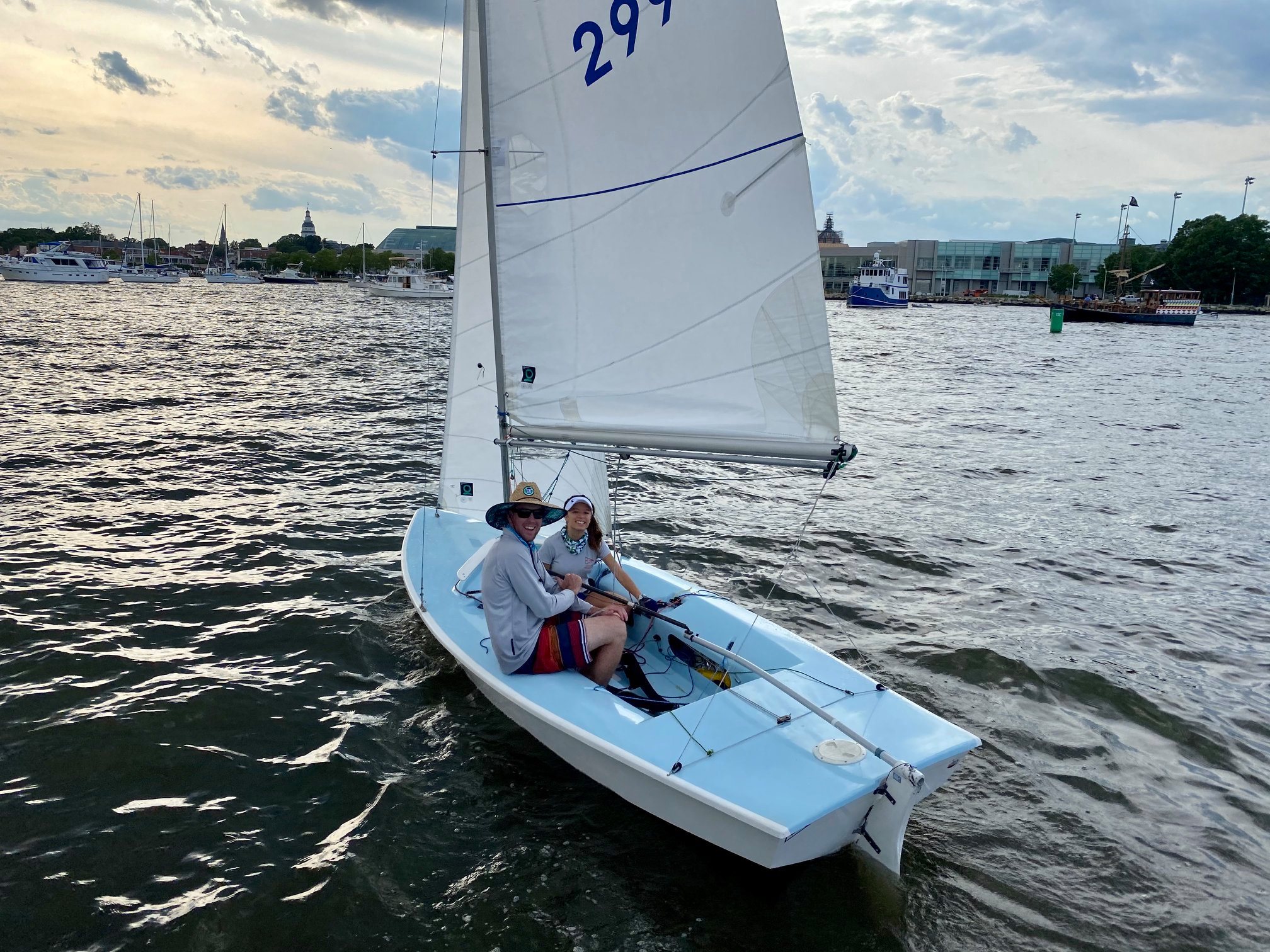 Evan Hoffmann, one of the most active "NextGen, U30" Snipe sailor in the US
– 1) Your first time on a sailing boat?
My first time sailing was when I was about 7 or 8. My mom and dad took my twin brother and I on a rental boat in Mission Bay, we screamed in terror any time the boat heeled over! My first boat was a Naples Sabot, a boat similar to the Opti, but far superior in sailing performance, sailed locally in Southern California. My earliest memories of sailing my own vessel was "racing" my twin brother in Sabots around the moorings in a cove in Mission Bay. My family later joined Mission Bay Yacht Club where we raced Capri 14.2's. My brother sailed with my dad and I sailed with a gentleman named Brian Anderson, who graciously gave me the helm.
– 2) Your first time on a Snipe?
I believe my first time sailing the Snipe was when I was around 14. My twin brother, Scott Hoffmann, crewed for Watt Duffy and I crewed for Packy Davis in the 2006 Snipe Nationals in San Diego. After that, Scott began crewing for Doug Hart and I began crewing for Steve Stewart in Mission Bay. I later sailed with Brian Janney and Eric Heim who both worked at the Quantum Sails loft at the time. Scott and I spent the summers and most weekends sailing Snipes with the San Diego gang and learned a ton about sail shape and design, testing out new sail North designs with both Doug and Steve and Quantum sails with Eric, Brian and George Szabo.
– 3) The most bizarre thing that happened in a regatta?
Recently in the Annapolis ACC's/Frigid Digit, we were in 3rd place around the leeward mark, the breeze shut off in the middle of the course and we ended up finishing in dead last at the weather mark on a shortened course. One of the most inexplicable finishes I've had ever, but hey, that's how the cookie crumbles sometimes!
– 4) What is the thing that most angers you in a race/regatta?
I'm typically always a pretty stress-free guy on the water, sailing is 80 percent mental game after all! I do allow myself one instance a year where I can get frustrated at a bad start, a big missed shift etc. But at the end of the day, I like to sail for FUN! Sailing is my escape from the "real world" and my main passion in my personal life. The only thing that would bother me is someone who is unsportsmanlike or unfair to others on the race course.
– 5) Which is the race/regatta that you remember with the most pleasure?
Gosh, this is a tough question to answer because there are so many! First, I would probably say being the only team in history to win three US Youth Triplehanded Championships (Sears Cup est. in 1921) and getting the invitations to compete in 5 Governor's Cup International Youth Match Racing Championships at Balboa Yacht Club is the sailing I'm most proud of and most memorable. I love keeping in touch with the friends I made at those special events!
I really enjoyed crewing with Brian Janney in the US Nationals in Lake Dillon, Colorado and I'll never forget using the newly developed "Y4" at the US Nationals in Richmond, California with Eric Heim (there's a good story about me trying to finish the last bite of pizza and causing us to capsize that I could tell more detail over a beer after racing sometime). I can't forget to mention the ACC's at Lee Griffith's house in NJ with copious amounts of pork loin and Snipe sailors sleeping on every couch and inch of floor space available. Honorable mention to the memories made at the Huntington Lake Snipe PCCs where we would camp in the mountains and sail in amazingly consistent conditions.
– 6) And the race/regatta you would like to forget?
I don't think I have one! Whether I do poorly or sail really well, I think there's always great stories to remember, things I've learned, or just enjoyed seeing old and new friends!
– 7) Your "dream in the peak"? (Your sailing dream?)
I'm a long ways off from this, but I would really like to perform well at a World Championship or represent the US at the Pan American Games in the Snipe!
– 8) Sailing goals for 2021, and beyond?
I would love to sail well at the Western Hemispheres this year and I would like to qualify for my first worlds in Japan! I'd also like to keep the momentum going of new sailors in "NextGen, U30" and Women's sailing events in the next year. We've seen a great number of new sailors joining the class and I want to make sure Snipe sailing in the US is around for a long time because I think it's the perfect boat for small boat one design racing!
– 9) The most important people for you in sailing and in the Snipe?
Most important people to me in sailing in general would be my parents, twin brother, and Brian Anderson. My parents always made sure we were able to compete and sail and, most importantly, focus on having fun. My Dad really jump-started us into sailing and always centered our focus on the important things in life, whether we needed to refocus on just having fun on the water or refocus on important things outside of sailing. My mom drove us countless hours to and from sailing events all over the country and made sure we were at our best at each event. Brian Anderson was so pivotal in my sailing career when he took me under his wing at a young age and gave me the helm. He was a huge influence on me in my younger life and was one of the people in the MBYC family who made me who I am today. My brother Scott and I had our highs and lows growing up sailing together, but I owe it to him for always pushing me to get better and being my "built in" sailing partner. Countless other MBYC and San Diego friends and family (Pete and Nikki Hunter, Kevin and Theresa Bagg, Pete Bellin, Chris Wright, Jimmer Montgomery, Jeff Coppens, Jim Sears, Keith Magnussen, and so many more!) shaped my life through the sailing community and contributed to who I am today.
In the Snipe, I give a huge shoutout to guys like Ernest Rodriguez and George Szabo who both have a huge influence in my snipe sailing. I'm honored to call them both friends and always know they have my back in training and at regattas. The special thing about the Snipe class is how inclusive it is, no matter your skill level, world class sailors are always around to help you get faster and better, or to have a few beers after a tough day of sailing!
– 10) Why the Snipe?
I think the Snipe is the perfect boat! I love the feeling of getting the boat "on the train tracks" with the hard chines setting the boat in motion almost effortlessly through the water. It's the perfect post-collegiate boat to sail as it is slightly more technical than the college boats sailed in the US, the crew weight is similar, and you can compete at any level that you wish (local, national, or worlds) and have the same, consistent racing quality. I also love the community of awesome sailors and people! There's no better feeling than showing up to a regatta and sharing fun times on and off the water with people that I haven't seen since the last event! There's rumors of the Annapolis group of U30 sailors organizing a Ski trip once COVID winds down. Not only is the Snipe a great boat to sail with quality competition, but the friends I've made in the class have really reminded me that the Snipe is all about Serious Sailing and Serious Fun!
– 11) Your perfect sailing venue and your perfect sailing conditions?
There's nothing like a nice breezy day with some killer waves to shred! I'll never forget spending 5 days in the ocean off of Fort Lauderdale training with Peter Commette, Augie Diaz, Ernesto Rodriguez, Luis Soubie, and others for 5 days coached by Leandro Spina in some EPIC wind and waves. We would sail upwind for 3 or 4 miles and then absolutely rip down some waves on a whisker pole reach all the way home.
– 12) Besides sailing, which other sport do you practice?
I love to play indoor volleyball! I played in High School and joined a club team during graduate school at The College of William and Mary. I also love to snowboard. But, in the end, I've always longed to be on the water and have recently purchased a Stand Up Paddle board to take out on the James River in my current home city of Richmond, Va.
– 13) Are you superstitious?
Not really, but I do believe good habits and practice are key to succeeding in anything.
– 14) Your perfect holiday?
Other than sailing in Snipe regattas, I love travelling to other countries and/or travelling to destinations with a great beach. One of my favorite things to do is to go somewhere new and live "like a local", whether that be relaxing on the beach or just enjoying the everyday life and culture of the place I'm visiting. While some tourist attractions are sometimes a must see event, I ideally like to have a spontaneous, unplanned vacation.