The Sistiana Fleet and the Snipe Fleets in the Gulf of Trieste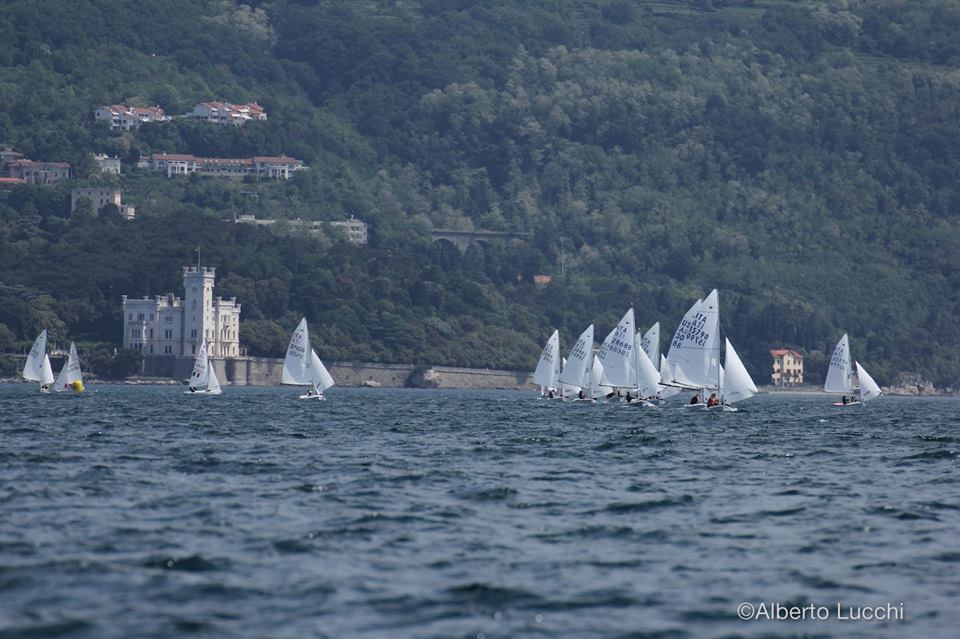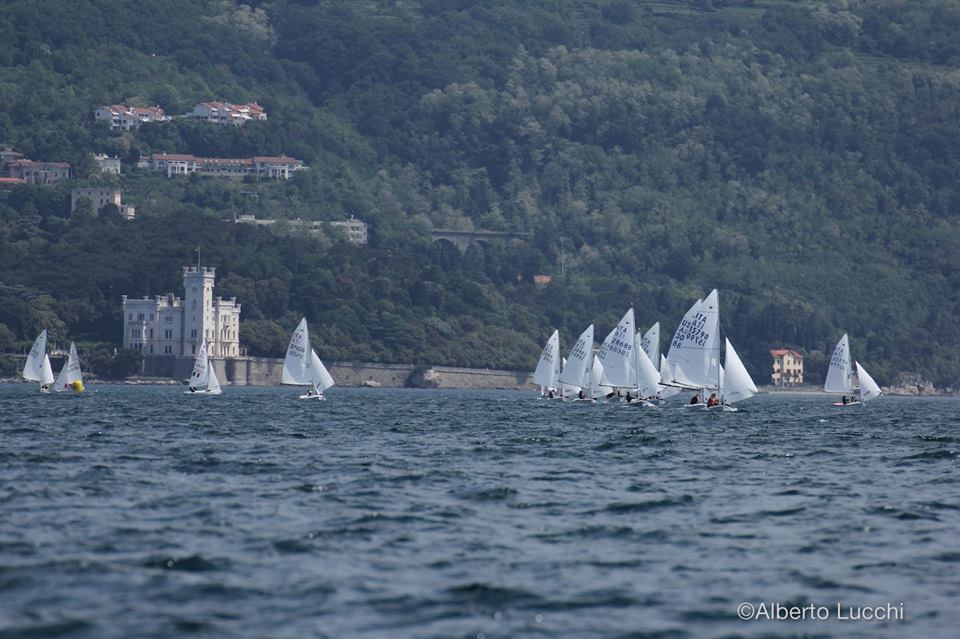 History of the fleets
The first Snipes appeared in the Gulf of Trieste in 1940. Since then there have been five different fleets (from Trieste to Muggia), currently united under the name Fleet 606 Sistiana.
The first boat was built in the middle of the Second World War by Silvio Bertotti, an ingenious wood carpenter and future member of the Circolo della Vela Muggia. He obtained the drawings that were known abroad as "Snipe", and in Italy called "Beccaccino".
For Trieste, the Second World War didn't end until 1954; from '45 to '54 the area was administered as a "Free Territory of Trieste" by the Allies (USA and UK), long enough to give it an Anglo-Saxon influence in its traditions. Those were difficult years. Despite the international sanctions against Italy, about 30 new Snipes sail numbers were obtained directly from the US, although there were no official relations between the two countries.
With the end of the war fleets developed at the Yacht Club Adriaco (Flotte Adriaco Grado and Trieste), the Triestina della Vela (Flotte Grignano and Sistiana) and the Circolo della Vela Muggia (Flotta Muggia). Sailing activity was surprisingly fervent.
In 1947 Giorgio Rinaldi and Nino Favretto of the Yacht Club Adriaco won the Italian Nationals, the first of a long series for sailors from Trieste.
In 1957, 5 fleets were registered with SCIRA: # 239 Adriaco Grado, # 240 Muggia, # 241 Trieste, # 335 Grignano, # 474 Sistiana. The reason for so many fleets is that at the time only one team per fleet could participate in the Italian Nationals.
Over the years the fleets were renumbered and Sistiana took the number 606. 
In 2016, all the fleets of Trieste and Muggia were merged and incorporated into the 606 Sistiana Fleet.
Main regattas held in Trieste
Over the years, numerous championships were organized in the Gulf of Trieste:
European Championship 1982 – STV
Women's Worlds 2000 – STV
Junior European Championship 2004 – STV
World Masters 2009 – STV
South Europeans 2018 – STV
Italian Nationals: 
Trieste nel 1948, 1950, 1997, 2006.
Muggia nel 1955, 2003 e 2011.
Annual and Traditional Regattas
Trofeo Silla, Coppa Barbanera, Coppa Pupis, Trofeo Bisso, Trofeo Ferin.
Sailors to mention
Giorgio Rinaldi and Nino Favretto (Italian Nationals 1947), Enzo Braut e Giovanni Dorigo (Junior Nationals 1952), Laura Tarabocchia and Claudia Pasini (Women's Nationals 1955), Marina Tarabocchia and Annamaria Martelli, Riccardo Paulin, Livio Silla, Danilo D'Isiot and Pavanello (Italian Nationals 1949, 1953, 1961), Fabio Saré, Renato Zuliani, Enzo Braut, Giorgio Fonda, Asaro, Rizzi, Guido Crechici, Giorgio Giani and Franco Segala, Mario Recchia, Lizier brothers, Luciano Zlatich, Fabio Spongia, Bertotti, Sfetez, Dario Postogna, Giorgio Giorgini, Giorgio Brezich (Italian Nationals 1967, 1970, 1973, 1974, 1976, 1978, 1979, 1981, 2000; Junior Nationals 1957, 1959, 1960; South Europeans 1972; Mediterranean Championship 1973; Master Nationals 1994, 1995, 1996, 1997, 1999, 2000, 2001, 2003, Coppa Duca di Genova 1987-88, 1989-90, 1993, 2000), Franco Ostoich (Junior Nationals 1957, 1959), Giorgio Ferin (Italian Nationals 1967, 1970, 1973, Junior Nationals 1962), Giorgio Radin (Junior Nationals 1962), Romeo Ferfoglia, Gianpaolo Bisso, Giuseppe Terdoslavich, Piero Barcia, Sponza brothers, Mejorini brothers, Sergio Battistella, Filippo Tornetta, Marco Cobau, Fabio Appollonio, Dani Degrassi, Piero Napp (Italian Nationals 1974, 1976, 1978), Marco Penso (Italian Nationals 1979, 1981, Junior Nationals 1977), Lucio Penso (Italian Nationals 2000, Master Nationals 1999, 2000, 2001, 2003), Fabio Beltrame and Parladori (Junior Nationals 1973), Francesca Cappello (Women's Nationals 1998, 1999, 2000), Riccobon (Junior Nationals 1996), Stefano Longhi (Italian Nationals 2012, Master Nationals 1998), Roberto Vencato (South Europeans 1973), Bobo Pinelli, Paolo Pinelli, Gino Rinaudo, Gianni Rinaudo, Stefano Bosutti, Marina Senni, Marina Simoni, Sergio Irredento, Silvia Penso, Ortenzia Caselli, Barbara Pozar, Alessandra Papa, Alessio Spadoni and Percic (Junior Nationals 2006), Paolo Tomsic e Andrej Mocilnik (Italian Nationals 2003), Fabio Rochelli e Daniela Semec (Master Worlds 2010 Apprentice Master, Master Nationals 2007-2013-2014-2015-2017-2019), Giorgio Stefani, Anna Zerial, Pellis and Dedeic (Junior Nationals 2011) Marco Rochelli and Ilaria Rochelli (Junior Nationals 2013, 2014), Michele Paoletti, Nicolich, Giulio Tarabocchia, Piero Anzellotti, Fabio Schaffer, Fabio Steffé, Paolo Cerni, Pietro Fantoni and Marinella Gorgatto (Italian Nationals 2015, South Europeans 2015, 2017, Coppa Duca di Genova 2010, 2011, 2012, 2015, 2016), Michele Meotto and Alberto Cassandro (Junior Nationals 2015), Anneke Meyer, Massimialiano Antoniazzi e Luca Antoniazzi, Giorgio Padoan, Stefania Padoan; Maurizio Protti, Chiara Lamonarca, Andrea Pribaz, Umberto Wetzl, Eleonora Zuzic, Gino Costantini, Gennaro Cangiano, Giovanni Moro, Alessandra de Robertis, Nicola Gerin and Laura Cerni (Junior Nationals 2010), Jacopo Ferrari Bravo, Giovanni Coccoluto, Maurizio Planine, Michela Furlan, Mauro Marchesan, Mauro Ferrante, Irene Calici, Petra Gregori
Beccaccino d'Oro 
(Best Italian Fleet in Italy)
Fleet Sistiana won the trophy in 1991-1994-2002-2003-2004-2017-2018-2019-2020
Italian National Secretaries from Trieste
Marsilio Vidulich (1960-1963),Giorgio Brezich (1988-1995), Stefano Longhi (2000-2003), Daniela Semec (2018-presente)
SCIRA Board Members from Trieste
Giorgio Brezich (Rear Commodore 1994, Vice Commodore 1995, Chairman of the Rules Committee 1997-2012) Stefano Longhi (European Secretary 2006-2009), Pietro Fantoni (Secretary 2012-2015, Vice Commodore 2016-2017).
SCIRA Commodores from Trieste
Giorgio Brezich (1996), Pietro Fantoni (2018-2019).
Fleet Captains (Adriaco Grado, Trieste, Grignano, Muggia Sistiana)
Giorgio Rinaldi, Finozzi, Marino Tarabocchia, Livio Silla, Mario Malossi, Umberto Rizzi, Claudio Maranzana, Bruno Cadalbert, Giorgio Brezich, Sergio Irredento, Marco Penso, Fabio Rochelli, Gino Costantini, Apostoli, Fabio Steffé, Daniela Semec, Michela Furlan (current Sistiana Fleet Captain).
Promotional initiatives
Coppa Pomodoro
The first edition was held in 1996, to celebrate the appointment as Commodore of the class of Giorgio Brezich, and for this reason it was jokingly nicknamed Coppa Pommodoro or Pomodoro (literally Tomato Cup). It is a regatta where the "Serious Fun" of our motto prevails.
Sergio Irredento (aka Commodoro Peones) invented a very simple formula: sailing an "offshore" race from the Port of Trieste to Muggia, leaving the seawalls on the left; mooring the Snipes just in front of the Circolo della Vela Muggia; having lunch at the club in Muggia – very important! – sailing a few and very short races in front of the club; sailing back to Trieste; prize-giving and dinner at Triestina della Vela.
Clinics, Lectures and Snipe Days
Media 
Mailing list and whatsapp group 
Social events
A characteristic of the fleet is the strong spirit of aggregation, an attitude that continues even outside the race course. In addition to the traditional dinner at the end of the year, meetings are organized both of a formative nature, such as the recent seminars held by Pietro Fantoni, and of a more playful nature, such as getting together for a ski trip in the mountains.
End of year dinner/party; during the winter, weekend in the mountains to ski. 
Juniors
In the past the STV had a boat of its own which was used by junior crews. For two seasons we had the availability of a boat chartered by DB Marine to SCIRA Italy. For more than 15 years Pietro Fantoni, Fabio Rochelli and other members have always supported the juniors by lending them their boats, organizing training sessions and trips.
Fleet 
In 2019 17 boats, 39 seniors and 4 juniors.
Together with the Fleet Monfalcone, Fleet Sistiana is part of the XIII Zona of the Italian Sailing Federation (FIV), with Marinella Gorgatto as Delegato Zonale (District governor). All the fleet's activities, both sports and social, are shared with the nearby Fleet Monfalcone with which there is an excellent collaboration.
Plans for the future
Introducing the Snipe through promotional activities such as the Snipe Open Day.

Organizing fleet training for the first races.

Promoting the Snipe among young people, especially among kids who, after the high school, finish the junior programs of their clubs.

Bring juniors to important events by preparing them with clinics and training.
Article written by Daniela Semec, Michela Furlan, Pietro Fantoni 
Photo archives: Giorgio Brezich, STV, YCA, SCIRA Italy, Sergio Michel (The Life of the Snipe in Italy), Snipe Bulletin, La Brazzera, Matias Capizzano, Andrea Carloni, Michele Postinghel, Alberto Lucchi, snipe.org, snipe.it, snipetoday.org). 
Thanks to John Rose and Jerelyn Biehl.
---
Fleets: Let us know the Story and the Activity of your Fleet
The heart of the Snipe Class is the local fleet. Fleet activity boosts regional, national and international activity. It is also a "family" where the sailors can spend their time sailing, chatting, drinking, eating and dancing. Where they can experience the true essence of the Snipe: Serious sailing and serious fun.
Let us know the story and the activity of your Fleet. So please send your contributions to [email protected]
Topics:
History of the fleet: When the fleet was founded? Most important sailors and fleet captains
Where is it located? Where do you sail (Racing area)?
How many boats and sailors? Who are they?
Which regattas has the fleet held in the past? Are there annual regattas or events?
Social events: does the fleet organize parties, dinners, clinics, promotional events etc.? Do you have a site, a mailing list or a FB page?
Programs or ideas for the next future
Also, please send photos
Pietro Fantoni, ST Editor