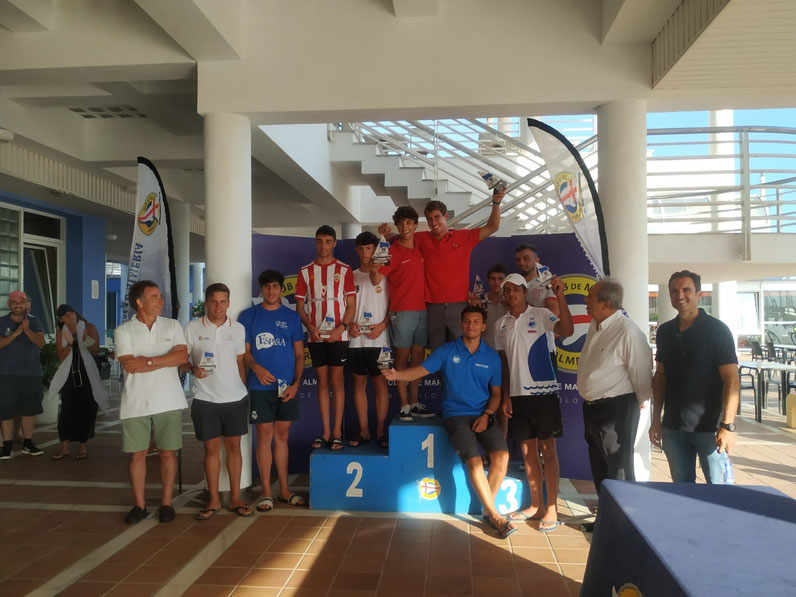 by Alejandro Fresneda
Hola Amigos,
Hello friends,
Let me introduce myself. My name is Alejandro Fresneda, 52 years old and Snipe sailor since I was 15. My home fleet is #287, CM Almeria.
My first International Championship was in 1986 in Lago di Garda where the Junior World was held and I met sailors that later became world class sailors such as Guillermo Parada, Horacio Carabelli, Martin Flores (friend and great coach that was living in Almeria and coached at my club), Santiago Lopez Vazquez (former Director of Spanish Sailing Federation), etc. That is how I started competing internationally. I have been so lucky in having the chance of sailing as a crew with different skipper from who I learned a lot like Oliver Gongora, Damian Borras, Gustavo del Castillo and my brother Pablo Fresneda (we sailed together in 1997 Worlds in San Diego when he was 19 years old). A lot of experience and situations in the class, victories and defeats that made me to grow as a person and helped me to keep the sportsmanship and competitiveness till today. At the same time, I met my wife Begoña. She was my personal trainer and learned to sail so she did not need to wait at the ramp every time I was sailing.
She quit sailing when got pregnant of my son Martin but she is still coming with me to every regatta, so we can say that she is still snipe supporter.
My son Martin is starting to sail Snipe with his uncle Pablo. Life is giving me back in the same way I did with Pablo, sharing with him all my knowledge and experience in Snipe when Pablo started to sail Snipes. Martin also sails ILCA and 2022 was his first Snipe Junior Worlds coached by Alvaro Martinez (great Snipe sailor, 2011 Jr. World Champion) who did a terrific job with the Spanish Team, together with the National Association who paid all his expenses. You know the results.
My concern as parent and member of Snipe Class is what SCIRA is doing for Juniors? In Spain we had a plan / strategy to promote the Class among sailors under 22. We scheduled 6 qualifiers getting a great turn our of almost 60 boats trying to qualify for Jr. Worlds. We were the only country filling up the 10 slots. We attended Jr. Worlds excited and we found out that only a few countries attended the event and even the Organizing Country was not able to fill their slots. What is going on? What are we doing as a class to change this?. Last year, in Almeria, we organized the Jr. Europeans with a fantastic Spanish attendance but very poor international crews. What is SCIRA doing to change this?
I mean, congratulations to Enrico, Maldonado, Tocke that are doing great efforts to promote the class and for the love and passion they put on it but these are no more than private initiative, including some economic interest.
I would like to dig deeper: what does SCIRA do with the incomes from members? What is the biggest yearly expense of SCIRA? How do SCIRA support Juniors to promote our class? What are our strategies as a class to offer Juniors an attractive class where they can feel they belong? Only 1% of the year budget is dedicated to promotion of the Class (not exclusively for Juniors, I mean any kind of promotion), according to the numbers from 2019 (2020 and 2021 are not published).
I want my children to keep sailing Snipe but nowadays the offer is wide and competition with other classes is tough. I hope somebody can answer these questions.
We can see a lot of SCIRA officers wearing blazers for opening or closing ceremonies but who is taking care of assigning money or any kind of resources for the Juniors? Do not tell me that National Associations are responsible of promoting the class within their countries because it is proved that this is a total failure. SCIRA should step into this problem and should take it very seriously with initiative.
I do not want to hear great and nice words about how good we are, I need facts and actions because young people know what they want and if we do not fulfill their expectations they will move forward to a different class. Sometimes I think that the general opinion is that we are well as we are. I think this is totally wrong, it will not last forever, we need to take care of the class.
Snipe is a class with a lot of members around the world, a big family.
It is my understoond that within any Association, Club, bussiness, etc, there is a action plan and, based on the plan, financial support to reach the goals. Do we have this in SCIRA?
I would thank you for informing us of these questions and to take our Juniors very seriously since they are the future of the Class. Our motto is fantastic (Serious sailing, serious fun) and everyone congratulate of it but I think we need to think bigger and medium/long term plan.
I did not want to finish this lines without saying thank you so much to Spanish Association for the plan developed during 2022 for our Juniors and the financial support to get it done.