Fleet 77 Winchester Boat Club & Fleet 777 Medford Boat Club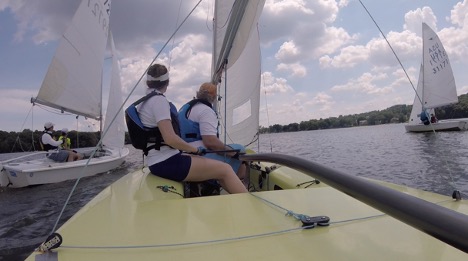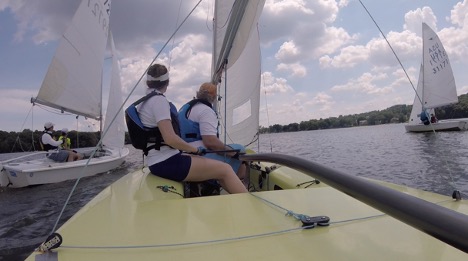 by Alison Keenan
Sailing this year looked very different from the typical summer filled with regatta and other events.  We definitely did not take for granted any day we could be outside our houses and on the beautiful Mystic Lake.
The Mystic Lake is located just outside of Boston, Massachusetts, and is home to sailors from the Winchester Boat Club (fleet # 77), Medford Boat Club (fleet #777), and during the college season, the Tufts University Sailing Team.
Due to covid restrictions, at the beginning of the summer people were only able to sail with people in their same household.  This led to many people sailing with their family members.  John (Jock) Macrae sailed with many of his daughters, bringing the younger one on lighter days and the older one or his wife when it was windier.  Wyatt Reynolds was the youngest skipper to sail a race at 6 years of age with his dad Dave crewing for him.  He is so enthusiastic that he often went out with his younger brother Sawyer in his N-10 after the snipes were done for the day.
In total 117 races, which is a lake record, were sailed this summer, with an average of 6.5 boats on the line for each race.
Due to covid restrictions, Winchester Boat Club was unable to host their annual Winchester Invitational (instead, it was sailed as a locals-only event named the Winchester Ret Together), but Medford was able to host the Mystic Lake Open September 19th and 20th.
In lieu of the normal bocci game and dinner at Medford Boat Club, we hosted a zoom party to catch up with everyone for the Mystic Lake Open.
We concluded the season by sailing in costumes on Halloween before packing up for the winter.
In the summer series, 18 skippers qualified having sailed at least 15 races. 62 sailors sailed at least one race with 35 sailing at least 15.
When the scores were all totaled, Jennifer Rousmaniere came in first place eeking out Jim Bowers by just 0.02 points.
We are cautiously optimistic that 2021 will bring more regattas and sailors who didn't get a chance to see this summer, but we are beyond grateful for the opportunity to spend time on the water with family and friends this summer.
---
Fleets: Let us know the Story and the Activity of your Fleet
The heart of the Snipe Class is the local fleet. Fleet activity boosts regional, national and international activity. It is also a "family" where the sailors can spend their time sailing, chatting, drinking, eating and dancing. Where they can experience the true essence of the Snipe: Serious sailing and serious fun.
Let us know the story and the activity of your Fleet. So please send your contributions to [email protected]
Topics:
History of the fleet: When the fleet was founded? Most important sailors and fleet captains
Where is it located? Where do you sail (Racing area)?
How many boats and sailors? Who are they?
Which regattas has the fleet held in the past? Are there annual regattas or events?
Social events: does the fleet organize parties, dinners, clinics, promotional events etc.? Do you have a site, a mailing list or a FB page?
Programs or ideas for the next future
Also, please send photos
Pietro Fantoni, ST Editor
…
Fleet 399 El Gato – Fleet 847 Laguna