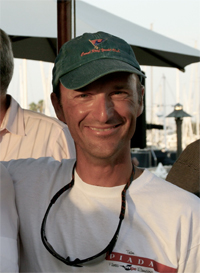 Sailing the Snipe in different countries is a great opportunity and a privilege. You can know and sail with people of different backgrounds, cultures and languages SnipeToday is a site for all Snipe sailors that includes stories, video, photos, and opinions from sailors around the world. It offers a new exciting way to share information about Snipe sailing. And it is open to the contributions of the entire Snipe family. Anybody can write an article, send news, photos, videos or post a comment, in any language. Sometimes the article could be translated, sometimes no … The only thing that counts is the "language of sailing Snipes"! SnipeToday is produced by Snipe sailors for Snipe sailors. We encourage contributions to the site!
Pietro Fantoni

[email protected]

Pietro Fantoni, Moruzzo, Italy, SCIRA Commodore. He has been Vice Commodore (2016-2017) and SCIRA Secretary (2012-2015). He discovered the Snipe in 2000. He is an avid Snipe sailor and represented the Italian team at 8 World Championships (2001-2005-2007-2009-2011-2013-2015-2017) and 8 Europeans (2002-2004-2006-2008-2010-2012-2014-2016). Additionally he is a lawyer.
Carol Cronin

[email protected]

Carol Cronin began her Snipe career as a crew in 1990 and sailed in her first World Championship in 1993. In 2011, she became the first US female ever to steer a Snipe Worlds. Between regattas, she is an author and editor specializing in the marine industry. More details are available at www.carolnewmancronin.com.
Alberto Perdisa

[email protected]

Alberto Perdisa started sailing Snipe in 1999. He was elected Italian National Secretary in 2007 and 2009. With a group of friends he is the inventor, promoter, sponsor and organizer of the Piada Trophy. Additionally he is the owner of a publishing house and he owns a vineyard on the hills near Bologna.
Kim Couranz

[email protected]

Kim Couranz has been sailing Snipes off and on (mostly on!) since 1996 and has represented the U.S. at two World Championships. She also sails a Laser Radial, but prefers Snipes because there's someone to talk to. At her "day job" (where she often daydreams about sailing), she is a writer for the National Oceanic and Atmospheric Administration about Chesapeake Bay protection and restoration.
Kathleen Tocke


[email protected]

Kathleen Tocke has been a regular on the international podium as both a crew and skipper in many classes.  Since joining the the Snipe class in 2003, she has been a 5-time US National Snipe Champion and a silver and bronze medalist at the Pan American Games.  When not training or racing, Kathleen coaches youth sailors. www.kathleentocke.com
Vince Casalaina

[email protected]

Vincent Casalaina has been covering sailboat racing on San Francisco Bay and around the world since 1985. He's won two Emmy's for Sports Programming. He's been team videographer for three America's Cup and covered the US Olympic Sailing Trials twice. His current work includes producing a documentary on the Snipe Class and coverage of the America's Cup on San Francisco Bay.
Luis Pessanha

[email protected]

SCIRA Commodore 2010-2011. He started sailing Snipe when he was 13 years old, in 1978, as crew. After trying a couple of other classes, he decided to dedicate myself to the Snipe Class as from 1993. He competed in 4 Europeans and 3 Worlds. He is an engeneer and his wife sails with him in Snipe since 1998.
Don Bedford

[email protected]

S.C.I.R.A. Commodore 2012-2013. Don is from San Diego California and has been sailing Snipe since 1971, first for his dad, Lew Bedford, and then for Earl Elms. He had some great experiences crewing those years but could not wait to grab the tiller and steer in the junior regattas. Don says he was lucky to travel with his dad and Earl and meet many Snipe sailors around the country and around world and he has been fortunate enough to continue to build friendships as he skippered in many national and international events.
Zbigniew Rakocy

[email protected]

SCIRA Secretary. Zbigniew (Zibi) started his adventure with Snipe Class at the age of 40. It was 12 years ago. He became vice president of Snipe Class in Poland in 2003 and then since 2006 he has been the president of SCIRA Poland. In 2008-2010 he was the secretary for East Europe Snipe and in 2011 he was nominated for General Secretary Europe. He organized S.Pellegrino European Cup 2009, as well as East European Cup 2010 and each year Primavera Polish Cup and Polish Open. He is a manager in the beverage industry.
Jerelyn Biehl

[email protected]

Jerelyn started sailing Snipes in 1973 when recruited off the junior sailing beach by a Mission Bay Snipe fleet sailor – and she hasn't looked back.  She's is a US Women's National Champion and has finished top 5 in every Women's Worlds she's competed in (4) as well as competed in numerous National and Masters events.  Her family was also on the circuit with sons Cameron winning the Old Man Diaz Trophy (twice) and Graham, US Jr National and Snipe Jr World Champion as well as two-time Olympian. She has served as the SCIRA Executive Director since 1993.
Eric Heim

[email protected]

Eric Heim returned to the Snipe in 2007 when he moved to San Diego to work at Quantum Sails One Design. Over the past few years, he has quickly climbed the ranks of the Legendary Fleet 495. His accomplishments include winning the Zimmerman Trophy for the Winter Circuit, and representing the US in the 2011 Worlds. Now he works at North Sails San Diego.
Garth Reynolds

[email protected]

Garth Reynolds first joined the Snipe Class in San Diego, CA in 2009. He loves the competition and family friendly atmosphere in the Snipe Class, especially with the San Diego Fleet 495! He thinks everyone should come to San Diego to compete in the GFU 24-hour Snipe Regatta!
Ben Van Cawenbergh

[email protected]

Ben started sailing snipe in 1987 with his wife Nadia. Belgian, French, Polish, Scandinavian, German Champion, 2e apprentice Worlds Master. Also he is sailing the Dragon with Manu Hens. He works as a Balletdirector and Chief Choreographer with beautiful ballerinas.
George Szabo

[email protected]

George Szabo is Sailmaker and Sail designer at Quantum Sails in San Diego, and a long time Snipe sailor. His on the water accomplishments include: 2nd Snipe World Championship, 5x US Snipe National champion, 4x Snipe North American champion, and Star World Champion.
Giorgio Brezich

[email protected]

Past Commodore and Chairman International Rules Committee (2011)
Peter Commette

[email protected]

Laser: 1st & 2nd in World Championship; 470: 2nd in World Championship; Finn: North American Champion, Olympics – 11th; E-Scow: 2nd in National Championship and Blue Chip; Snipe: 3rd, 5th, 7th in World Championship; Bronze Medal in Pan-American Games; North American, National (Crosby, Heinzerling, Harold Gilreath & Carolyn Nute trophies), Atlantic Coast, Pacific Coast, Bermuda Race Week, Zimmerman, Midwinter, DonQ, Bacardi, Gamblin, Colonial Cup, Frigid Digit, Comodoro Rasco champion.
Nicola Gerin

[email protected]

Nicola started sailing Snipe in 2004, at the age of 14. He competed in 1 Senior Europeans and 1 Senior Worlds; and 1 Junior Europeans and 1 Junior Worlds … but now he isn't junior anymore 🙁
Giovanni Coccoluto

[email protected]

Laser 4.7: 2nd in World Championship under 15, 1st in European Championship, Italian Nationals under 15, 2 times Italian Nationals overall, Europa Cup;Laser Radial: 2010 and 2011 World and European Champion, 3rd at the Isaf Worlds 2010-2011, Italian Nationals 2010-2011, Europa Cup 2010-2011. In 2011 Giovanni started sailing Snipe at the Junior Worlds and he finished fourth, tied with the third. He had a lot of fun sailing Snipe and is planning to attend the next Junior Europeans.http://giovannicoccoluto.it/
Kai Saarhelo

[email protected]

Kai Saarhelo has been sailing Snipes since 1978 at Fleets 523 Pori and 481 Helsinki. Now owner of FIN 31260 (his 9th Snipe). NS for Finland 2000-2008 and SCIRA Board Member 2007. Member of Finnish Board since 2000. Never ending interested in promoting and marketing the Class. Project manager for Europeans 2006 in Pori and webmaster www.snipe.fi since 2000. In addition he has been representing Finland twice at Worlds and four times at Europeans, eight podiums in Finnish Champs.
Giovanni Stella

[email protected]

Giovanni doesn't like curricula or bios. He prefers this sentence: "You can learn more about a person in an hour of play than in a year of conversation." (attributed to Plato).
John Fretwell

[email protected]

John Fretwell is the fleet captain for Snipe Fleet 495 in San Diego, CA, and the Junior Sailing Director at San Diego Yacht Club. His wife Aine is also an avid Snipe racer and the Fretwells, along with their kids Avery, Owen, and Carlin, recently became a two Snipe family. When not Sniping, John can often be found playing guitar shoreside.
Alessandro Testa

[email protected]

Alessandro lives in Talamone. He won the Flying Junior Nationals in 1986. He started sailing Snipe in 1999 and he still loves the Class, although he is very busy as Race Officer and Vice President at Circolo della Vela Talamone. He is also Junior sailing director at Federazione Italiana Vela (Tuscany region).
Damir Vranic

[email protected]

Damir joined the Snipe family in 2006 when the Snipe class in Croatia started to rebuild. He has been the National Secretary ever since and is presently also the South European Secretary. Committed in promoting and increasing the 

fleet in Croatian as well as the Class in general, he spends most of his time sailing and running around football matches. Apart from mentioned important duties he is a Managing Director of a Ship Management Company.
Nicola Rugarli

[email protected]

Nicola Rugarli started sailing at the age of 6. He is the owner of the 1963 vintage Snipe "Veloce". He knew this famous and historical Class of boats since his father built a Snipe in 1949 and teached Nicola to sail. Then Nicola has been involved as vice chairman in the AYDE – the Italian classic yachts & dinghies association – and is member of the Board of Circolo Vela Orta. He is a real estate finance executive and advisor.
Gabriel Borges

[email protected]

2011 Snipe World Champion, 2011 Pan American Champion with Alexandre Tinoco.
Stefano Longhi

[email protected]

Stefano Longhi started sailing Snipe in 1994 with Giorgio Brezich and represented the Italian Team at 4 World Championship (1999, 2003, 2007, 2011) and 4 Europeans (2004, 2006, 2008, 2010). He has been the Italian Snipe Class secretary since 2000 until 2004 and European Secretary since 2004 until 2010. He is an engineer in his company.
Ricardo Lobato

[email protected]

SCIRA Commodore (2014-2015) Ricardo Lobato, well known by his nickname Blu, started sailing in 1982. His first teacher was Bibi Juetz. He started sailing Snipe in 1988 and he bought his first Snipe in 1998, competing at the 2003 Snipe Worlds with Alexandre Tinoco. An Engineer at Petrobras, a major oil company in Rio de Janeiro, Ricardo has volunteers as class official in several occasions, past fleet's 159 captain and past National Secretary in Brazil, he also was member of the SCIRA as member at large and Secretary. Ricardo is also a rule's expert, International Judge and Umpire for ISAF, he is member of a couple of committees and working parties at ISAF as well as member of Technical Committee. He also has his own rules website www.regras.com.br.
Marina Sanchez

[email protected]

Marina Sanchez, Spain. 2010 European Champion with her brother Paco. She sailed the Olympic Games in 2004 (Yngling).
Sue Roberts

[email protected]

Sue Roberts, SCIRA Treasurer and UK Snipe National Secretary
Cesar Travado

[email protected]

Cesar Travado, from Malaga, won with skipper Pablo Fresneda the 2006 European Championship in Pori, Finland. Now he is one of the best coach in Spain and he was nominated "mejor entrenador andaluz 2011 de vela".
Lluís Vilà Salord

[email protected]

Promoter of "I Love Snipe Class" project to restore snipe class in Menorca
Taylor Scheuermann

[email protected]

Taylor Scheuermann began sailing Snipes in 2008, and, since then, has qualified for two separate Junior World Championships. In 2011, she became the first US female ever to skipper at a Snipe Jr World Championship. Taylor currently attends the University of Miami, and is the Captain of the Women's Sailing Team.
Gonzalo "Old Man" Diaz

[email protected]

Gonzalo "Old Man" Diaz: "I was 15 years old and after that my father bought me my first snipe on August 1945. She was # 3686. So, in August 2015 I will be sailing snipes for 70 years! I only missed 3 years, in 1961, 62 and 63 when I stopped sailing because the Cuban communists had confiscated all my friends snipes (friends that have left Cuba) and I did not feel comfortable sailing against my friends snipes crewed by people I did not know. In 1964 I had arrived to United States and sailed the Halloween Regatta that year and never stopped again." He is the fleet captain for Snipe Fleet 7 in Miami and organizes the Annual Comodoro Rasco and Don Q.
Thierry den Hartigh

[email protected]

Thierry den Hartigh, aka "Spike, Antwerp, Belgium
Roger Olivieri

[email protected]

Roger Olivieri, Rome, Italy, SCIRA Italy District 4 Governor
John D. Rose

[email protected]

John D. Rose, Tacoma, WA. Volunteer author – Classic Snipes on SCIRA USA web site
Mark Reynolds

[email protected]

Mark Reynolds, Snipe sailor (US and North American Champion, Worlds runner-up) and Olympic legend (1988 Silver, 1992 Gold, 2000 Gold – Star), is a sailmaker (Quantum Sails San Diego).
Alan Capellin

[email protected]

Alan Capellin, Bradenton, FL, is a multi-regatta winning Snipe crew with a variety of skippers
Esteban Echavarria Jaramillo

[email protected]

Esteban Echavarria Jaramillo, Colombia
Danielle Richards

[email protected]

Danielle M. Richards, Executive Administrator, US Snipe Class Racing Association. San Diego, California
Nikki Bruno
[email protected]
Nikki entered the sailing world as a freshman at the University of Miami. She was taken in by the Miami Snipe fleet after four years with UM's team, and since graduating in 2012 has been crewing dinghies around the continent. She currently resides in New Jersey and really misses palm trees.
Pedro Pires de Lima

[email protected]

Pedro is a Snipe sailor and a well-known sailmaker. He lives in Porto, Portugal.
Pedro Quezada

[email protected]

Pedro Quezada – São Paulo Fleets Regional Coordinator (311, 434, 448, 483)
Herbert Hörterich

[email protected]

Herbert Hörterich, SCIRA Germany, organizer of the German Open in Caldonazzo
Thomas Fogh

[email protected]

Canada. Thomas Fogh finished second at three Olympic Trials (once with his brother in the Tornado and twice with his double-medalist dad, Hans Fogh, in the Soling). In 2013, he started working with the non-Olympic Pan Am classes in Canada, in preparation for the 2015 Pan Am Games.
Paolo Cardoni

[email protected]

Paolo Cardoni, Talamone – Rome – Dubai. Paolo recently helped organize the 2015 Snipe Worlds and is a professional scenographer and designer with a degree from the Accademy of Fine Arts in Rome.
Arthur Blodgett

[email protected]

Junior Sailing Director, Lauderdale Yacht Club, Florida
Robert Garlipp

[email protected]

Member of Snipe Fleet #24 and owner of 1939 Varalyay Snipe #3543
Art Rousmaniere

[email protected]

Art Rousmaniere, Massachusetts, SCIRA USA National Secretary
Raul Rios

[email protected]

Raul Rios, Puerto Rico. 2015 Gold medalist at the Pan American Games. Multi-time US National Champion.
Jose C. Alegria

[email protected]

Fleet 152, Real Club Astur de Regatas, Gijón, Spain
Reino Suonsilta

[email protected]

Reino Suonsilta, from Helsinki, member of the SCIRA Promotion Committee
Francesco Fontana

[email protected]

Francesco "Krantz" Fontana, Bologna. Italian National Secretary
Mark Antonelli

[email protected]

Mark Antonelli, Snipe Fleet Captain, Budwoth S.C., UK
Alonso Lopez

[email protected]

Alonso Lopez, coordinator of the Snipe Class Sao Paolo, Brazil
Martin Bermudez de la Puente

[email protected]

Martin Bermudez de la Puente, General Secretary for Europe
Alberto Hackerott

[email protected]

Alberto Hackerott, Yacht Club Paulista, organizer of the Copa Paulista
Christian Skjoldvang Andersen

[email protected]

Christian Skjoldvang Andersen, Denmark
Andrew Leslie

[email protected]

Andrew Leslie, Holm Sailing Club, Orkney Islands, Scotland
Micky Costa

[email protected]

Miguel "Micky" Costa, Buenos Aires, Palma de Mallorca, Valencia. He is an avid Snipe sailor and a famous project manager and yacht designer (Luna Rossa, Il Moro di Venezia, Azzurra TP52, Matador TP52 and many others).
Giorgio Dodo Gorla

[email protected]

Snipe: 1963 Italian Junior champion, 1966 Italian champion

Star: Olympic Bronze medalist 1980 Tallin and 1984 Los Angeles; World champion 1984; third at the Worlds 1980