Southwestern Championship
White Rock Lake, TX, USA, May 28, 2023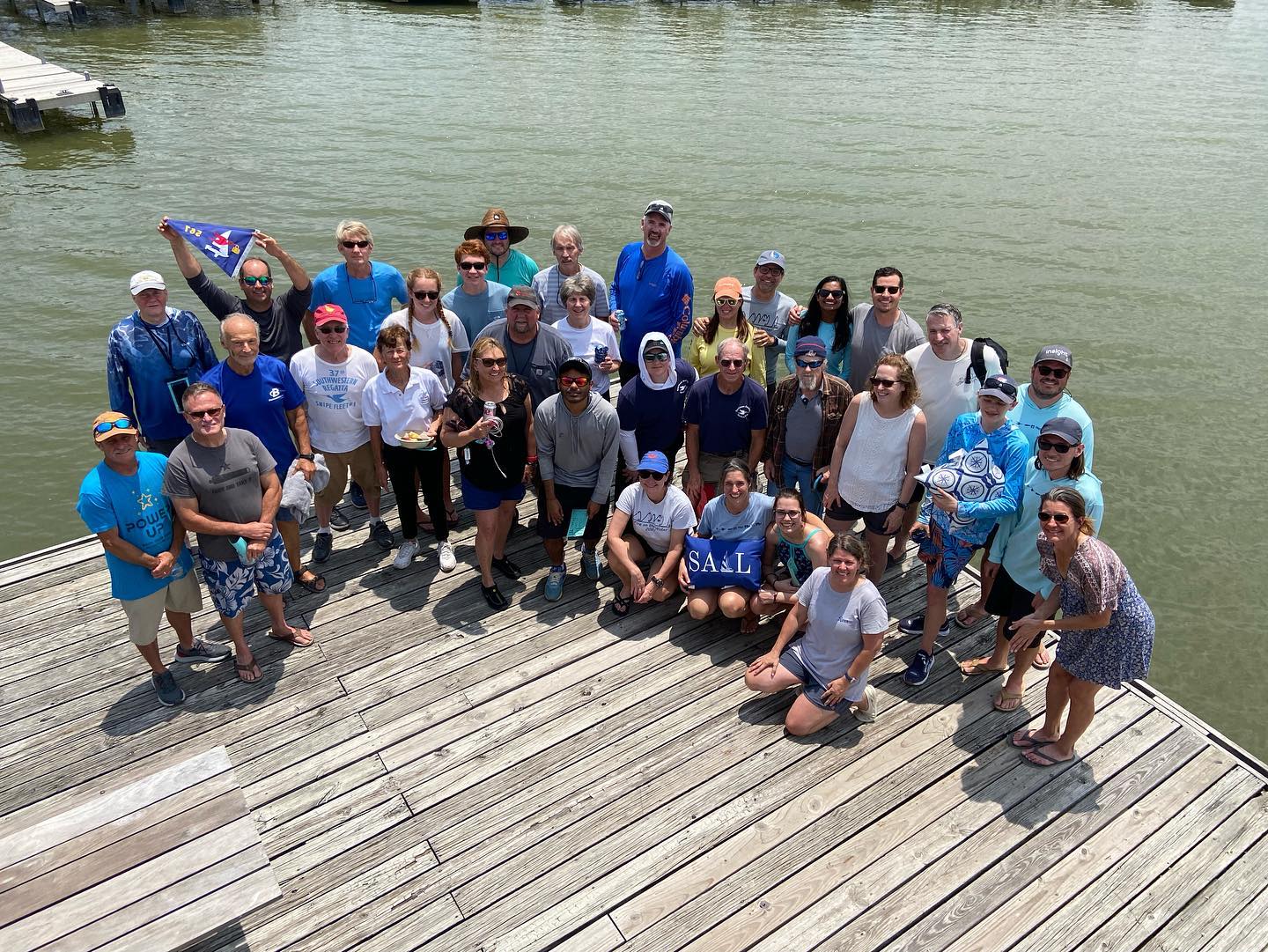 White Rock Lake, TX, USA, May 28, 2023. Final results after 5 races:
Ryan Schubert & Fabian Woeger, 13
Amanda Kremer & Maya Woeger, 22
Ricky Miller & Cardy Miller, 26
Gene Soltero & Laura O'Leary, 26
John Buckley & Mary Buckley, 27
White Rock Lake of Dallas did not disappoint. The squirrelly winds of the South western's were riddled with challenges this weekend on White Rock Lake. Saturday being the most precarious. The wind was up and down, here and not there, which made sailing an absolute challenge. Some fared better than others based on where you were on the lake. At one point it was noted five boats at the leeward mark all on different tacks and absolutely becalmed. Frozen in time like a painting.
Sunday, while forecasted for the same wind, turned out to be much more consistent and even stronger with pressures in several areas around the course. Headers and lifts abound and if you didn't keep an eye on your heading, you might have found yourself sailing away from the mark and not towards it.
In the end, twenty-one boats showed up for the South western's, traveling from Colorado, Mississippi, Nebraska, and Kansas. With a menagerie of folks from different parts of the country as well. The food and hospitality at the regatta did not disappoint! We were able to experience a special recognition for Gene Soltero, the long-standing icon of the Dallas Snipe Fleet #1. Gene, who turned 80 this past March and has kept the Snipe Fleet on White Rock an active growing fleet. Many thanks to Gene and his years of traveling, boat moving, and racer development. It's his many years of dedication to the design that makes the Dallas Fleet #1 a vibrant and gracious fleet to sail with.
The general mood at the regatta was of excitement and a lot of talk of future travels to more regattas. There is a large contingency of boats talking up the Fire on the Water, which means…..we need to stay on our "A" game and like historically impress those incoming clinic/regatta goers. As you know FOTW has been a top-notch regatta with excellent hospitality to boot. It's our goal as #567 members to meet, greet, impress, and not disappoint. The corresponding clinic at FOTW with the Nationals only days following will put a little pressure on our members to be there and show the district when it comes to regatta hosts, Lincoln Snipe Fleet #567 doesn't mess around!!!!
See Attached for results.
Upcoming Regattas:
JUNE
Fire on the Water Classic Snipe Regatta & Clinic  June 23-25 ( Clinic to be held on Friday)
Branched Oak Lake, Lincoln NE [email protected]

2023 US Snipe National Championship Jun 26 – Jul 1 2023Sandusky Sailing Club – Sandusky, OHhttps://theclubspot.com/regatta/86lvZWr0EF
JULY
Norm Tanner Memorial Regatta SCIRA USA
Bow Mar Yacht Club, Littleton CO [email protected]
AUGUST
2023 District II Championship  Aug 19-20, 2023 Lake Perry Kansas