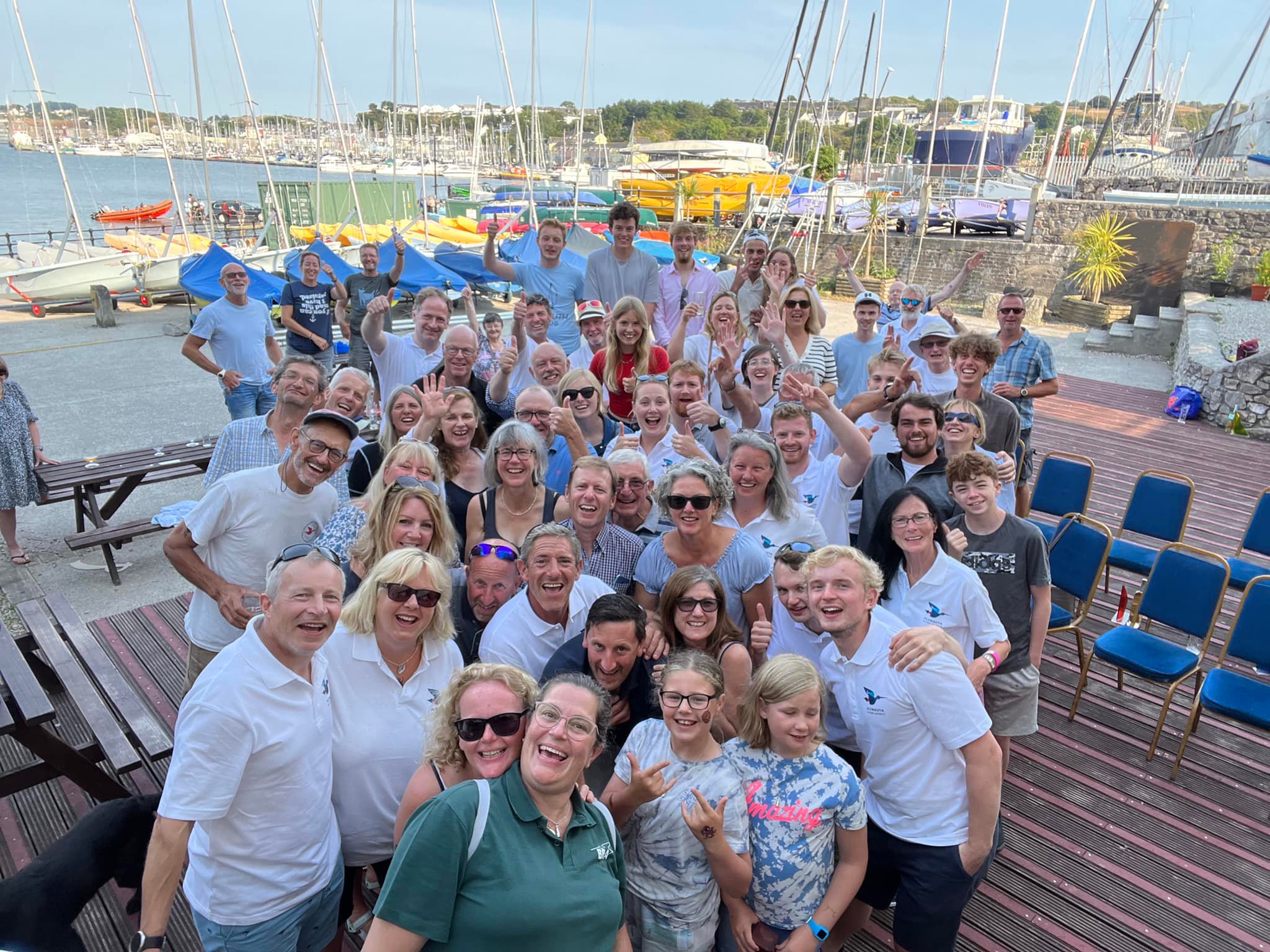 Plymouth, UK, August 14, 2022. Final results after 6 races (1 discard):
Matthew Wolstenholme & Lloyd Roberts. 8
Alan Williams & Liz Pike, 12
Peter Wolstenholme & Will Maguire, 15
Ian Gregory & Mike Ker, 27
Sue Roberts & Steve Roberts, 31
THE MARLIN SPIKE RUM UK SNIPE NATIONALS AND OPEN 2022
by Sue Roberts
The Marlin Spike Rum UK Snipe Nationals & Open 2022 were like no other we have had in the past!!
The Mount Batten Watersports & Activity Centre were perfect hosts with Plymouth Youth Sailing running the racing side of things and doing so to a professional yet approachable manner..There are no Snipes based in Plymouth and so getting 27 entries (our largest number for many years) showed great support from our Snipe members including our Belgium and Brazilian friends. It was unfortunate Maxim Romain from France tested positive for Covid the morning of his departure for the UK – the Romain family were missed.
Friday, 2 races were scheduled and took place outside of the breakwater where the wind was a very steady force 2-3. Alan Williams and Liz Pike sailed a consistently good first race to take the win with Senne Deboure and Katrien Sas on their heels, however, Matthew Wolstenholme and Lloyd Roberts came from the back of the fleet (after missing the spreader mark on the first lap) and managed to take a very well deserved second place. The fleet split for Race 2 with those taking the left-hand side of the course benefitting the most. Williams/Pike lead from the start and maintained their position throughout the race as did Wolstenholme/Roberts in 2nd and Wolstenholme/Maguire in 3rd. Friday evening was a Marlin Spike Rum Cocktail party and BBQ with live music by local musician Dave Rich. The atmosphere was more like the Caribbean with the warm evening winds and rum cocktails!
Saturday morning launching was earlier (more difficult for some after the night before than others!). Race 3 started within the Sound as a Force 2 and built over the day to a good 4 gusting 5. Race 3 was won by Wolstenholme/Roberts. Sue and Steve Roberts managed to sail from the back of the fleet to 2nd place but were pipped on the finish line by John and Liz Reed. The wind increased in Race 4 making the windward /leeward course more exciting and with the ability to just make the leeward gates without having to gybe there were not too many casualties. Wolstenholme/Maguire just managed to keep Wolstenholme/Roberts at bay to win. After a battle down the final run between Williams/Pike (staying on starboard), Guy and Elliot Marks, Ian Gregory and Mike Ker and Roberts/Roberts (all on port), Marks/Marks struggled to drop the pole and gybe in time which resulted in them capsizing, allowing Williams/Pike to take 3rd place and Gregory/Ker 4th. Marks/Marks did a quick righting to take 12th place. Race 5 was the most challenging of the day with the wind being a strong 4 gusting 5. Even though the Race officer Keith Kendall chose to go to a triangular course, a few boats decided to head for home. Wolstenholme/Maguire dominated the race to take a commanding win by a big margin. Wolstenholme/Roberts took 2nd place with Williams/Pike, Gregory/Ker and Roberts/Roberts fighting for 3rd place down the final reach, finishing in that order.
Saturday evening was the Pirate dinner, raffle, and games night. There were many a great pirate present and a special mention should go to Charlotte Knight who not only made her own outfit but also dressed her Dad (Ian) as a fantastic parrot! Captain Blackbeard, Captain Hook and the Crocodile also made a memorable appearance. Much fun was had by all.
Sunday – after being towed out to the starting area within the Sound a wait for the wind of about an hour ensued. Due to an unusually very low Spring tide this wait meant that we could only sail one race before running out of water to get up the launching ramp. So the final race 6 was led from the first mark by Wolstenholme/Roberts who were ahead at the finish by over 2 minutes. Richard and Debbie Marshall held off Ian and Charlotte Knight to take 2nd and 3rd place respectively.
With Matthew Wolstenholme and Lloyd Roberts having 2 race wins and four 2nd places, they were crowned UK Snipe National Champions for 2022 and winners of the Open. First, Second and Third helm and crew received beautiful sail sculptures donated by Plymouth Glass Gallery Ltd along with bottles of Marlin Spike Rum!!
A huge thank you to Marlin Spike Rum for their amazing sponsorship – it certainly helped take the Snipe motto of Serious Sailing, Serious Fun to another level!The PL sails donated by Marlin Spike Rum and Pedro Pires de Lima were won by Guy Marks and the Super Spars boom by Dianne Owen in the lottery at the prize giving.
SailRacer GPS trackers were used throughout the competition and these races can still be viewed by clicking on the following link. Amazingly 50 different countries tuned in and over 2,000 people were watching our racing!!!