Team Race All Japan Championship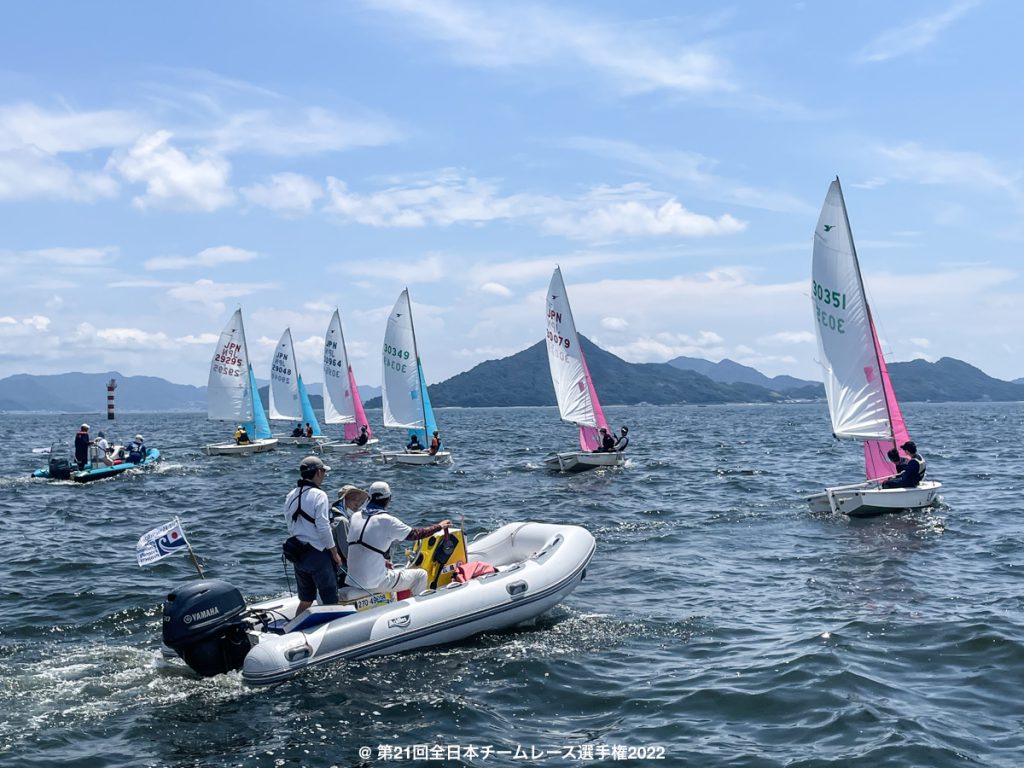 Hiroshima, Japan, August 7, 2022
(Source: Hideki Matsuo, Hiroshima Prefecture Sailing Federation – Bulkhead Magazine)
The All Japan Team Race Championship was held at Hiroshima Kannon Marina for the first time in five years.
About half of the sailors had never participated in a team race, so after the opening ceremony, they held a team race workshop to learn the basic rules and tactics. In team races, snipes provided by the competition are identified by color-coded jib sails.
The 3-on-3 team race is a race that is completely different from the fleet race, so it seems that the unfamiliar players were confused at first, but as they got used to it in the second half, they started to see fierce attacks.
A tournament was held for the top four teams after the round-robin qualifying round. In the semi-finals, Hoyukai, which is composed of alumni of Kyushu University, and Matsuyama Sailing Team, which is composed of alumni of Nihon University and Hosei University, show a back-and-forth battle. As a result of the game being entangled until the end, the winner was Hoyukai.
In the finals, Sail Hiroshima and Hoyukai, which are made up of local Hiroshima University alumni, have been undefeated so far.
Sail Hiroshima was delayed due to pressure from the other boats at the start, but the leading boat always dominated the race and controlled the trailing boat. From there, Sail Hiroshima dominated the field, and in the end, it was a landslide victory.
This time, FREEDOM, who always wins, did not participate, but showed an overwhelming difference in power, and it was a splendid victory.