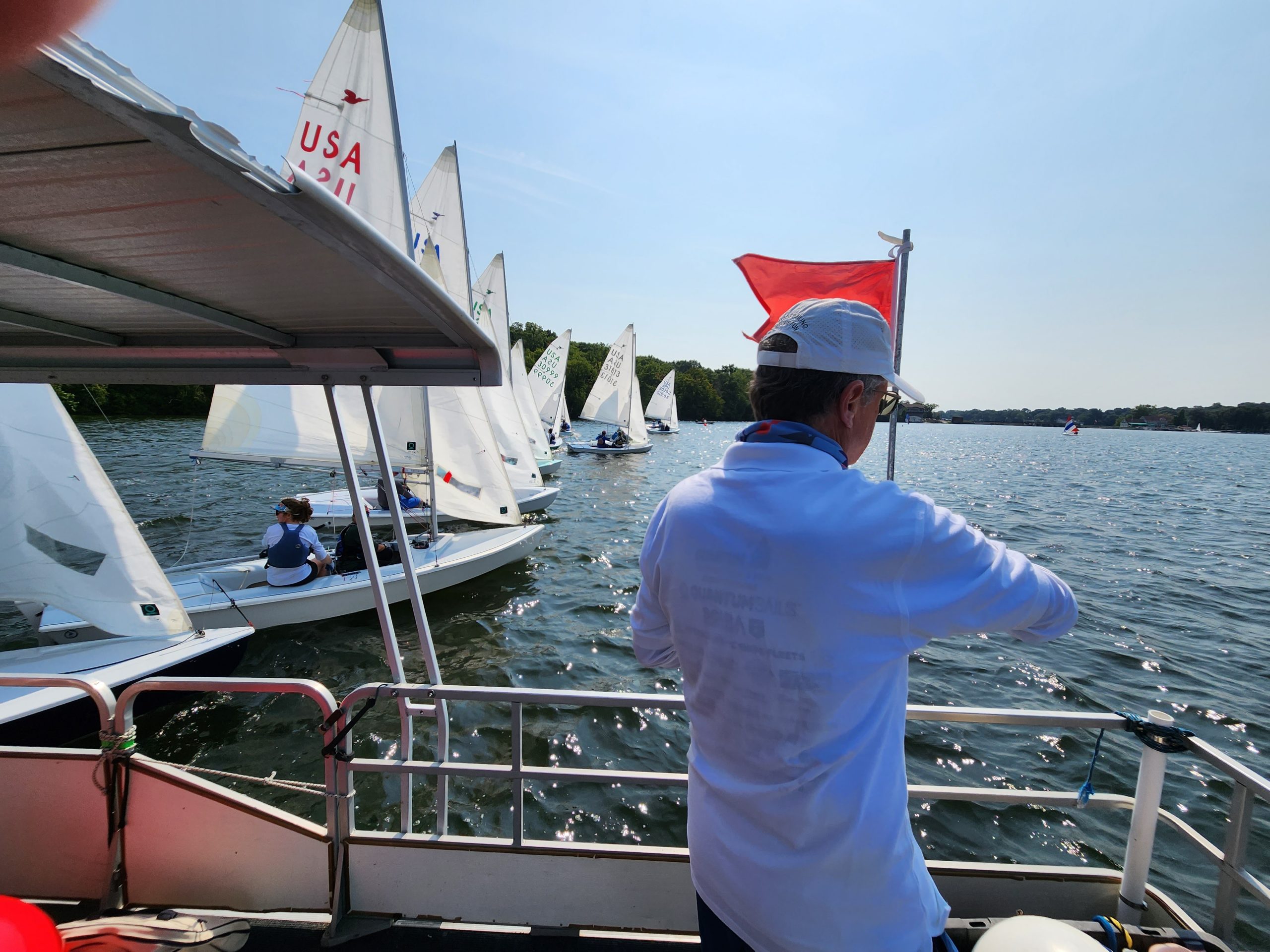 Medford, MA, USA, September 18, 2022
Report by Cam and Liz Fraser
The 48th annual regatta was held with great success on the weekend of September 17-18, 2022. We were happy to have 21 boats participate, the best turnout in a few years.
The race committee, chaired by Art Rousmaniere and assisted by Chuck Oman, Susan Bronk, Scott Fraser, Ed Marcus, Kenny Delpapa, and John and Denise Economedes held sailors on shore to start Saturday morning while waiting and hoping for wind to fill. No matter, as sailors enjoyed their time catching up with each other over coffee and donuts. Still holding on shore after a couple hours, lunch was served, at which point (of course) the southerly started to fill, with the best breeze of the day right when everyone sat down with their sandwiches. Once on the water it felt more like an August day, light breeze and warm air. We shared the lake with Tufts' fleet of Larks, enviously watching college sailors roll tack and gybe around their course while the Snipes stayed rather still.
Race 1 started in a very slight southerly. Jim Bowers and Julia Marsh Rabin rode a customary personal puff on the downwind to pass several boats and take and hold the lead for the bullet. Newcomers to the Mystic Lake, Bob and Stephanie Adam, felt right at home in second, and past MLO winner John Macrae and crew Scarlett Koller took third.
The wind piped up to 3-4 knots for the second race making it a lively affair. Tufts alumni Dan Nickerson and Natalie Danziger took race 2 on their old stomping grounds, followed by Cam and Liz Fraser, then Jim and Julia. After some floating around, waiting in hopes of a third race, the race committee declared a race to the dock, calling it for the day to the delight of the fleet.
On shore festivities included a fantastic spread of beverages and hors d'oeuvres, with Italian food for dinner. Nathan Manzione and Brendan Conner won the Bocce tournament handily, despite the best efforts of Joel and co. to derail them.
Sunday morning conditions were far better for racing, some would call it a glamor day. Sailors got to it right away with a 10:15 start in a spicy Westerly. The breeze sat at 6-8 knots but puffs rolled in frequently and gusted up to 15, time to break out the hiking pants. Still it was Mystical™, keeping everyone on their toes with sudden auto-tacks. Jim and Julia took the first race of the day, passing Cam and Liz on the final downwind. Travel distance award winners Joel Zackin and Brendan Conner took race number 4, and Bob and Stephanie Adam took race 5. Jim and Julia finished off the final three races with three bullets, assuring their regatta victory. It was a full day of fun racing, with a mixture of fast W-4s and W-5s. Shoutouts to John Tagliamonte and Grace Olsen with a couple 2nd place finishes on the day, newlyweds Kevin Hetherington and Janet Lui with a 3rd, as well as snipe newcomers Danny and Liz Perkins with straight top 10 finishes on the day.
After racing, there were plenty of leftovers from the previous night for lunch onshore, followed by the awards ceremony.
Special thanks to the Medford Boat Club and Fleet 777, in particular Suzette and Martin Fraser, for putting on a lovely event.
– Cam and Liz