Western Hemisphere & Orient Championship – Day 2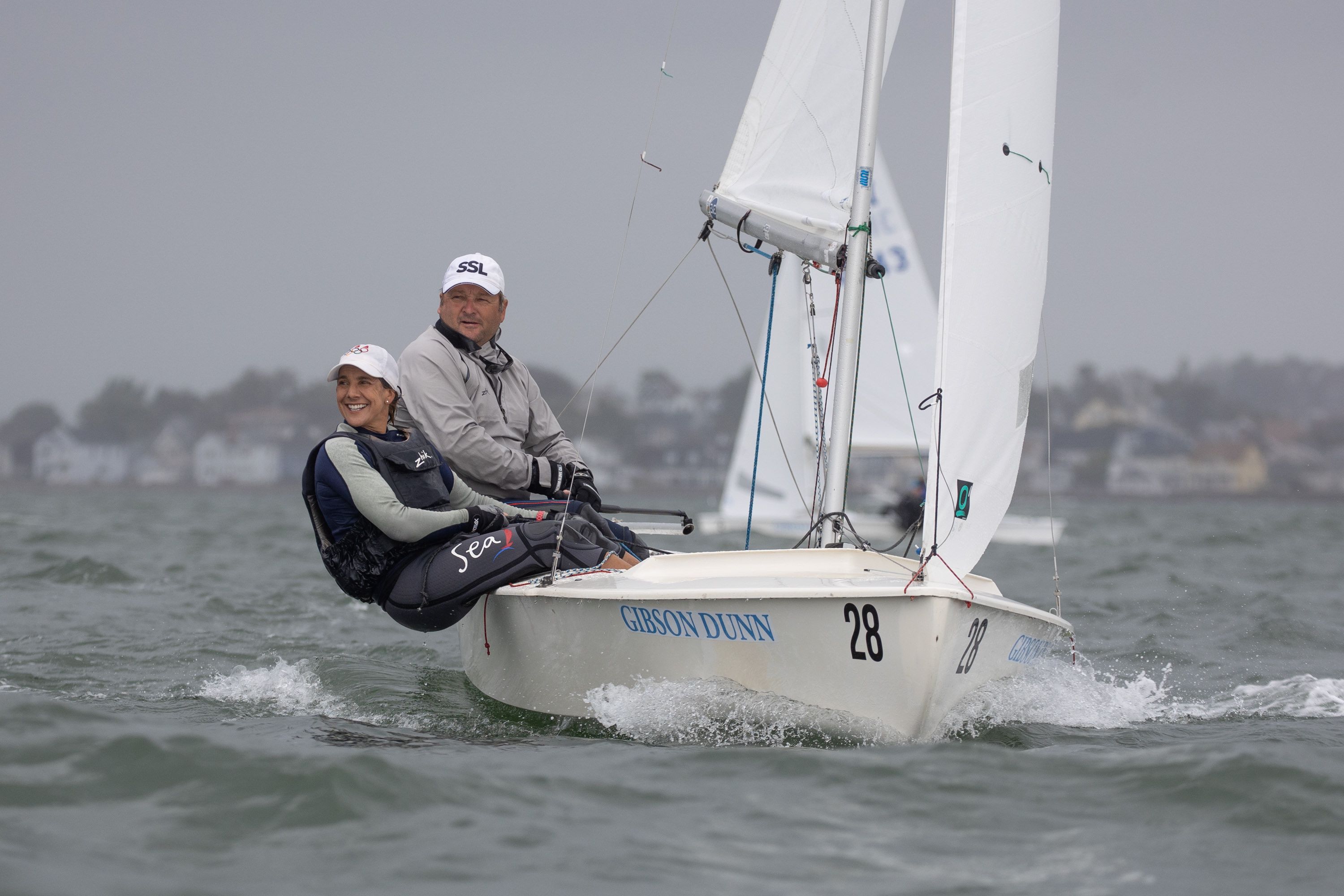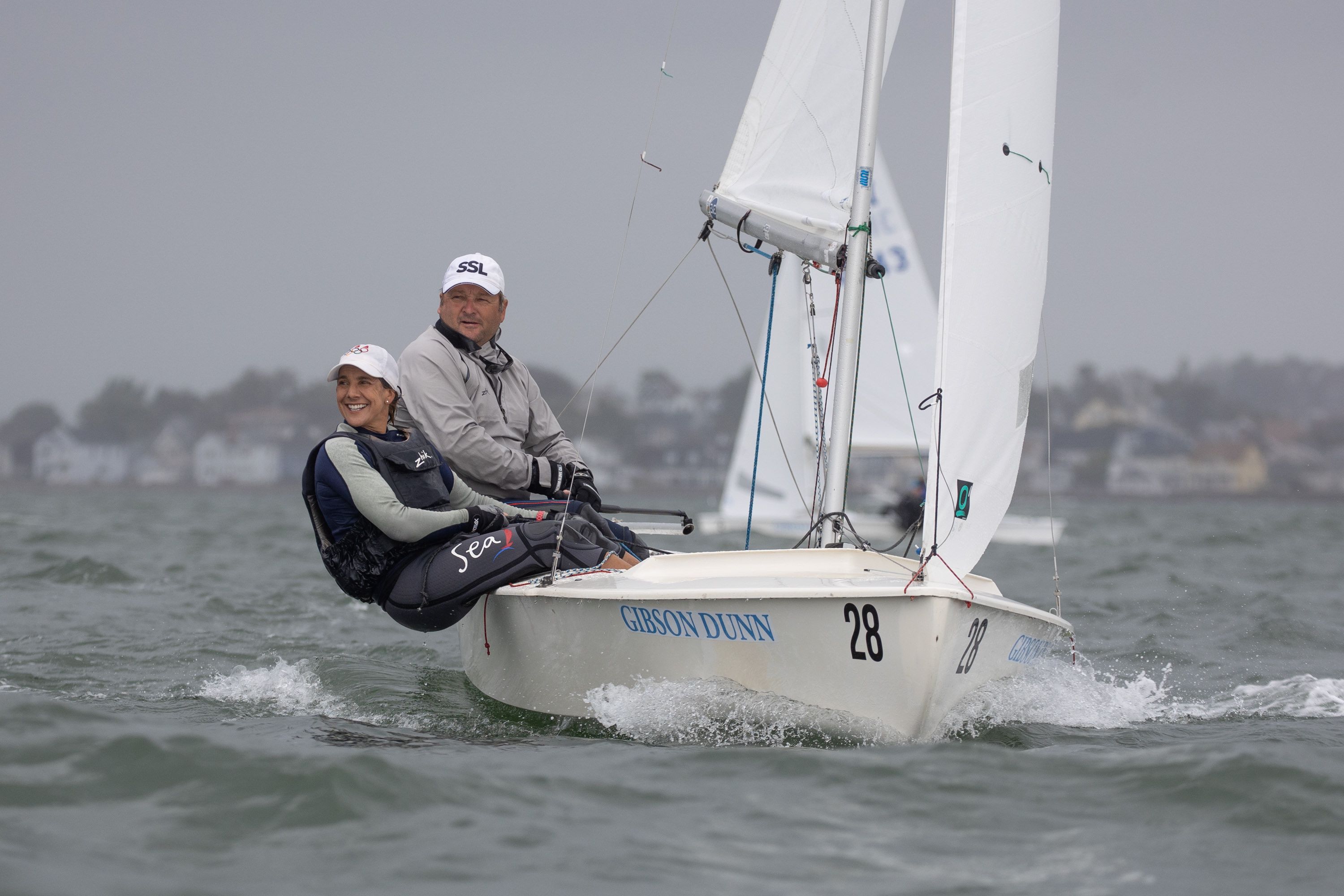 (Photo courtesy of Matias Capizzano)
Boston, MA, USA, September 22, 2021. Results after 4 races:
USA Augie Diaz & Barbara Brotons, 11
USA George Szabo & Diana Waterbury, 17
USA Arthur Blodgett & Gracie Howie, 23
USA Carol Cronin & Kim Couranz, 30
USA John MacRae & Linda Epstein, 38
Szabo/Waterbury win the day, Diaz / Broton Retain Lead
Light winds greeted the fleet as they pushed off the dock and headed out to the race course, just a 30 minute sail from Cottage Park Yacht Club and adjacent to the runway of Boston's Logan airport. After a 45 minute delay to wait for the wind, race 3 began but was quickly under AP to wait for the wind to settle. Race 3 began in 6 knots with puffs to 10 at times. Doug Hart/ Christina Persson (USA) led with a large margin at the weather mark and kept it until the second downwind gate. As the race progressed, a squall from the south formed and the wind shifted right with puffs to 23 knots at times. George Szabo / Dianna Waterbury (USA) were among those who went right capitalized on the increased breeze with rain and passed the leaders at the finish. Behind Szabo was Antonio Poncell & Carolina Martinez of Chile with John MacRae/ Linda Epstein (USA) in third.
Regatta co-chair Sue Hardy commented, "we were close to calling the race but knew from experience to be patient – and it ended up being a good race. Competitors got a bit of every condition during this race."
After the squall, the fleet had to wait around for the wind to fill which it eventually did in 5-6 knots. Augie Diaz/Barbie Brotons (USA) led wire to wire in the light air race.
After 2 days, Diaz/Brotons (USA) lead with 11 points, Szabo/Waterbury (USA) in second with 17 points and Arthur Blodgett/Gracie Howie (USA) in third with 23 points.
Racing continues Thursday through Saturday with 9 races scheduled. Tomorrows forecasts looks promising with a deteriorating forecast for Friday.
SAILORS
SAIL NUMBER
DIVISION
NET
TOTAL
R1
R2
R3
R4

1

Augie Diaz
Barbara Brotons

USA 30288

17

Masters

11

11

3

2

5

1

2

George Szabo
Dianna Waterbury

USA 31441

28

Masters

17

17

7

5

1

4

3

Arthur Blodgett
Gracie Howie

USA 30473

13

23

23

1

7

13

2

4

Carol Cronin
Kim Couranz

USA 31295

16

Female

30

30

8

8

8

6

5

John MacRae
Linda Epstein

USA 31685

22

Masters

38

38

6

14

3

15

6

Jim Bowers
Julia Marsh Rabin

USA 31555

14

Masters

39

39

5

1

24

9

7

Ernesto Rodriguez
Kathleen Tocke

USA 31337

25

Masters

42

42

4

3

22

13

8

Taylor Scheuermann
Charlie Bess

USA 31639

26

Female

45

45

2

19

17

7

9

Alex Pline
Lisa Pline

USA 31313

24

Masters

46

46

11

4

9

22

10

Rodrigo Stephan de Almeida
Gustavo Baiano

BRA 31532

01

Masters

46

46

12

10

14

10

11

Andrew Pimental
Megan Place

USA 31727

23

Masters

49

49

17

12

6

14

12

Matias Seguel
Constanza Seguel

CHI 31554

06

53

53

OCS – 28

6

16

3

13

Jose Daniel Hernandez
Josselyn Echeverria

GUA 31567

07

None

57

57

9

15

15

18

14

Antonio Poncell
Carolina Martinez

CHI 31443

03

Masters

60

60

10

OCS – 28

2

20

15

Diego Silvestre
Marisleysis Cedeno

GUA 31564

08

None

64

64

20

11

10

23

16

Matias Poncell
Christian Obermoller

CHI 30591

04

65

65

14

20

4

27

17

Miranda Paz
Joaquin Balarezo

PER 31039

12

Female
Junior

67

67

16

16

19

16

18

Evan Hoffmann

USA 30687

20

None

69

69

22

OCS – 28

7

12

19

Doug Hart
Christina Persson

USA 31297

19

Masters

72

72

OCS – 28

OCS – 28

11

5

20

Alec Hughes
Valeria Breña

PER 31150

30

74

74

OCS – 28

9

12

25

21

Alfonso García Bringas
Andre Guaragna

MEX 31129

09

75

75

13

OCS – 28

26

8

22

Felipe Fuentes
Benjamin Guzman

CHI 30590

02

None

78

78

OCS – 28

18

21

11

23

Juan Lyon
Valentina Lyon

PER 31084

11

Masters

79

79

18

17

20

24

24

Jen Lee
Mary Buckley

USA 31636

21

Female

84

84

21

21

23

19

25

Juan Sanchez
Renata Parodi

CHI 31199

05

None

85

85

OCS – 28

13

18

26

26

Lee Griffith
Nikki Bruno

USA 31304

18

Masters

87

87

15

OCS – 28

27

17

27

Rachel Bryer
Anna Wiatrowski

USA 31508

15

Female

93

93

19

OCS – 28

25

21