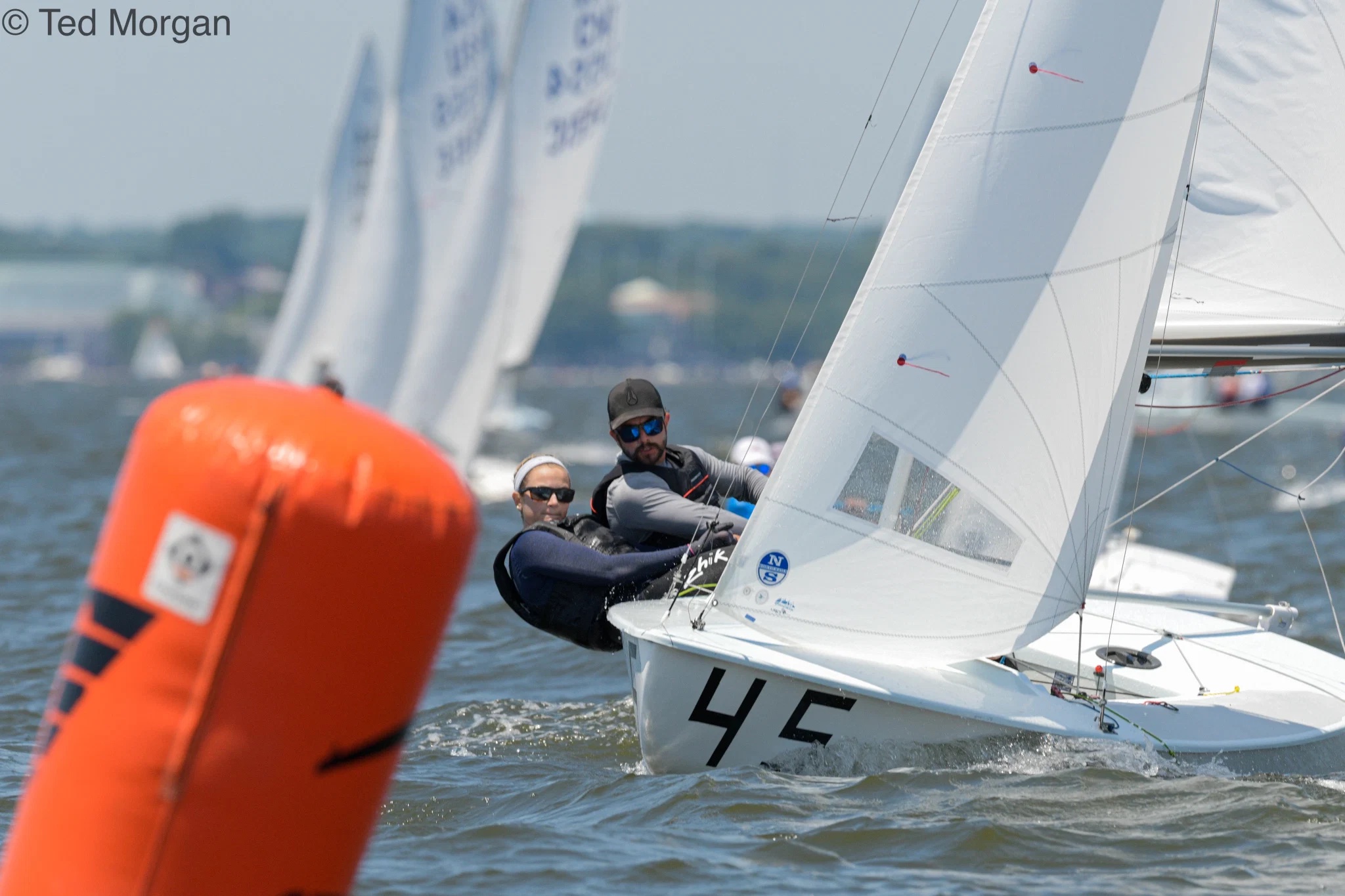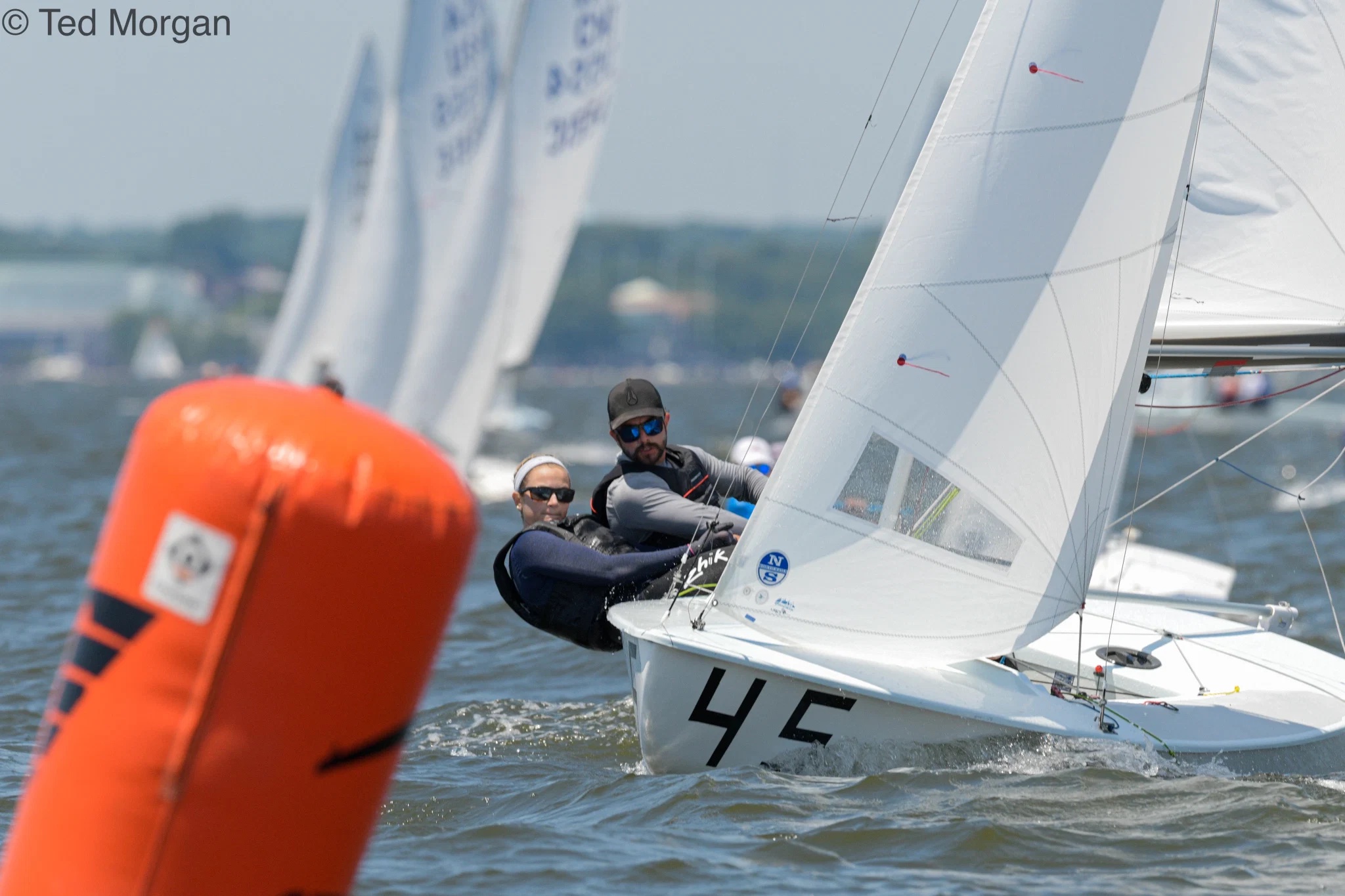 (Photo courtesy of Ted Morgan)
Annapolis, MD, USA, June 18, 2021. Results after 5 races:
Raul Rios & Andrea Reifkohl, 12
Ernesto Rodriguez & Kathleen Tocke, 23
Enrique Quintero & Charlie Bess, 30
Augie Diaz & Barbara Brotons, 41
Charles Milles & Lindsey Kloc, 47
Rios & Reifkohl Gonzalez Thrive in Solid Breeze; Take Lead at Snipe Nationals
The 52-boat Snipe fleet reveled in a southerly that steadily built over the course of three races today. The second day of U.S. Snipe Nationals featured breeze from 7 to 15 knots with some higher gusts in the second and third races.
Raul Rios/Andrea Riefkohl Gonzalez mastered the conditions and sailed to finishes of 3-1-2 to move into first place overall. The team of Ernesto Gonzales/Kathleen Tocke won the day with a 1-2-1 and sit in second place. Enrique Quintero/Charlie Bess found success as well with 2-9-4 and moved up to third.
As is standard in the Snipe fleet, the racing and overall scores are very tight. With two more days and five races scheduled to complete, there's lots of opportunities for teams to make big moves.
Tonight competitors will gather for the annual SCIRA US meeting to share ideas and thoughts on Snipe sailing in the United States and on how the class can keep making regattas even more fun and competitive than they already are. Then they'll continue the camaraderie already evident both on the water and in the boat park after sailing.
The forecast for Severn Sailing Association's racing area in the Chesapeake Bay off Annapolis calls for southwest winds at 10 to 15 knots tomorrow, with a chance of thunderstorms in the afternoon. The first race tomorrow is scheduled for 11 a.m.
SAILORS
SAIL NUMBER
BOAT NAME
CLUB/ORG
NET
TOTAL
R1
R2
R3
R4
R5

1

Raul Rios
Andrea Riefkohl Gonzalez

PUR 29841

45

Chico

FVPR/DRD

12

12

5

1

3

1

2

2

Ernesto Rodriguez
Kathleen Tocke

USA 31337

47

None

Miami snipe Fleet

23

23

14

5

1

2

1

3

Enrique Quintero
Charlie Bess

USA 31144

76

None

CRYC

30

30

8

7

2

9

4

4

Augie Diaz
Barbie Brotons

USA 30288

69

Danilu

Coconut Grove Sailing Club

41

41

3

12

8

12

6

5

Charles Miller
Lindsey Kloc

USA 30904

75

None

N/A

47

47

2

6

21

13

5

6

Hal Gilreath
Marissa Milliken

USA 12345

44

None

Florida Yacht Club

57

57

19

15

9

3

11

7

George Szabo
Diana Waterbury

USA 31441

49

None

SDYC

59

59

18

29

4

5

3

8

Arthur Blodgett
Gracie Howie

USA 30473

58

None

LYC Junior Sailing

64

64

15

14

18

7

10

9

Andrew Pimental
Shalom Fadullon

USA 31700

65

None

Sail Newport, Inc

70

70

13

22

10

6

19

10

Carol Cronin
Kim Couranz

USA 31295

72

None

Severn Sailing Association

71

71

20

2

14

17

18

11

Noah Zittrer
Peter Foley

USA 31300

59

None

Coral Reef YC / Lakewood YC

73

73

7

4

24

29

9

12

Matias Seguel
Constanza Seguel

CHI 31554

86

None

CNP

75

75

11

28

5

23

8

13

Jim Bowers
Julia Marsh Rabin

USA 31555

66

None

Winchester boat club

78

78

31

13

7

15

12

14

Tyler Mowry
Izzy Fadullon

USA 30302

25

None

Severn Sailing Association

79

79

9

11

6

24

29

15

Andre Guaragna
Logan Brickhouse

USA 30027

27

None

Fleet 007 – Miami

81

81

4

21

19

4

33

16

Carter Cameron
Bryan Stout

USA 29940

82

Birger's Boat/CheeseBirger in Paradise

Severn Sailing Association

83

83

24

16

13

16

14

17

Robert Ramirez
Martin Hermida

USA 31368

77

None

NYYC / SSA

94

94

34

20

15

18

7

18

Alex Pline
Lisa Pline

USA 31313

73

Old Folks Boogie

Severn Sailing Association

100

100

39

23

11

14

13

19

Trevor Long
Lucas Marsiello

USA 30324

46

Research Grant

Fleet 244 – Cottage Park

102

102

21

17

16

22

26

20

Henry Filter
Sandy Westphal

USA 30195

39

None

SSA

103

103

6

33

25

19

20

21

John MacRae
Bridget Wiatrowski

USA 31685

87

None

Winchester boat club

107

107

16

10

22

36

23

22

Alfonso García Bringas
Olivia Smith

MEX 31130

85

The green card

SCIRA USA No Fleet

108

108

1

3

35

DNF – 53

16

23

Tarasa Davis
Watt Duffy

USA 29671

78

T-Time

Fleet 330 – Atlanta

108

108

10

39

27

10

22

24

Eric Reinke
Alex Damley-Strnad

USA 31357

23

None

Severn Sailing Association

114

114

23

41

12

11

27

25

Trevor Davis
Addi Harris

USA 31391

43

Bad Panda Racing

Severn Sailing Association

118

118

17

19

33

28

21

26

Lee Griffith
Nikki Bruno

USA 31304

37

None

Surf City Yacht Club

121

121

32

8

29

27

25

27

Zack Kelchner
Darby Capellin

USA 29782

74

Toasty

Severn Sailing Association

121

121

29

27

20

21

24

28

Gavin O'Hare
Holly OHare

USA 30629

54

Severance

Eastport Yacht Club

122

122

22

18

28

26

28

29

Evan Hoffmann
Carrie Marshall

USA 30687

62

Mr. Meeseeks

San Diego Yacht Club

129

129

35

36

23

20

15

30

Jim Grubbs
Gus Wirth

USA 29780

67

Freewind II

Fleet 495 – San Diego/Mission Bay

142

142

25

24

32

8

RET – 53

31

Alec Stewart
Paige Omura

USA 27733

64

None

Fleet 244 – Cottage Park

153

153

27

9

46

35

36

32

Jno Disch
Karen Disch

USA 29968

52

None

Fleet 747 – Cleveland

156

156

26

25

31

39

35

33

Roberto Lizano
Danny Riano

USA 30888

55

None

US Sailing Center – Miami, FL

160

160

28

32

38

25

37

34

SIMON STRAUSS
Jim Tomassetti

USA 31001

63

Purple Bear

N/A

165

165

38

31

34

32

30

35

Sharon Seymour-Johnson
Lorie Stout

USA 30571

28

None

Lauderdale Yacht Club

167

167

40

44

36

30

17

36

Bradley Adam
Andrew Vernon

USA 29044

35

None

Severn Sailing Association

170

170

12

35

17

DNC – 53

DNC – 53

37

Sarah Alexander
Katja Sertl

USA 30928

79

None

ILCA Fleet 10 – Severn Sailing Association

174

174

36

42

26

31

39

38

Riley Kloc
Gracie Woodcock

USA 30419

32

None

Sail Newport, Inc

188

188

30

26

48

44

40

39

Chris Ryan
Jill Bennett

USA 30301

42

None

Severn Sailing Association

190

190

44

46

30

38

32

40

Matt Greenfield
Andrew Reed

USA 30510

24

None

Severn Sailing Association

198

198

45

48

37

34

34

41

Rafael Jarauta
Katrina Washburn

USA 28812

68

None

Fleet 007 – Miami

198

198

42

37

40

41

38

42

Pedro Lorson
Mimi Berry

USA 30304

38

The Lunatic Express X11

Manhasset Bay Yacht Club

199

199

46

30

39

43

41

43

Kevin Hetherington
Cindy Olsen

USA 29704

22

Hamachi

Fleet 244 – Cottage Park

199

199

49

38

41

40

31

44

Stephan Irgens
Monica Irgens

USA 28470

29

Green Boat

CSA

201

201

33

34

43

47

44

45

Alec Hughes
Alejandro Hughes

PER 31039

34

#ELNENE

YCA

208

208

37

49

44

33

45

46

Julia Fuller
Meri Harrington

USA 29727

84

None

Fleet 244 – Cottage Park

217

217

41

40

47

46

43

47

EDWARD KEENAN
Alison Keenan

USA 29955

57

None

Fleet 077 – Winchester

230

230

43

43

49

42

RET – 53

48

Kenneth Voss
Kay Voss

USA 30263

36

None

Coral Reef Yacht Club

232

232

50

47

45

37

DNC – 53

49

Rich McVeigh
Carol McVeigh

USA 31061

53

None

Severn Sailing Association

234

234

52

45

50

45

42

50

William Steve Lang
Erik Volk

USA 31591

83

Green Flash

St. Petersburg Yacht Club (Fleet 801)

246

246

48

50

42

RET – 53

DNC – 53

51

Paul Erickson
Dee Smith

USA 31586

48

SPREAD EAGLE

LYC – StFYC

257

257

47

51

RET – 53

DNC – 53

DNC – 53

52

Kristin Mullins
Chris Adriance

USA 28999

56

None

Severn Sailing Association

262

262

51

52

DNS – 53

DNC – 53

DNC – 53