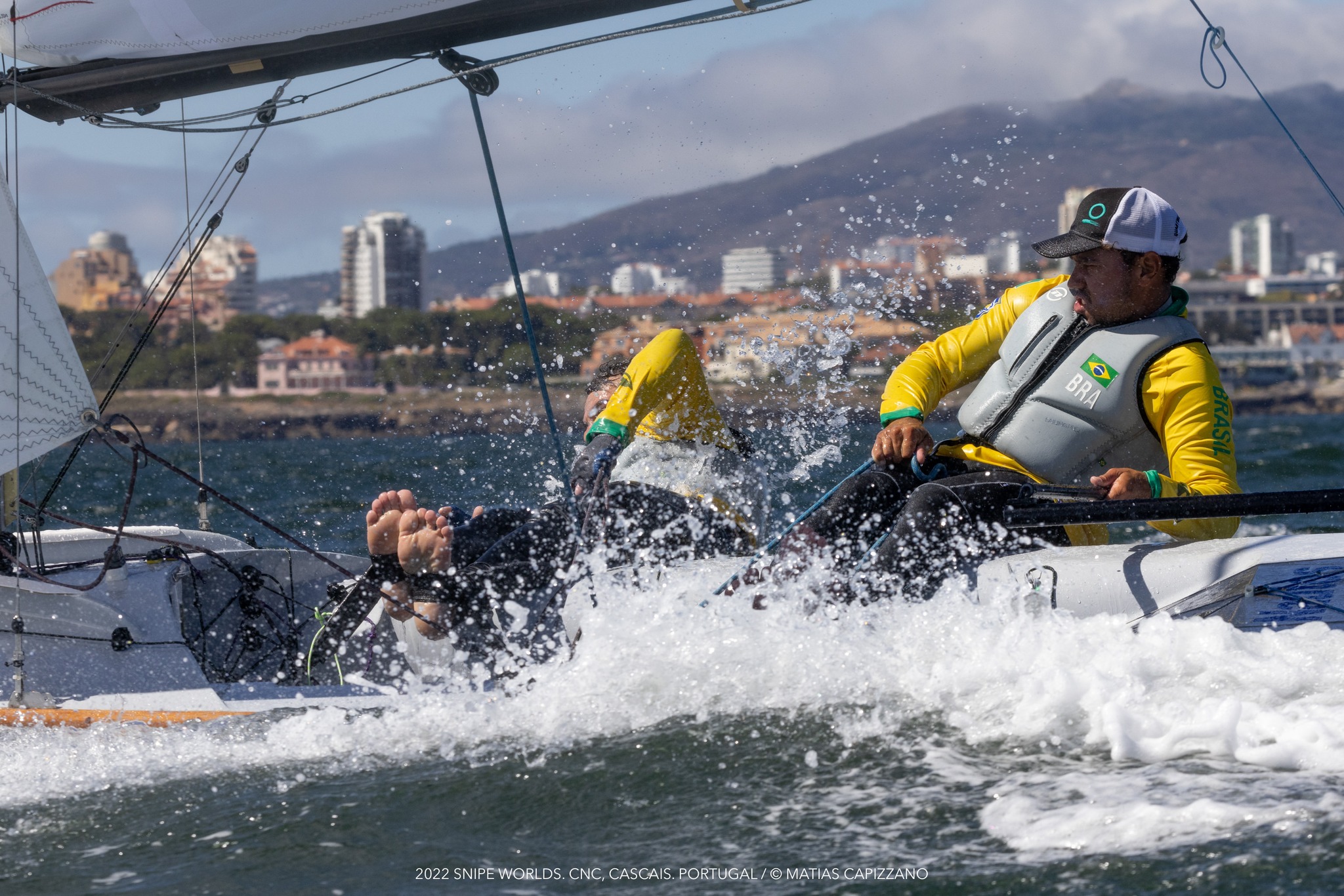 Cascais, Portugal, August 21, 2022. Results after 2 races:
BRA Mario Sergio De Jesus Junior & Henrique Wisniewski, 5
USA Ernesto Rodriguez & Kathleen Tocke, 11
ESP Alfredo Gonzalez & Cristian Sanchez, 13
BRA Henrique Haddad & Gustavo Nascimento, 20
USA Enrique Quintero & Charlie Bess, 22
ESP Gustavo Del Castillo & Rafael Del Castillo, 23
ESP Alfonso Fernandez & Pedro Escuder, 24
BRA Juliana Duque & Rafael Martins, 26
ESP Victor Perez Campos & Enric Noguera, 28
POR Henrique Brites & Francisco Maia, 31
BRAZILIANS LEAD AFTER FIRST DAY
Brazilians Mario Sergio de Jesus and Henrique Wisneiwski sailed a consistent first two races in puffy and shifty conditions off Cascais, Portugal, setting the pace for the rest of the fleet. Their 2-3 finishes gives them a margin over the 2nd place team of Ernesto Rodriguez and Kathleen Tocke of the USA who follow with 11 points posting a 7-4 and Spaniards Alfredo Gonzalez and Christin Sanchez with 13 with 4-9 finishes for the day.
Today's forecast predicted winds of 30+ on the preferred course, but PRO Jose Cancella opted for the more protected course to ensure a good start to the 50th World Championship. With northerly winds off the land, the first race was held in 12-14 knots with Gustavo and Rafael del Castillo, brothers (ESP) leading from the start. The right side seemed to favor the leaders and it was hard fought behind the winners with De Jesus and Wisniewski finishing second. Jan Peeters and Nathalie Janssens of Belgium crossed third, with two boats caught under the black flag, one who crossed the finish line 2nd only to be disappointed later.
With a short break, the Race Committee started the next race posting a triangle course, but changed to windward-leeward with the wind dropping at the start to 14-15 knots. The Spanish junior skipper Francisco Silvela with Rafael del Castillo Diaz, fresh from the Snipe Junior Worlds where he finished third, rounded the weather mark first followed by De Jesus/Wisniewski on their heels. As the race progressed with increased wind, the positions changed with Victor Perez Campos and Enric Noguera (ESP) crossing first followed by Silvela/del Castillo Diaz and De Jesus/Wisniewski.
SCIRA Commodore Luis Soubie commented, "Today was a good start for the Championship being able to complete the 2 scheduled races with the 2nd race more shifty and gusty than the first. It was great to watch the sailors boat handling and course management in these tricky conditions. The competition was very close and we expect the rest of the week to be just as intense."
Tomorrow's forecast is again for breezy conditions and the possibility of sailing the same area. The forecast for the remainder of the week is more manageable.