Happy Birthday—and a Hearty Thank You—to SSA's Dick C.!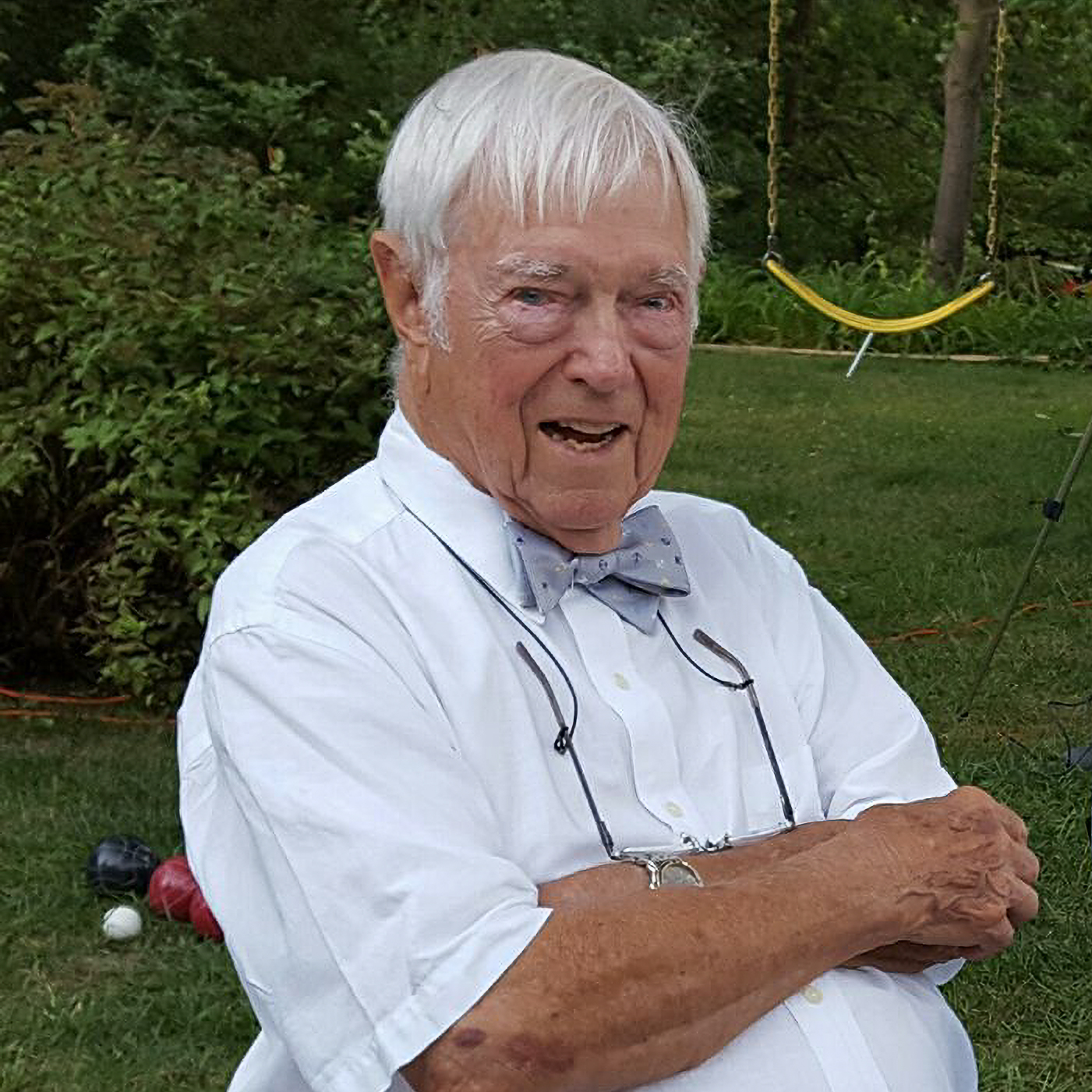 by Ted Morgan
No one better exemplifies Severn Sailing Association than Richard C. Bartlett Jr., a.k.a. "Dick C," who celebrated his 100th birthday in early March. For the entirety of his nearly 70 years as an SSA member, he has championed our club's Objects and Purposes by being an advocate for one-design sailing in Annapolis, growing love of our sport through SSA's junior sailing programs, encouraging SSA members to participate in regional and national regattas, and making sure all this is done with a healthy dose of fun through social activities.
Dick C is a charter member of SSA; he and his father joined the club as it was incorporated in 1954. He grew up racing Comets, National One-Designs, and International 14s before ultimately settling into the Snipe fleet. In addition to actively racing, Dick C has been passionate about ensuring the good health and success of the club. He served on SSA's Board of Governors for nine years during the club's formative years, including as Commodore for 1971-1972.
Building SSA Literally from the Ground Up
Dick C was a key part of the work to establish SSA at its current location, and was on the Board for the club's first two years of operation on First Street (1958-59). In making the move from up the Severn River to Eastport, Dick C notes that "We had the ideal place right downtown. Right here in the harbor is the best spot in the world."
The bulkheads were constructed and filled with dredge material from the Severn River, effectively tripling the size of our property. Work was done by volunteer club members, including Dick C, during the cold winter months. He was one of a handful of members who literally built the land that we store our boats on today.
Establishing SSA as One of the Nation's Premier One-Design Clubs
Dick C and his family were stationed in southern California in the early 1960s. While there, he bought his first Snipe—and then led the charge to create Snipe Fleet 573 at Coronado Yacht Club. He and his daughter Linda raced Snipes in California, and he speaks fondly of his son, Jonathan (an Honorary member of SSA and former SSA Junior Program Director), getting his first introduction to sailing in the cockpit of a Snipe.
When Dick C returned to Annapolis in 1965, SSA had built a clubhouse on First Street. Dick C emerged as an active participant in the Snipe fleet, and once again stepped into a leadership role as the club's vice commodore in 1968. He was the principal race officer (PRO) for the early Snipe Colonial Cups, and also was one of two PROs when SSA hosted the 1971 Snipe U.S. Nationals. This was a really big deal for SSA as Snipes were the largest one-design class in the country, and many yacht clubs bid to host the regatta. Being awarded the honor of hosting the regatta gave SSA the opportunity to showcase its world-class dinghy facilities to the top competitors from around the county.
This regatta established SSA's reputation for running high-caliber national events, thanks in large part to Dick C's efforts. In the years following, SSA has been happy to welcome sailors from across the country and around the globe at events including multiple Snipe Nationals and North American Championships, a Snipe Women's Worlds, 420 Worlds, J/24 Worlds, Laser Nationals, Lightning North Americans, 5O5 Worlds, and so many more.
Mentoring Sailors—and Leaders
Dick C's service provides a leadership model that has inspired numerous club leaders, including Past Commodores Griff Hall, who raced in the Snipe Junior Nationals in 1971; Dina Kowalyshyn, who has fond memories of going to the Bartlett home for social gatherings after sailing; and Tim Cusack, who also served as SSA treasurer and maneuvered SSA onto very strong financial footing.
Past Commodore Ted Morgan notes that "Dick C's presence at every SSA annual meeting speaks volumes about how much he cares about the club. "He instilled in me and many others a strong desire to keep SSA grounded and consistently focused on the club's mission to promote one-design sailing, to promote junior sailing, to encourage participation in national sailing activities, and to make it a heck of a lot of fun by hosting social activities for sailors."
Through his involvement in numerous editions of SSA's Sandy MacVickar Regatta, Dick C has advocated for junior sailing education. Navy Sailing Head Coach and SSA member Ian Burman recalls how "(Dick C) loved to connect with the junior sailors and helped set the tone of a relaxed and fun event."
He has encouraged many SSA members to take their game farther than Annapolis Harbor—to participate in regional, national, and international regattas. His support and enthusiasm is contagious; last month, six SSA Snipes and more than a dozen SSA Lasers traveled to Florida to participate in national regattas.
Making It All Fun
Dick C has an infectious love for SSA that he has spread to generations of SSA members over the course of his nearly seven decades of membership. His theory is that if you make it fun for everyone, "party well and have a good time," you make it worthwhile to go sailing, getting better eventually, and building a strong fleet along the way. The hope is that sailors will stick with SSA and the sport of sailing and enjoy a life-long love affair with SSA. He has shared the vision that it's not all about winning the regatta, it's about building a community that is centered around friendship and fun.
Eric Purdon joined SSA in 1968 and quickly realized that he had a lot to learn to catch up to the top sailors in the Snipe fleet. "I remember how encouraging he was to me and other sailors in the back of the fleet," he recalls. "He was active on the RC and was a large reason the regattas went off without a hitch. A large part of my minor sailing successes are due to his encouragement in my early sailing days."
He also enjoyed opening his home to sailors; competitors from many locales (including an Argentinian team for Soling Worlds) have enjoyed staying at his home during regattas.
Thank You, Dick C!
Just a few words cannot truly capture all that Dick C has done and continues to do to grow SSA—both physically and as a community of sailors who love one-design racing and having fun together on and off the water. Our debt to you, Dick C, is enormous, and we plan on paying it back by working together to ensure a healthy future for a vibrant SSA filled with lots of great sailing and fun!
—Ted Morgan