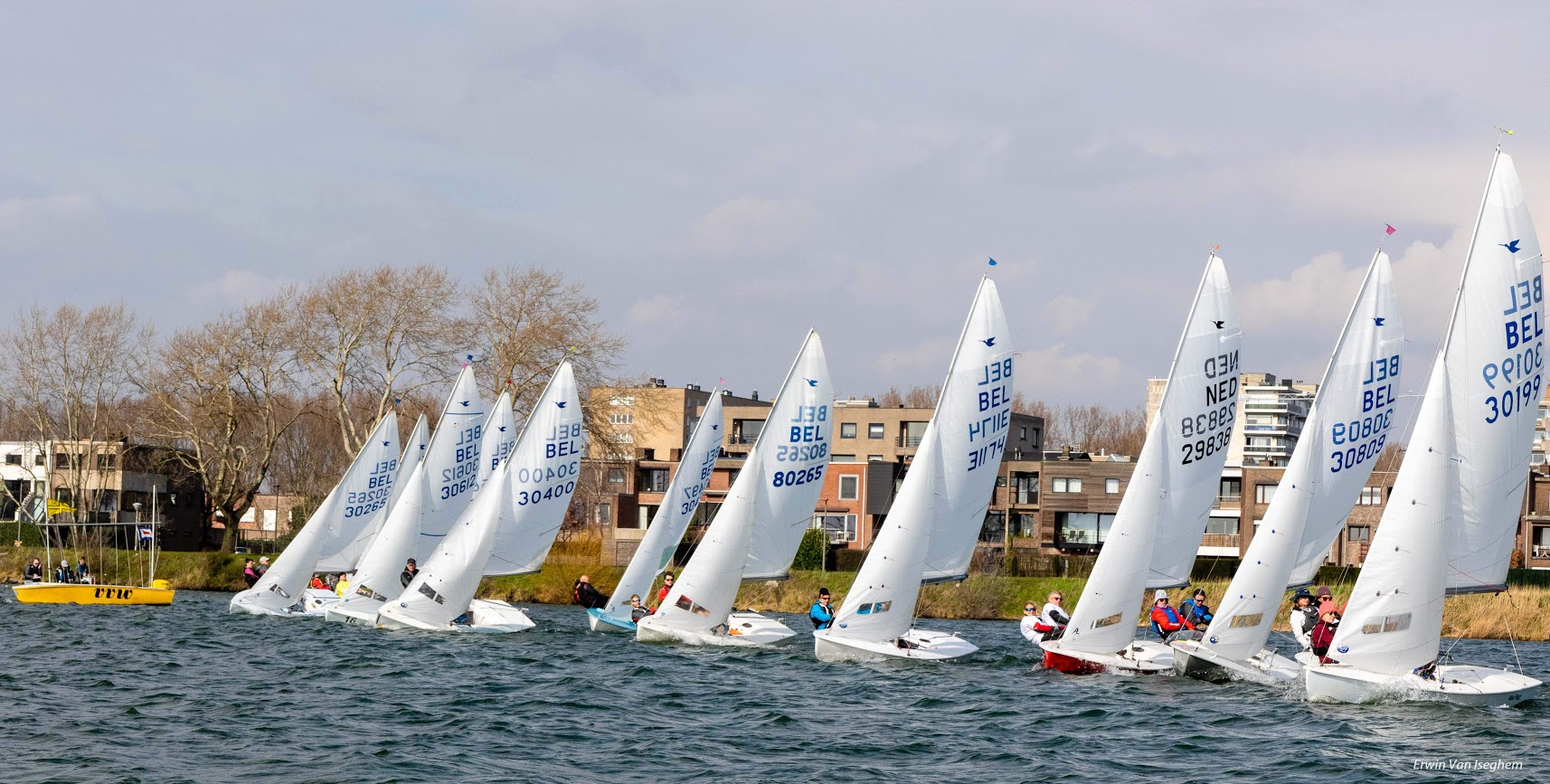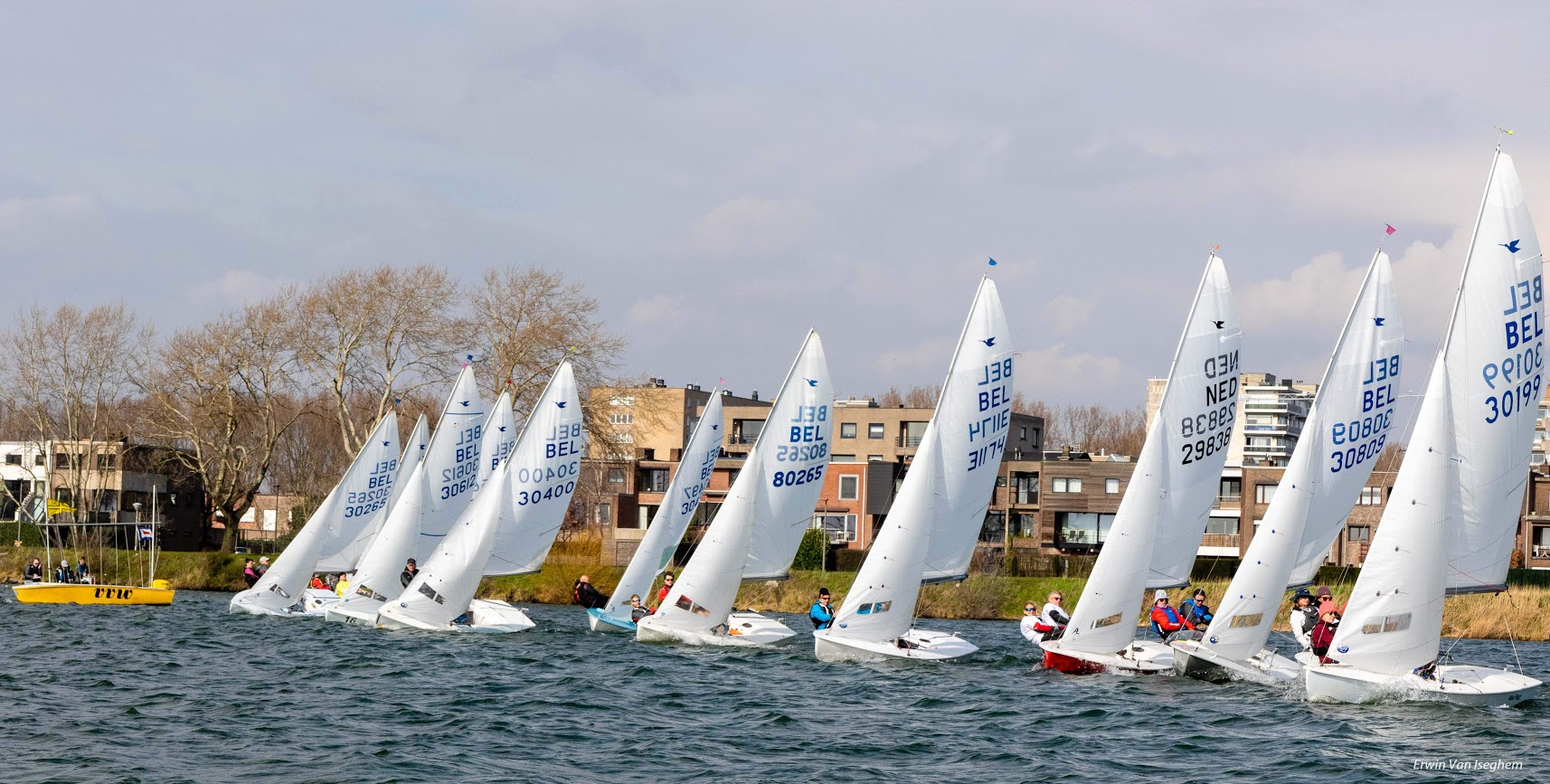 The Belgian Snipes: past & present
by Sarah De Cannierre
Snipe sailing in Belgium started right after World War II. Historically Belgium had four Snipe fleets. Two were based at the coast (Nieuwpoort and Oostende) and two more were on small inland waters (Hofstade and Antwerp). 
In the seventies, some great OK sailors transitioned to Snipe. Sailors like Dirk De Bock sr., Jules Wagemans, Guy Lachapelle and Leo Meyvis had a major importance in the evolution and growth of the class. Dirk De Bock sr. confirmed the high level of Belgian sailing during the Olympic Games in 1972, where he represented our country in the Soling class.
16 years later, Robert Drontmann participated in the Olympic Games in Seoul (1988) in the 470 class. He ended in fourth position, representing the Netherlands. The Belgium Snipe Class was very happy when Drontmann introduced himself in the Belgium snipe class around six years ago, now having a second Olympian in their team. 
During the eighties, the four Belgian fleets struggled somewhat to attract new boats and members.  When André Callot became president of the class – around 35 years ago – he decided to focus on one fleet. The Antwerp fleet was relaunched and reborn.
With the hard work of Captain André, the Antwerp fleet not only survived but it revived.  The key to success was attracting a group of enthusiastic young sailors, mainly coming from the laser class.  Sailors such as Jean-Martin Grisar, Thierry Den Hartigh, Guy Celis and Wim Ghys found their way to snipe. And most importantly they have since then never left.
In the years that followed, this foundation for success was strengthened as  sailors from other classes also made the switch. These sailors – often very experienced and ambitious, raised the level of the Antwerp fleet delivering highly competitive racing. Many of them, including Bart Janssens, Jan Peeters, Bart Bomans and Manu Hens, are also still competing in the class today.
In 2018 Yannick Laumans took over from André as Antwerp fleet captain. The class has continued to grow and be successful under Yannicks guidance and has managed to attract younger sailors transitioning from youth classes as well. Furthermore he developed the women's fleet in Antwerp.  Nowadays, the Belgian fleet has 50 boats and 100 active sailors.
Meet lake Galgenweel
The home base of the Antwerp Snipe Fleet is the famous 'Galgenweel lake', which was created as part of an urbanization plan in the 1940s. From its inception it has always been one of the most active sailing hubs in Belgium.  It's a tiny lake at the left bank of the river Schelde, close to the old city centre of Antwerp. Although small, less than 1 km long, it supports five sailing clubs and houses several hundred boats in large covered sheds. 
The size of the lake and its shape is a challenge for both organizers and sailors. The start line is maximum 5 minutes from the launching jetty. Courses are short, which guarantees close competition.  This delivers exciting racing that is easy to follow from the clubhouse. 
The Antwerp Snipe Calendar
From March right through to November, the Antwerp Snipe Fleet organises many events. Almost all of them take place at our home base: Lake Galgenweel.
The sailing season starts the first weekend of March, when the Antwerp Snipes gather for their annual 'Antwerp Snipe Cup'. This very popular regatta has continued to grow each year. The 12th edition in 2019 broke all records, attracting 33 boats!
Another highlight of the annual calendar is the Belgian Nationals. For many years this event was organised in Scharendijke in The Netherlands. However with a bold decision, three years ago the event moved again to the Antwerp home base, allowing the event to be more accessible to a broader group of Snipe teams.
The third most important event on the national calendar is the Marlin Spike cup, held in October. This race is part of the 'Challenge Yves Le Bourg', a challenge between Belgium, France and the UK. It aims to promote and encourage participation at international regattas in these countries.
All Belgian events are well known for their highly competitive racing, but even more famous is the Belgian socializing and friendliness off the water too. If you have never been to Antwerp, we welcome everyone to discover and enjoy the unique post sailing atmosphere that we Belgians are famous for. Each race has its own individual charm, but what they all have in common are good food, our world renowned beer as well as our open, friendly and fun atmosphere!
In between these bigger events, the calendar is well-filled with smaller one-day races, Wednesday evening racing in as well as training sessions and clinics, keeping the momentum of our growing and enthusiastic class members. 
SWEC 2019 & 2022
In 2019 Belgium accepted the challenge to reinvent the Women's Europeans. This regatta hadn't been held for many years. SCIRA wanted to relaunch it, and the Belgian Snipes took up the challenge. In June 2019, 21 teams from nine countries battled on the Galgenweel lake for the title of Women's European Champion. After three exciting days, Gintare Scheidt (Olympic medalist) crewed by Kathleen Tocke took the gold medal. For Belgium, this event introduced the relaunch of women's snipe sailing. 11 Belgian women's teams participated in SWEC. Many of those teams are still sailing together today.
The organizing team did a great job, but felt like they could still do even better. Therefore, SWEC will be held again in Antwerp in 2022 (July 1st – July 3rd). Note to all women's teams and mens support crews: mark this weekend in your diary and tell everyone that you'll be going sailing that weekend!
Snipe promotion all year round
Snipe promotion in Belgium runs all year round. Instead of a single 'promotional day or event'. Belgian Snipe sailors are working constantly to attract new sailors including inviting them to participate in regattas. With almost all of the Belgian boats being in Antwerp, a new sailor can easily borrow a boat or join an existing crew to experience a real life racing. Immersing people in the atmosphere of our racing and letting them experience the special snipe atmosphere is a really great way to convince sailors to become a part of our snipe-family.
Where are we? 
The website of the Belgian snipes is www.scira.be. To stay up to date, please 'like' our facebook page 'Belgian Snipes' or follow us on Instagram ('Belgian Snipes').
Sarah De Canniere
BEL28956
Photos courtesy of Erwin Van Iseghem)
Fleets: Let us know the Story and the Activity of your Fleet
The heart of the Snipe Class is the local fleet. Fleet activity boosts regional, national and international activity. It is also a "family" where the sailors can spend their time sailing, chatting, drinking, eating and dancing. Where they can experience the true essence of the Snipe: Serious sailing and serious fun.
Let us know the story and the activity of your Fleet. So please send your contributions to [email protected]
Topics:
History of the fleet: When the fleet was founded? Most important sailors and fleet captains
Where is it located? Where do you sail (Racing area)?
How many boats and sailors? Who are they?
Which regattas has the fleet held in the past? Are there annual regattas or events?
Social events: does the fleet organize parties, dinners, clinics, promotional events etc.? Do you have a site, a mailing list or a FB page?
Programs or ideas for the next future
Also, please send photos
Pietro Fantoni, ST Editor