2020 Hall of Fame Inductees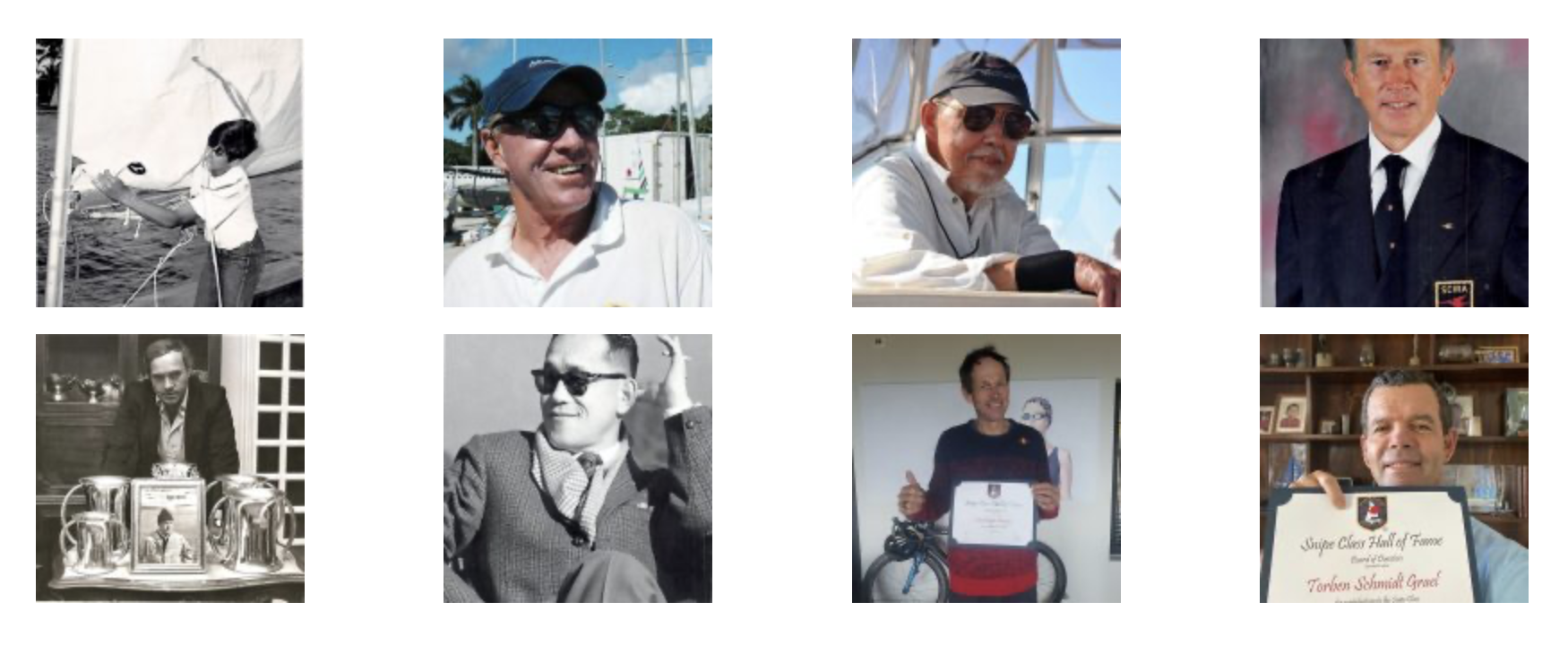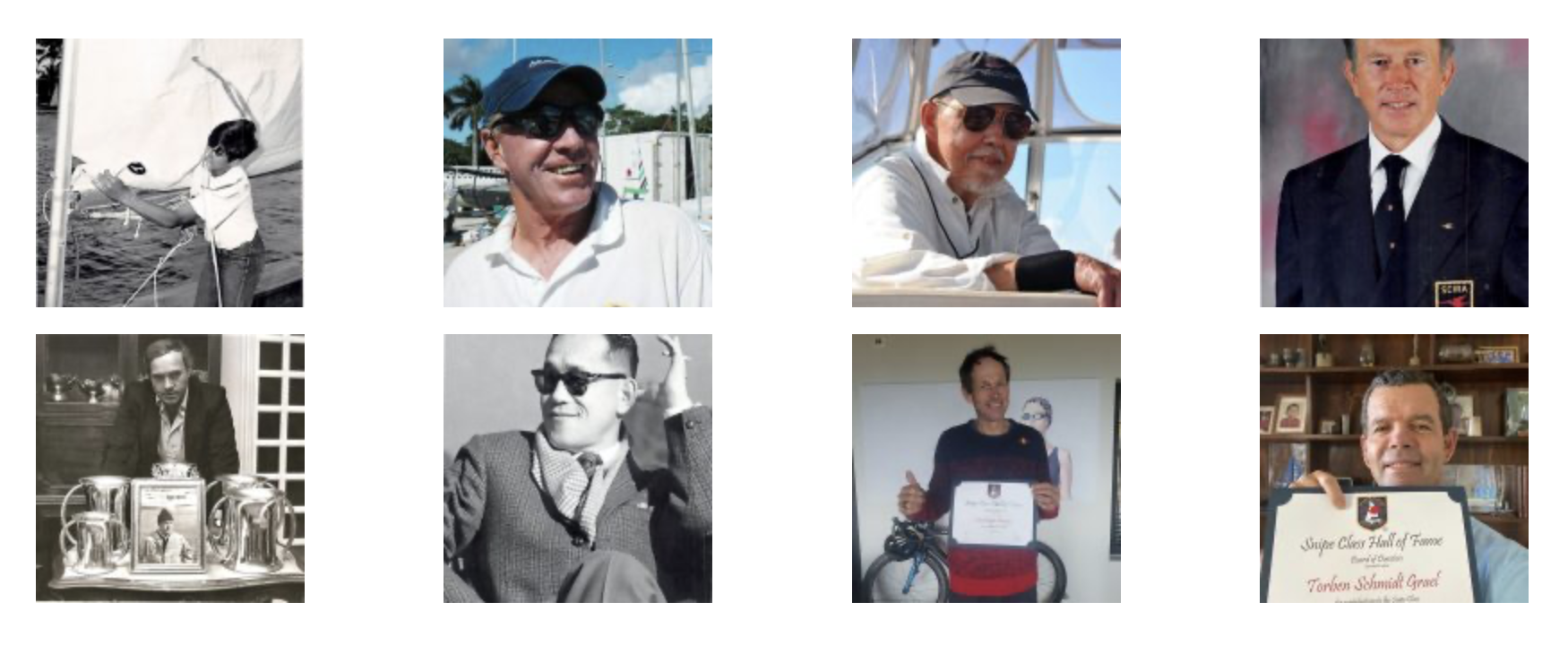 The International Snipe Class has a long history of which very few other classes can boast. The boat was designed by Bill Crosby in 1931 and 89 years later, 32000+ boats have been built with fleets in over 30 active nations.
It is a history of people, sailors, champions, enthusiasts, promoters, sailmakers, builders and organizers.
The past is strongly linked to the present: all the inductees have helped to promote and grow our Class in many countries and continents; many of these people are still strongly linked to the Class or have been, when they were alive, to form a large family, the Snipe Family, from great-grandparents to grandchildren.
For this reason, the "Snipe Class International Racing Association Hall of Fame" was created.
The SCIRA Hall of Fame honors individuals who have made outstanding contributions to the Snipe Class and Snipe competition.
The Class is honoring three categories: Sailing, Technical Design and Contributors, –people who made significant contributions to the Snipe Class.
For this second year a maximum of eight inductees were considered (ten in the first year, eight for the second year and five for the years after).
Augie Diaz
Birger Jansen
Brainard Cooper
Felix Gancedo
Giorgio Brezich
Roy Yamaguchi
Santiago Lange
Torben Grael
The 2020 inductees are among those who have undoubtedly contributed to make the history of the Snipe Class. As Commodore Luis Soubie stated, "All these sailors made the footsteps of what we are all walking these past decades, so we thank them, remember and honor them as they deserve."
Full bios and additional photos & videos can be viewed here
---
Agustin (Augie) Diaz (USA)
Agustin (Augie) Diaz was born in 1954 at Havana, Cuba and started sailing in 1964 at age 10. His father Gonzalo Diaz is a well-known and successful Snipe racer and promoter of the class (Havana and Miami FL) and was inducted into the SCIRA Hall of Fame in 2019 for his achievements over the past 75 years. You can assume that Augie received a lot of great coaching and inspiration from his father (and Mother Carmen too!).
Augie received awards for Collegiate All-American Sailor (1973-75) and College Sailor of the Year in 1974.
Augie first won Snipe honors at an international level at age 17, finishing 2nd place/Silver Medal in the 1971 Pan American Games. In two other Snipe competitions at the Pan American Games, he finished 2nd place/Silver Medal again in 2011, and 3rd place/Bronze Medal in 2015.
Over a 49-year period (1969-2018), Augie starred in 25 Snipe US National Championships, winning eleven times and finishing 2nd or 3rd fourteen times! He participated in the North American Snipe Championship seven times over a 13-year period (2004-17), winning five times and finishing 2nd place two times. In the Western Hemisphere and Orient Championship (1973-2010), he won twice (1973 and 2002), and finished 2nd three times (1974, 1980 and 2010). Augie won the Snipe World Masters Championship four times (2002, 2004, 2006 and 2012). At the top, he won the Snipe World Championship twice (2003 and 2005) and finished 2nd place in 1975.
But his sailing successes also extend to other classes too (Laser, Flying Dutchman, 505 and particularly Star boats). In the Star class, Augie has won: Winter Series Championship (2013), International Masters Championship (2014), Eastern Hemisphere Championship (2016 and 2019), North American Championship (2017 and 2019), European Championship (2018), Zagarino Masters Cup (five times, 2007-17), and World Championship (2016, plus 2nd in 2019 and 4th in 1986).
Augie also received the award for US Sailing Rolex Yachtsman of the Year (2003). Now at age 64, Augie is an inspiration to us all – a fine gentleman and sportsman and mentor. We look forward to his many fine performances and contributions In future years.
So, it is most fitting that Augie was selected as a SCIRA Hall of Fame inductee for 2020.
Birger Jansen was born in 1948 in Bærum, Norway, and started sailing as crew in Snipe races in Norway at age 16 (1964). Snipe sailing was important to Birger, it was his way of life for many years. He was SCIRA National Secretary for Norway for 35 years and led promotion of the class in that country and in international sailing competition until his passing in 2016.
Birger raced in the 1991 Snipe World Championship (3rd place), and also placed in the top standings in the Snipe European Championship in 1992 (5th place) and again in 2000 (1st place). He won the Snipe World Masters Championship in 1996 and won the Snipe Norway National Championship many times over the years. His last Snipe competition was in the 2016 Snipe European Championship. Birger also was SCIRA Commodore in 2002.
Birger also competed in sailing regattas for other sailboat classes, including OK Dinghy, Finn, 470, Soling, Melges 24 and Folkboat. In his younger years, he also played ice hockey and was a member of the Norwegian national hockey team that competed in the 1972 Winter Olympics.
During his Snipe racing days, Birger made many friends worldwide through competing in regattas and enjoyed socializing afterward. Birger is remembered for his contributions of support and education to the Snipe sailing community and his friendship with many through sailing.
In the summer of 1972 Brainard Cooper was a serviceable Snipe crew sitting in the bar at the Florida Yacht Club in Jacksonville, FL while his skipper, future Snipe commodore Dan Williams was working with a crew measuring Snipes in preparation for the US Nationals. Brainard had raced Snipes while in high school and had crewed for young Billy Roberts at the US Junior Nationals in 1952, finishing second. He had at various times crewed for 1952 Commodore Owen Duffy and a college senior named Harold Gilreath, who in later years also became a Snipe Class commodore. After 10 years away he had returned to Chattanooga, TN in the mid-sixties and rejoined Privateer Yacht Club, sailing on Chickamauga Lake, one of the "Great Lakes of the South." He and Williams had won the Southern Snipe Championship, and the party, in 1965 and again in 1970.
Leaving the yacht club bar, Brainard decided to see if the measurers needed any help. Of course, they always do, and he was put to work measuring the transom of Commodore Dick Tillman's new Snipe. The chines were low! He considered going back to the bar! After calling for back-up, it was determined that the chines at the transom were indeed low and Tillman, who Brainard had met in 1952, made the corrections with a grinder.
After that inauspicious start, Brainard became fixture at national and later international events. He worked with measuring crews at World and Hemisphere Championships in California, Florida, Denmark, Portugal, France. Italy, Japan, Argentina, Uruguay and Brazil. Brainard was named US National Measurer and appointed to the Rules Committee in 1987.
In his first year as a member of the Rules Committee, he was instrumental in establishing the rule eliminating Jib hanks, though he was always careful to say that it wasn't his idea – that others deserved the credit. "All I did was convince some key members of the committee that it was the way to go. And I wrote the rule that was adopted."
In 1991, with the aid of Commodore Means Davis, Brainard was instrumental in gaining Rules Committee approval allowing sailors to place advertising on their boats, sails, and equipment.
Brainard succeeded his old skipper Dan Williams as Rules Committee chairman in 1994.
When he became chairman of the Rules Committee, Brainard established email as the primary means of communicating between the far-flung members of the committee. And he hung a sign above his computer screen that stated "No Rule Is Better Than the Fool Enforcing It." His goal, he said, was to never be the "Fool" the sign referred to. In 1998 he was the first Rules Committee chairman to attend the European Championships when they were held at Porto. He was the SCIRA representative on the measuring crew for the 1999 Pan Am Games in Canada.
As chairman, Brainard led the committee in standardizing mast length, rudder gudgeon and pintle placement, and centerboard height, all of which had been unique to each of the several Snipe builders. He also converted the Rule Book to the metric system. The SCIRA Board of Governors elected Brainard commodore of the Class for the year 2003, following which he served as ISAF representative for 5 years, retiring when he reached age 70 because, "the Snipe is a young person's boat, and they don't need guys my age telling them what to do."
Brainard had by then become involved with race management, and as US Sailing Regional Race Officer ran several national championship-level regattas.
After seven years, SCIRA USA brought Brainard out of 'retirement' to serve as US National Secretary. Health issues forced him to re-retire in 2015, so recently he has been main sheet trimmer on a J-92 in club races at his home club in Chattanooga.
Speaking of his long involvement in Class management, Brainard says, "The Snipe Class, to my mind, is the first and best; I'm a Snipe guy for life. I felt I should listen to the sailors and be responsive to them. I always thought of myself as a sailor first and a measurer or administrator after that. I would hope that I wasn't the "Fool" mentioned in that sign over the computer too often."
When asked, Brainard expressed that he was "honored and humbled beyond belief to be considered with the founding lights of the Class and the great champions, many of whom are good friends, and, of course, my dear friends Gonzalo and Bibi.
Giorgio Brezich, born in Trieste in 1940, started sailing Snipes at a very young age. ""My story on the Snipe begins when I was six and I started crewing not because of my skill, but because of my light weight."
As a sailor, Giorgio won a total of 3 Junior Italian Nationals and 9 Italian Nationals. He also held the role of Italian National Secretary from 1988 to 1995 and spent many years on the Board of Governors for SCIRA International, and one term as SCIRA Commodore in 1996. He was Chairman of the Rules Committee for almost two decades and helped clarify and unify the Measurement Rules. That interest probably dates back to the 1959 Junior Europeans, as this anecdote explains:
"For travel reasons, Prof. Vidulich (our chaperon) and my crew Franco Ostoich and I arrived on site at the very last minute, with the measurement now over. But we were expected to get things done faster, I took care of the boat and Franco of the sails. At the end of the operation, the boat was all right, but the sails were almost all out of measurement. We had arrived with five complete suits of sails and of these only one was accepted, the others were all "too small". After a long and careful investigation, I learned that the measurer had arranged the mainsail and jib marks on the floor and that anything that did not match was refused. It wasn't fair, but could I, at 19, go up against an international measurer? Fortunately, Vieri Lasinio (Italian National and European Secretary) was present and I explained the mistake. After a long discussion with the measurer himself, all the sails were re-measured. So, I promised myself to enter the measurement system to have a say."
The first Snipe Giorgio sailed was "Quarner", which belonged to his club, the Triestina della Vela. He won his first Italian Junior Championship in 1957 in Riva del Garda with Franco Ostoich, as crew on "Bon II" # 6370.
In 1957 Giorgio's father built "Barbanera I" #11012, from a plan by Giuseppe Fabian, chief carpenter of the Navalgiuliano shipyard in Porto Lido. With this boat Brezich and Ostoich won two more Junior Championships in 1959 and 1960. This boat was followed by "Barbanera II" #11593 in 1960, "Barbanera III" #13908 in 1963 (designed by D'Isiot and built in okoume by Giorgio's father), and "Barbanera IV" #15790 in 1966. With these boats he won the Italian Championship in 1967, 1970, and 1973 with Giorgio Ferin. In 1972, he won the Southern European Championship with Roberto Vencato, and in 1973 he took the Mediterranean Championship with Sergio Morin.
In 1973 Giorgio, always attentive to innovations, bought the first fiberglass boat, a Skipper, followed by some Lillias and finally a Perssons. With these fiberglass Snipes, Giorgio continued his winning ways in the Italian championships in 1974, 1976, and 1978 with Piero Napp, in 1979 and 1981 with Marco Penso, and in 2000 with Lucio Penso.
Giorgio held the role of Italian National Secretary from 1988 to 1995, but he is known around the world for his many years of activity in SCIRA International. He was a member of the Rules Committee from 1985 to 1995.
In 1996, after organizing the 1995 Snipe Worlds in Rimini, he was elected SCIRA Commodore. In the January 1996 issue of the Snipe Bulletin, he wrote: "It is a great honor and pleasure to be elected in such an important position within the Snipe Class organization. … Also, 1996 will be the 50th anniversary of my Snipe sailing career, as I began at the age of six and it is a fantastic coincidence to be Commodore in the same year! Having been involved in the class for so long means that I have seen first-hand the evolutions of boats, rigging and sails. I believe in evolution, without traumatic revolution. The Snipe must maintain its philosophy but accept the technology of the time being. Carefully selecting innovations, we will maintain the Snipe always up to date and attractive for the top champions as well as for family crews which are the core of our fleets."
From 1997 to 2012 he was Chairman of the Rules Committee, watching over the class rules with extreme competence and rigor. Always present at international events, he held seminars and workshops on Snipe measurement techniques in San Diego, Santiago de la Ribera, Punta del Este, Porto, Rungsted, and other places. This greatly helped the class unify measurement techniques around the world.
Thanks to his hard work, the class rules have been updated and made clearer. The latest draft of the Rule Book is the latest gift from Giorgio and his colleagues of the Rules Committee.
Giorgio retired from racing in 2010, but he continued his activity on the SCIRA Board of Governors until 2012 and after that as a measurer; he still actively follows the Snipe Class, and he is an inexhaustible source of advice thanks to his technical experience and competence. He celebrates his 80th year in 2020, as an inductee to the SCIRA Hall of Fame.
Felix Gancedo was born in Málaga, Spain in 1940, and has been a life-long Snipe sailor. After crewing for two years, he got his first Snipe at age 15. In following years, he gained experience in sailing and racing, including crewing also with experienced Snipe sailors such as Pedro Casado in the 1964 Spanish National Championship (2nd place) and 1965 Snipe Worlds Championship (5th place).
In 1969, Felix Gancedo started an amazing winning streak of 15 Spanish National Snipe Championships (1969-1975, 1977-1981, 1983, 1985 and 1990). He was also runner-up twice (1982 and 1986).
During those years, he also won the Snipe World Championship two times (1973 and 1975), and 3rd place in 1971, 4th place in 1979, 2nd place in 1981, 7th place in 1983 and 4th place in 1985. Seven times in the Snipe World Championship! He was also the four-time winner of the Snipe European Championship (1972, 1974, 1978 and 1990) during this period. In 1991, he also won the Snipe World Masters Championship.
In early years, Felix was not only a sailor, but also a rower. Felix won the single scull category at the Spanish National Rowing Championship in 1964. That year, he also crewed on the winning boat in the Spanish National Championship in the Flying Dutchman class. Later, he also was Spanish National Champion in the Flying Dutchman class (1967 and 1968) and competed in the Summer Olympic Games in Mexico (1968) in the Flying Dutchman class. That was his first Olympic entry, but not last. Felix also crewed for Prince (later King of Spain) Juan Carlos in the 1972 Olympic Games (Germany) in the Dragon class, and again in the 1976 Olympic Games (Canada) in the Tempest class.
A truly outstanding sailing and racing performance over a period of 22 years! Quoting from his interview for the 75th Anniversary of the Snipe class (Snipe Bulletin, June 2008 issue): ' "Hey guy, how many foolish things do you still want to with your poor old life?" Now here I am writing and thinking of you, it is another kind of sailing. I miss so much the sun, the sea, and my friends.' So in our senior years (as many of us are), it is time to relax and reminisce with friends about your many stories and experiences in the Snipe family. Welcome to the 2020 SCIRA Hall of Fame!
Roy Yamaguchi was an avid sailor before WWII and one of the founders of the Japan Sailing Federation. The Snipe was first introduced in Japan in 1947 and in 1956 Roy founded SCIRA Japan/Japan Snipe Association and facilitated formation of the first chartered SCIRA Snipe fleet in Japan (Kanto Fleet #428 in Tokyo). In 1957 he was the first Japanese to compete in the Snipe World Championship, held that year in Portugal. In 1960, he was elected to the SCIRA Board of Governors. He attended the 1961 Snipe Worlds Championship in USA and supported the Japan national team as a sponsor for that event. Two additional Japan Snipe fleets were chartered by 1963, with over 45 Snipes and 80 SCIRA members in the three fleets. Roy is considered as the "father" of SCIRA Japan, which has grown to 15 Snipe fleets over the ensuing years. Japan now has a large base of registered Snipes and many SCIRA members, and racing includes competitions for national, high school, intercollegiate, women, master, junior and business team championships.
Roy was also active in formation of other one-design racing classes in Japan, including Finns and Dragons. Roy raced in the Dragon class, and in 1963, he had a custom 5.5 meter racing yacht built for the 1964 Tokyo Olympic Games, and participated in qualification racing for the Olympics. Sadly, Roy passed away later in 1963 at age 42 following a short illness, but the boat was used as a representative boat. In 1994, Roy's widow Gertrude along with Motoko and Fujiya Matsumoto, arranged with SCIRA Japan to dedicate the Roy Yamaguchi Memorial Trophy Women's World Championship, in Roy's honor, and the first competition for that award was held in 1994 in Yokohama. Roy was remembered for his contributions to yachting associations in Japan, and the goodwill he fostered through sailing.
---
Santiago (Santi) Lange (ARG)
Santiago "Santi" Lange was born in 1961 in San Isidro, Argentina. He started sailing at age 6, and in his teenage years began winning championships including a national championship (Optimist Pram) in 1976 at age 15.
Santi's winning international Snipe competition began at the 1983 Pan American Games, where he finished in 2nd place for a Silver Medal.
In 1984, after Santi returned to Argentina from university studies in the UK (naval architecture), he bought a 1957 wooden Snipe #10863 that was built in Brazil, and fixed it up for racing. He must have done a very good job in updating and restoring the 27 year old wooden Snipe, because at age 23, he won the 1985 Snipe World Championship with that boat, and also won the 1985 South American Championship. After that, Santi won the Western Hemisphere and Orient Championship in 1986, and was a four time winner of the Argentina National Championship (1985, 1986, 1988 and 1996).
Santi competed in the Pan American Games in the Snipe in 1987, finished second place for a silver medal.
He also raced in three more Snipe World Championships, finishing 2nd in 1987 and winning the title twice in 1993 and 1995, thus becoming only the second Snipe sailor ever to win the Snipe World Championship three times (the Schmidt brothers from Brazil also won three times, in 1961, 1963 and 1965), records that still stand.
His exceptional sailing successes have extended to many other classes and international events as well, including Olympic sailing competition six times representing Argentina with Bronze Medals (3rd place) in Tornado catamarans (2004, 2008) and a memorable Gold Medal (1st place) in Nacra 17 catamarans (2016). Santi also won the Tornado World Championship (2004) and a Silver Medal (2nd place) in the 1995 Pan American Games (Laser, 1995). To top it off, he has twice raced in the Volvo Ocean Race (2001-02 and 2008-09); and on two entries representing Sweden in the Louis Vuitton Cup preliminary qualification series for the America's Cup (2007, 2013).
If that is not enough, he has also worked as a naval architect for renowned yacht designer German Frers (ARG) and in 1992 he started building new fiberglass Snipes in Chile, in a cooperative venture with Persson.
As SCIRA Commodore Luis Soubie stated (Snipe Bulletin, Winter 2017 issue), "Santi made his legend bigger, winning the first Olympic Games Gold Medal in sailing for Argentina, in 2016. As an Argentinian and a Snipe sailor, I cannot be prouder. He deserves it." Santi noted when informed of his Snipe Hall of Fame induction, "The Snipe is a class that will be forever in my heart and where I did my first steps into international sailing."
Torben Grael was born in Sao Paulo, Brazil in 1960, and over the years since 1978 has established his championship performances in many sailboat racing classes all over the world.
In Snipes, Torben followed the example set by two Brazilian Snipe sailors who had previously won the Snipe World Championship four times (1961, 1963, 1965 and 1977). Torben raced for the Snipe World Championship for the first time in 1981 (3rd place), and then won the Snipe World Championship two times (1983 and 1987), and was runner-up in 1989. Torben's 1983 victory was special since he was sailing a 1960 wooden Brazilian-built Snipe #12296 which was the oldest Snipe in the fleet; it was the same Snipe that he had raced in the previous 1981 event. Torben (with his brother Lars Grael as crew) was the first Snipe Junior World Champion (1978) to win the senior title. By 1987, he had been building Snipes in Brazil and raced one of his own boats to win the 1987 Snipe World Championship.
Torben is remembered for introducing a launching whisker pole system to the Snipe in the 1981 Snipe World Championship, and noted that even two years later he was the only sailor using the new whisker pole system in the 1983 Snipe World Championship; but after that, "everyone" was using this method. The system was adapted from a similar launching whisker pole system used by Flying Dutchman and Fireball sailboat classes. (Ref: Spring 2007 issue of US Snipe Sailor).
Torben also has many other international sailboat racing successes in Soling and Star boat regattas and championships. He also has competed in the Olympics ((1984 Soling; 1988, 1996 and 2004 Star), and Pan American Games (1983, 1987 Soling). He has won five medals in Olympic Games sailing competition. More recently he was skipper of the Brazil entry in the 2005-06 Volvo Ocean Race (3rd place), and skipper of the Sweden entry in the 2008-09 Volvo Ocean Race (1st place), setting an average speed record of almost 25 knots/hour during a 24 hour period. Torben also sailed in two qualification series for the America's Cup (2000 and 2007). Torben is another champion Snipe sailor who has achieved an outstanding sailing and racing performance over the past 40 plus years. Welcome to the 2020 SCIRA Hall of Fame!
---