Direct Dues Payment - SCIRA
Snipe Sailors - The Board of Governors approved the direct payment of SCIRA dues beginning January 2019.
Use this link to pay your SCIRA dues on the new system:
If you have more than 1 boat to register, please contact the SCIRA office () to register the additional boats. We are continuing to add more features, but currently the system is for 1 boat only.
For Spain, Portugal, USA and Italy - please contact your National Secretary to join.
Italy: Daniela Semec:
Spain:
Portugal:
USA: https://snipeusa.com/ Use the "Pay Dues" link at the very top of othe page
Ladies Europeans set for Belgium
June 28-30, Lake Galgenweel, ,Antwerp, Belgium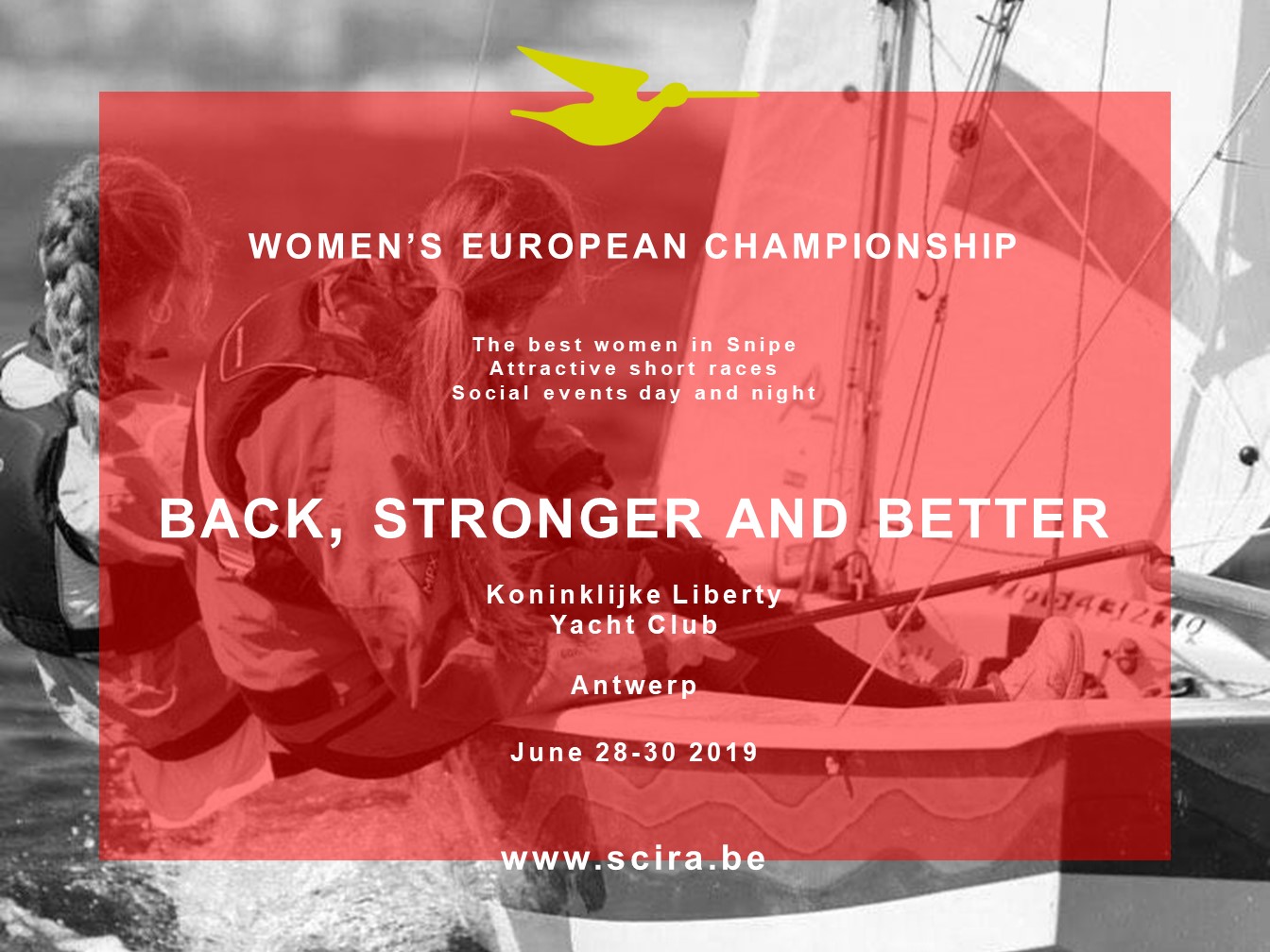 SCIRA Belgium is proud to announce it has been asked to organize the Snipe European Ladies Championship 2019. The event hasn't been run for a number of years and it was therefore the plan of the people who came up with the idea to make it a low threshold event. A 3 day regatta is planned from 28 to 30 June 2018.
The venue will be lake Galgenweel in the city of Antwerp, home of the Snipe in Belgium. Although small, less than 1 km long, it sports five sailing clubs and houses several hundred boats in covered yards. It's one of the most active sailing hubs in Belgium from its creation as part of an urbanization plan in the 1940's.
The size of the lake is a challenge, both for organizers as for sailors. Courses are short and guarantee close racing that is easy to follow from the clubhouse. The start line is max. 5 minutes away from the bank and crews can come ashore in between races as there are plenty of jetties. Scira Belgium is also known for its socials.
We would like to invite the national secretaries to ask around in their countries and advise our national secretary or of interest in your area.
By the way, there seems to be a perpetual trophy. If anyone knows where it is, we would like to continue the tradition.
2019 World Allocation Timeline
Per the Deed of Gift for the Hub E Isaacs World Championship Trophy, the following allocation timeline is in effect:
| | | |
| --- | --- | --- |
| Initial Registration Period | 8-Apr | 6 months prior |
| Initial Registration closed | 8-Jul | 3 months prior |
| Allocations open, posted | 15-Jul | 3 months less 1 week |
| Unfilled reallocation entries lost | 13-Aug | 8 weeks prior |
| Close of entries | 24-Sep | 2 weeks prior |
1. Allocation timetable will be published by February on Worlds & SCIRA website
2. Entries will not be accepted without the National Secretaries signature/confirmation
3. Countries may reserve entries & fill names before final confirmation
4. Payment must be made at time of registration
5. Host country held to 18-20 maximum entries
6. Major event results will be referenced when allowing additional allocations
7. Minimum criteria of qualification: top 50% finish at National Championship
MAJOR REGATTAS AWARDED
The SCIRA Board of Governors has voted to approve the venues for the following major Snipe Championships:
2019 South American Championship: Algarrobo, Chile - April 18-21
2020 Women's World Championship: Sao Paulo, BRA - September 4-7
2020 European Championship: Split, CRO - Aug 31-Sept 5
plg_search_docman
Search - Categories
Search - Contacts
Search - Content
Search - News Feeds
Search - Web Links
Search - Tags